Tue Jul 13, 2021, 04:20 PM
sarchasm (693 posts)
Legislators seek answers for firing of state's top vaccination expert
Source:
WSMV News 4 Nashville
NASHVILLE, TN (WSMV) - Legislators and medical doctors are seeking answers after Dr. Michelle Fiscus, the Medical Director of Tennessee's Vaccine-Preventable Diseases and Immunization program for the Tennessee Department of Health, was fired on Monday.
"I want Governor (Bill) Lee and Commissioner (Lisa) Piercey to explain to those I represent why they fired Dr. Fiscus. Every person in Tennessee relies on and reasonably expects the professionals serving in our state government to rise above politics and perform their respective roles to their utmost ability," state Rep. John Ray Clemmons, D-Nashville, said in a statement released Monday night.
"A well-respected member of the public health community was sacrificed in favor of anti-vaccine ideology," state Sen. Raumesh Akbari, D-Memphis, said in a statement. "This disgraceful hatchet job is going to endanger the lives of unvaccinated Tennesseans at a time when we have a safe and reliable way to protect our families from the virus. A disappointing and poor decision."
Fiscus said in a statement that she was terminated, partly because the Department of Health promoted teens ages 13-17 to receive the COVID-19 vaccination.
Read more:
https://www.wsmv.com/news/health/legislators-seek-answers-for-firing-of-states-top-vaccination-expert/article_2d83db2c-e3fd-11eb-87b9-1bfd8ebf02ce.html
---
[url=
https://postimg.cc/Cd4xRwfM
][img]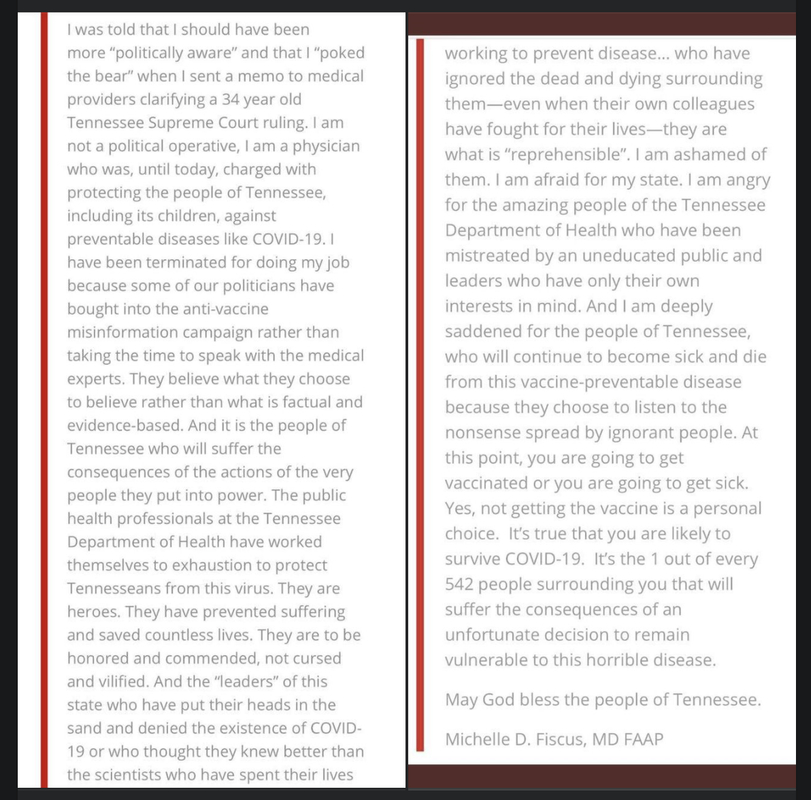 [/img][/url]
2 replies, 1518 views
Replies to this discussion thread
| | | | |
| --- | --- | --- | --- |
| 2 replies | Author | Time | Post |
| Legislators seek answers for firing of state's top vaccination expert (Original post) | sarchasm | Jul 2021 | OP |
| | elleng | Jul 2021 | #1 |
| | PortTack | Jul 2021 | #2 |
---
Response to sarchasm (Original post)
Tue Jul 13, 2021, 04:25 PM
elleng (109,883 posts)
1. Still doing it.
The Scopes Trial, formally known as The State of Tennessee v. John Thomas Scopes and commonly referred to as the Scopes Monkey Trial, was an American legal case in July 1925 in which a high school teacher, John T. Scopes, was accused of violating Tennessee's Butler Act, which had made it unlawful to teach human evolution in any state-funded school.[1] The trial was deliberately staged in order to attract publicity to the small town of Dayton, Tennessee, where it was held. Scopes was unsure whether he had ever actually taught evolution, but he incriminated himself deliberately so the case could have a defendant.[2][3]
https://en.wikipedia.org/wiki/Scopes_Trial
---
Response to sarchasm (Original post)
Tue Jul 13, 2021, 06:12 PM
PortTack (22,142 posts)
2. Keep the pressure on! They are known to fold. They are Killing kids.