Thu Aug 5, 2021, 01:33 PM
Omaha Steve (82,252 posts)
People fleeing Hong Kong crackdown get temporary US haven
Source:
AP
WASHINGTON (AP) — The Biden administration on Thursday granted temporary refuge to people fleeing China's crackdown on dissent in Hong Kong.
Residents of Hong Kong who are in the U.S. and facing deportation will be allowed to remain for at least 18 more months because of what a White House statement called China's move to "deny basic rights and freedoms."
It comes as relations between the U.S. and China have deteriorated amid a trade war and mounting tensions over Chinese moves to curb political dissent in Hong Kong.
The Chinese government has sought to stifle opposition following protests there in 2019 against a proposed law allowing extraditions to mainland China. That has led to concern that the former British colony is losing the freedoms it was promised when it was handed over to Chinese control in 1997.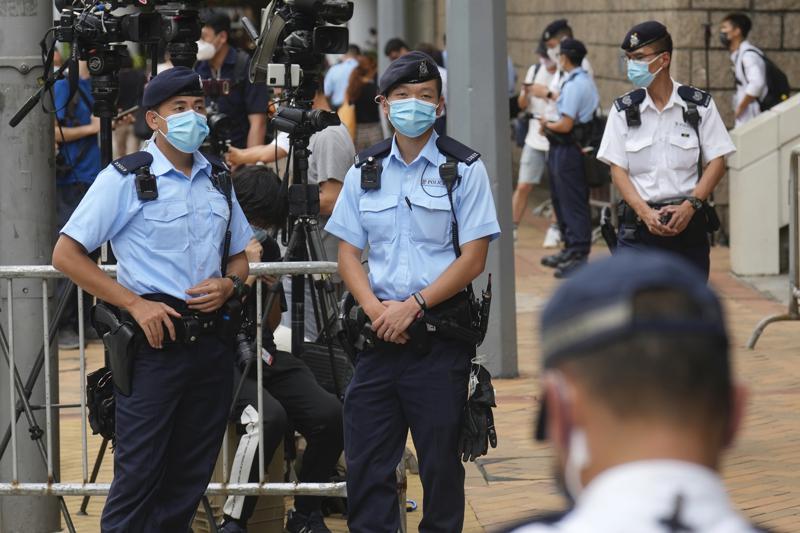 Police officers stand guard outside a court Friday, July 30, 2021, in Hong Kong, as a pro-democracy demonstrator Tong Ying-kit exits the court after his sentencing for the violation of a security law during a 2020 protest. Tong has been sentenced to nine years in prison in the closely watched first case under Hong Kong's national security law as Beijing tightens control over the territory. (AP Photo/Vincent Yu)
Read more:
https://apnews.com/article/hong-kong-fd6eee4affe1edfbf74f5e635c8e6445
4 replies, 824 views
Replies to this discussion thread
| | | | |
| --- | --- | --- | --- |
| 4 replies | Author | Time | Post |
| People fleeing Hong Kong crackdown get temporary US haven (Original post) | Omaha Steve | Aug 2021 | OP |
| | Desert grandma | Aug 2021 | #1 |
| | Claustrum | Aug 2021 | #2 |
| | Desert grandma | Aug 2021 | #3 |
| | Claustrum | Aug 2021 | #4 |
---
Response to Omaha Steve (Original post)
Thu Aug 5, 2021, 02:21 PM
Desert grandma (692 posts)
1. Why in the world did they EVER believe China's promises in the first place??
It was probably only a matter of time before this happened. We need to realize that you CAN NOT believe ANYTHING an authoritarian regime says!
---
Response to Desert grandma (Reply #1)
Thu Aug 5, 2021, 02:41 PM
Claustrum (2,733 posts)
2. What else can you do as a normal citizen other than believing their words?
I am one of the few lucky ones that got out in 1996 but most of my friends aren't as lucky. They had no choice but to stay in Hong Kong and their best bet is to believe China's words. You can't immigrate to another country easily.

They have more options now than they had before with all the refugee options and even then, it's hard to leave the place you live all you life without a guaranteed job, the language barrier, the different cultures, and the racism that you encounter in other countries, etc.
---
Response to Claustrum (Reply #2)
Thu Aug 5, 2021, 04:01 PM
Desert grandma (692 posts)
3. Before the British turned the island over...
They probably should have gotten better guarantees of independence and sovereignty or at least kept the 2 provinces that were deeded to them in perpetuity. Then they might have more leverage to have an effect on this former colony. International pressure doesn't seem to have any effect on China.
---
Response to Desert grandma (Reply #3)
Thu Aug 5, 2021, 04:43 PM
Claustrum (2,733 posts)
4. More independence for Hong Kong was always a non starter for China.
Just look at how they are treating Taiwan which is very much separate from China for many many years, and yet, somehow, they still consider Taiwan part of China.

What Hong Kong got instead is a "50 years no change" plan and a "one country two systems" policies that basically let Hong Kong remain with British systems (school system, healthcare system, tax system, etc). It was always going to be changed in 50 years. There was never any guarantee or hint that Hong Kong would be self governing or independent in any shape or form. China was just a bit premature with their takeover by about 25 years. But an independent Hong Kong was always out of reach, at least as far as China's concern.

The core problem is asking an authoritarian country to let one of it's city be democratic. I don't think there is much UK or Hong Kong can do in this situation as China was/is in the driving seat. Afterall, Hong Kong was given to UK via an unfair treaty for losing a war. The geopolitics didn't give much room for UK or Hong Kong to negotiate back then as China was supposed to be the victim.