Sat Aug 7, 2021, 11:54 AM
Omaha Steve (81,573 posts)
Activists form human chain demanding exit from coal mining
Source:
AP
LUETZERATH, Germany (AP) — About 2,500 people in western Germany demonstrated Saturday for a quick halt to coal mining in the region, where a village could be bulldozed to make way for a mine.
Participants in the protest formed a 4-kilometer (2.5-mile) human chain between the threatened village of Luetzerath and nearby Keyenberg.
Luetzerath stands a few hundred meters (yards) away from a vast pit where German utility giant RWE is extracting lignite coal to burn in nearby power plants.
Coal mining is due to end in Germany by 2038, but environmentalists say it needs to stop at least 10 years earlier if the country is to play its part in meeting the Paris climate accord goal of limiting global warming to 1.5 degrees Celsius (2.7 degrees Fahrenheit).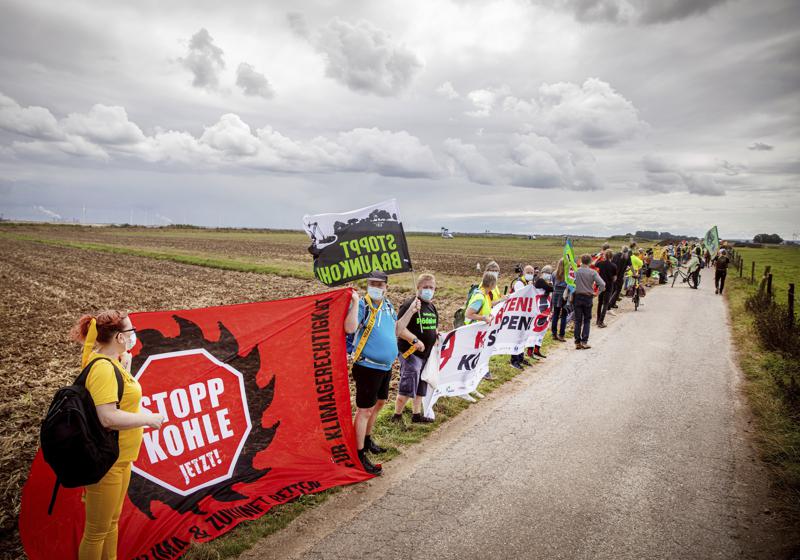 Environmental and climate activists as well as residents of neighbouring villages have form a human chain on the edge of the Garzweiler open-cast mine in Juechen, Germany, Saturday, Aug. 7, 2021. About 2,500 people have protested for a quick exit from coal mining in western Germany. They formed a four-kilometer (2.5-mile) human chain between the villages of Luetzerath and Keyenberg on Saturday. Protesters were campaigning to save Luetzerath from being bulldozed to make way for a coal mine. (Malte Krudewig/dpa via AP)
Read more:
https://apnews.com/article/europe-business-environment-and-nature-climate-change-coal-mining-838542aa06b974cb16b717ac38d6cbd5
3 replies, 1141 views
Replies to this discussion thread
| | | | |
| --- | --- | --- | --- |
| 3 replies | Author | Time | Post |
| Activists form human chain demanding exit from coal mining (Original post) | Omaha Steve | Aug 7 | OP |
| | Bayard | Aug 7 | #1 |
| | Cobalt Violet | Aug 7 | #2 |
| | Warpy | Aug 7 | #3 |
---
Response to Omaha Steve (Original post)
Sat Aug 7, 2021, 12:38 PM
Bayard (12,854 posts)
1. Would love to see more of this in this country
---
Response to Bayard (Reply #1)
Sat Aug 7, 2021, 12:45 PM
Cobalt Violet (9,710 posts)
2. Line#3, its going on here in the USA right now.
---
Response to Omaha Steve (Original post)
Sat Aug 7, 2021, 03:25 PM
Warpy (101,584 posts)
3. Wrong target, actually
While the world uses steel (and we do want a better rail system, right?), there will be a need for coal to smelt the iron and supply carbon to turn it into steel. Mining shouldn't be the target.

The target should be the filthy coal fired electrical plants. Natural gas is a viable alternative, although still producing CO2. It just doesn't produce a cloud of heavy metal particulates, sulfur compounds, and other noxious chemicals that make people near them sicker and sicker. It's harm reduction until we can figure out more efficient ways to transmit and use power as well as generate it.

Notice I saw "ways," plural. One size will not fit all.