Thu Sep 2, 2021, 06:39 AM
Omaha Steve (82,919 posts)
US envoy Kerry says China crucial to handling climate crisis
Source:
AP
BEIJING (AP) — China needs to expand its efforts to reduce carbon emissions to help hold back the rise in global temperatures, U.S. envoy John Kerry said Thursday.
The State Department said Kerry told Chinese Vice Premier Han Zheng in a virtual meeting that there is "no way" for the world to solve the climate crisis without China's "full engagement and commitment."
China is the world's largest carbon emitter, producing an estimated 27% of global greenhouse gases, followed by the United States.
Kerry is in the eastern Chinese port city of Tianjin for talks on stronger efforts to curb rising temperatures to no more than 1.5 degrees Celsius (2.7 degrees Fahrenheit) over pre-industrial levels.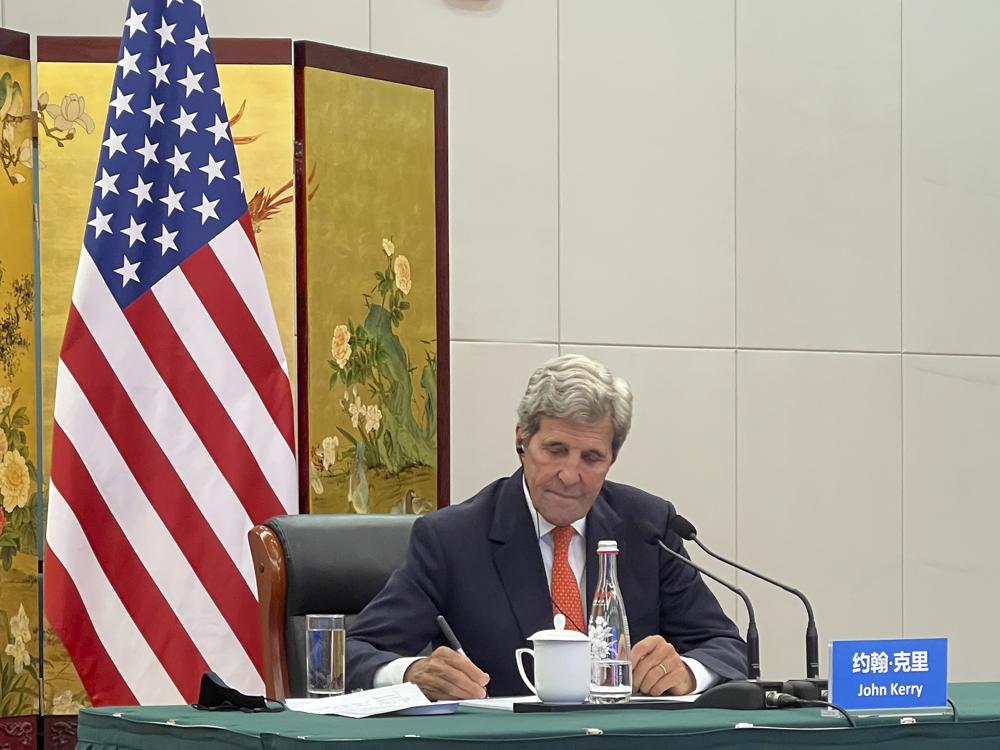 In this photo provided by the U.S. Department of State, U.S. Special Presidential Envoy for Climate John Kerry attends a meeting with Chinese Foreign Minister Wang Yi via video link in Tianjin, China, Wednesday, Sept. 1, 2021. Wang warned Kerry on Wednesday that deteriorating U.S.-China relations could undermine cooperation between the two on climate change. (U.S. Department of State via AP)
Read more:
https://apnews.com/article/business-china-climate-environment-and-nature-climate-change-5fe14fd246b47d5e6e5a00311bf0c6ef
5 replies, 774 views
Replies to this discussion thread
| | | | |
| --- | --- | --- | --- |
| 5 replies | Author | Time | Post |
| US envoy Kerry says China crucial to handling climate crisis (Original post) | Omaha Steve | Sep 2021 | OP |
| | marie999 | Sep 2021 | #1 |
| | TallJohn | Sep 2021 | #2 |
| | Mosby | Sep 2021 | #3 |
| | SunImp | Sep 2021 | #5 |
| | OneCrazyDiamond | Sep 2021 | #4 |
---
Response to Omaha Steve (Original post)
Thu Sep 2, 2021, 07:30 AM
marie999 (2,584 posts)
1. China like many countries care more for building their economy than caring about climate change.
They are building hundreds of more power plants fueled by coal.
---
Response to Omaha Steve (Original post)
Thu Sep 2, 2021, 09:15 AM
TallJohn (27 posts)
2. 25 Most Polluted Cities in the World (2021 Rankings)
We need to get certain parts of the world under control!
We don't even have one city in the worst 25!
Of the 25 most polluted cities in the world, 12 were located in India, while 3 were located in Pakistan. However, for the most polluted city in the world, Pakistan topped the list.

In comparison to the previous year, China showed improvements in their air quality ranking while India had worsened. In 2020, out of 25 cities with the worst air, 9 cities were located in China and 7 in India. In 2021, China managed to completely stay off the chart while number if Indian cities increased by 5.

However, is China air quality really better? As much as China's major cities saw an overall reduction in PM2.5 by 2.5%, data shows that 6 out of 10 cities analysed saw an increase in PM2.5 and 9 out of 10 saw an increase in PM10.
All of the ranked cities had average air quality many times above the WHO recommended healthy limit. Many of the cities with the worst air quality are located in similar geographical areas on the globe. Other countries featured on the list include Kuwait, Saudia Arabia, Bahrain, Iraq, Tajikistan, Afghanistan, Bangladesh, Mexico, Mali, and Uganda.
China showed modest "improvement" due to covid lockdowns but will be back in 1st place soon.
https://smartairfilters.com/en/blog/25-most-polluted-cities-world-2021-rankings/
---
Response to Omaha Steve (Original post)
Thu Sep 2, 2021, 10:15 AM
Mosby (13,136 posts)
3. This is why we need tariffs.
There is no incentive whatsoever for China to reduce emissions. Their wild west type of capitalism has resulted in double digit per capita GDP growth for more than a decade, while polluting, and paying crap wages with no workplace safety. Strong words will not change that, because money.



---
Response to Mosby (Reply #3)
Thu Sep 2, 2021, 12:36 PM
SunImp (1,950 posts)
5. 1+ We need to be very stern with them.
---
Response to Omaha Steve (Original post)
Thu Sep 2, 2021, 12:31 PM
OneCrazyDiamond (1,537 posts)
4. As we retire coal plants,
China builds new ones. They risk undoing all the effort to contain this.