Sun Sep 12, 2021, 06:38 AM
Omaha Steve (82,847 posts)
FBI releases newly declassified record on Sept. 11 attacks
Source:
AP
By ERIC TUCKER
WASHINGTON (AP) — The FBI late Saturday released a newly declassified document related to logistical support given to two of the Saudi hijackers in the run-up to the Sept. 11, 2001, terrorist attacks. The document details contacts the hijackers had with Saudi associates in the U.S. but does not provide proof that senior Saudi government officials were complicit in the plot.
Released on the 20th anniversary of the attacks, the document is the first investigative record to be disclosed since President Joe Biden ordered a declassification review of materials that for years have remained out of public view. The 16-page document is a summary of an FBI interview done in 2015 with a man who had frequent contact with Saudi nationals in the U.S. who supported the first hijackers to arrive in the country before the attacks.
Biden last week ordered the Justice Department and other agencies to conduct a declassification review and release what documents they can over the next six months. He had encountered pressure from victims' families, who have long sought the records as they pursue a lawsuit in New York alleging that Saudi government officials supported the hijackers.
The heavily redacted document was disclosed on Saturday night, hours after Biden attended Sept. 11 memorial events in New York, Pennsylvania and northern Virginia. Victims' relatives had earlier objected to Biden's presence at ceremonial events as long as the documents remained classified.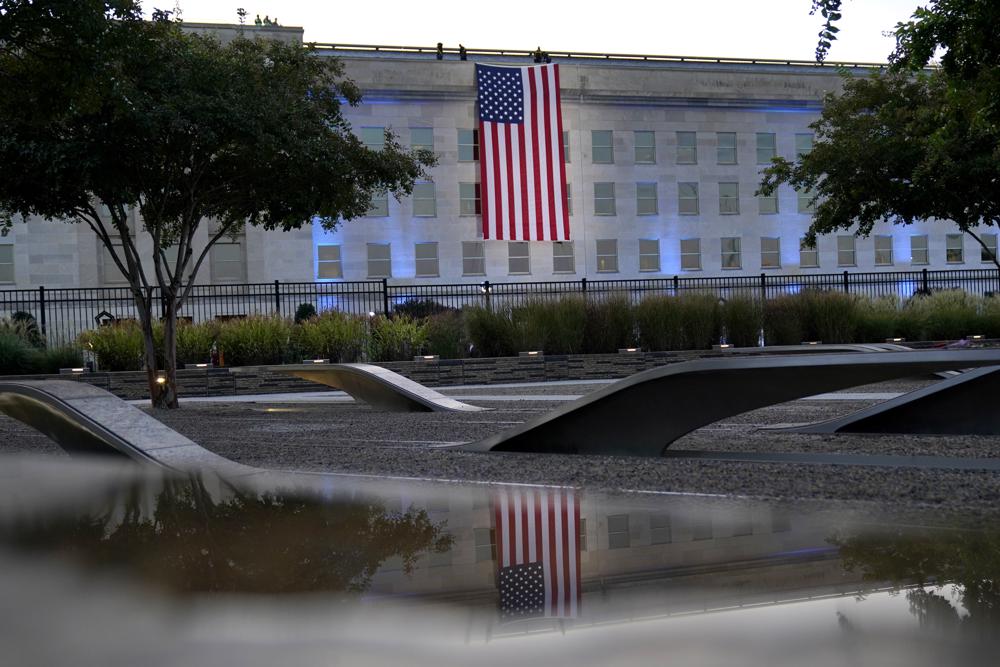 An American flag is unfurled at the Pentagon in Washington, Saturday, Sept. 11, 2021, at sunrise on the morning of the 20th anniversary of the terrorist attacks. The American flag is draped over the site of impact at the Pentagon. In the foreground, the National 9/11 Pentagon Memorial, opened in 2008 adjacent to the site, commemorates the lives lost at the Pentagon and onboard American Airlines Flight 77. (AP Photo/Alex Brandon)
Read more:
https://apnews.com/article/joe-biden-jamal-khashoggi-terrorist-attacks-86eec32f1b5b2ad7c9ba6bfbb98a4adb
6 replies, 2743 views
Replies to this discussion thread
| | | | |
| --- | --- | --- | --- |
| 6 replies | Author | Time | Post |
| FBI releases newly declassified record on Sept. 11 attacks (Original post) | Omaha Steve | Sep 2021 | OP |
| | bucolic_frolic | Sep 2021 | #1 |
| | malthaussen | Sep 2021 | #2 |
| | marble falls | Sep 2021 | #3 |
| | twodogsbarking | Sep 2021 | #4 |
| | Steelrolled | Sep 2021 | #5 |
| | monkeyman1 | Sep 2021 | #6 |
---
Response to Omaha Steve (Original post)
Sun Sep 12, 2021, 07:13 AM
bucolic_frolic (29,076 posts)
1. I understand they want documents released, and Pres. Biden has the power to do so currently, but
to shun him for the national security considerations involved is a bit off in my mind.
---
Response to Omaha Steve (Original post)
Sun Sep 12, 2021, 09:53 AM
malthaussen (14,801 posts)
2. Tell you what, FBI, I'm far more concerned about the 1/6 attack. n/t
---
Response to Omaha Steve (Original post)
Sun Sep 12, 2021, 10:51 AM
marble falls (45,627 posts)
3. Time to let the chips fall where they may, release the papers.
---
Response to Omaha Steve (Original post)
Sun Sep 12, 2021, 04:47 PM
twodogsbarking (2,959 posts)
4. Redacted ?
---
Response to Omaha Steve (Original post)
Sun Sep 12, 2021, 07:50 PM
Steelrolled (2,022 posts)
5. This isn't going to help the conspiracy theorists.
Unless the top super secret deal between the US and the Saudis included provisions for a fake FBI report.
---
Response to Omaha Steve (Original post)
Sun Sep 12, 2021, 09:04 PM
monkeyman1 (4,158 posts)
6. the media is going to have damn hay day with this !

better make sure fact check get's overtime pay for this ! bull shit is going to be flying around like a septic tank explosion !