Fri Sep 17, 2021, 09:24 AM
Omaha Steve (82,919 posts)
Fire crews struggling to save California giant sequoias
Source:
AP
By NOAH BERGER and JOHN ANTCZAK
THREE RIVERS, Calif. (AP) — Firefighters wrapped the base of the world's largest tree in a fire-resistant blanket as they tried to save a famous grove of gigantic old-growth sequoias from wildfires burning in California's rugged Sierra Nevada.
The colossal General Sherman Tree in Sequoia National Park's Giant Forest, some other sequoias, the Giant Forest Museum and other buildings were wrapped for protection against the possibility of intense flames, fire spokeswoman Rebecca Paterson said.
The aluminum wrapping can withstand intensive heat for short periods. Federal officials say they have been using the material for several years throughout the U.S. West to protect sensitive structures from flames. Near Lake Tahoe, some homes that were wrapped in protective material survived a recent wildfire while others nearby were destroyed.
The Colony Fire, one of two burning in Sequoia National Park, was expected to reach the Giant Forest, a grove of 2,000 sequoias, at some point within days, fire officials said.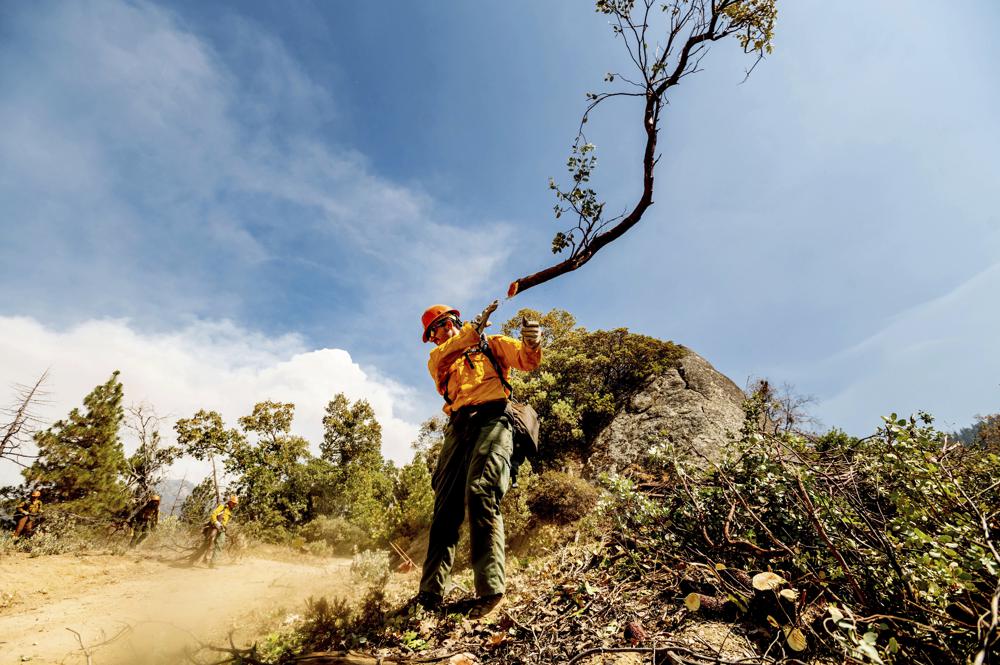 A member of the Roosevelt Hotshot Crew clears a firebreak while battling the Windy Fire on Thursday, Sept. 16, 2021, on the Tule River Reservation, Calif. His crew, which travelled from Colorado, has been battling California wildfires. (AP Photo/Noah Berger)
Read more:
https://apnews.com/article/fires-environment-and-nature-forests-california-trees-545b327cf3666cf65e6dd4b951b740e9
3 replies, 2037 views
Replies to this discussion thread
| | | | |
| --- | --- | --- | --- |
| 3 replies | Author | Time | Post |
| Fire crews struggling to save California giant sequoias (Original post) | Omaha Steve | Sep 2021 | OP |
| | awesomerwb1 | Sep 2021 | #1 |
| | Bayard | Sep 2021 | #2 |
| | lagomorph777 | Sep 2021 | #3 |
---
Response to Omaha Steve (Original post)
Fri Sep 17, 2021, 10:34 AM
awesomerwb1 (3,917 posts)
1. Noooooooo
Breaks my heart. Love that place.
---
Response to Omaha Steve (Original post)
Fri Sep 17, 2021, 01:52 PM
Bayard (13,956 posts)
2. The General Sherman Tree is incredibly impressive
Makes you feel like you're just a bug.
If the fires are headed into Sequoia, then they will also hit Kings Canyon National Park. I used to live in that area. I have friends there. So far, its been pretty far away, but I need to check in with them again.
---
Response to Omaha Steve (Original post)
Fri Sep 17, 2021, 02:52 PM
lagomorph777 (27,687 posts)
3. I hope they succeed - the loss would be immense.