Sun Sep 26, 2021, 07:58 AM
Omaha Steve (82,252 posts)
South Korea urges North to restore hotlines for any talks
Source:
AP
By HYUNG-JIN KIM
SEOUL, South Korea (AP) — South Korea on Sunday urged North Korea to restore dormant communication hotlines, a day after the North repeated an offer to open conditional talks.
The North might be seeking to extract concessions about two weeks after it raised tensions by carrying out its first missile tests in six months. North Korea has twice reached out to South Korea saying it's open to talks if conditions are met.
Kim Yo Jong, the powerful sister of North Korean leader Kim Jong Un, said Saturday the two Koreas can take steps toward reconciliation if South Korea abandons "hostile polices" and "double-dealing standards."
She didn't elaborate on what specific steps she wants South Korea to take. But some experts say North Korea wants South Korea to play a role in winning relief from U.S.-led sanctions, getting aid, or receiving other concessions such as international recognition as a nuclear weapons state.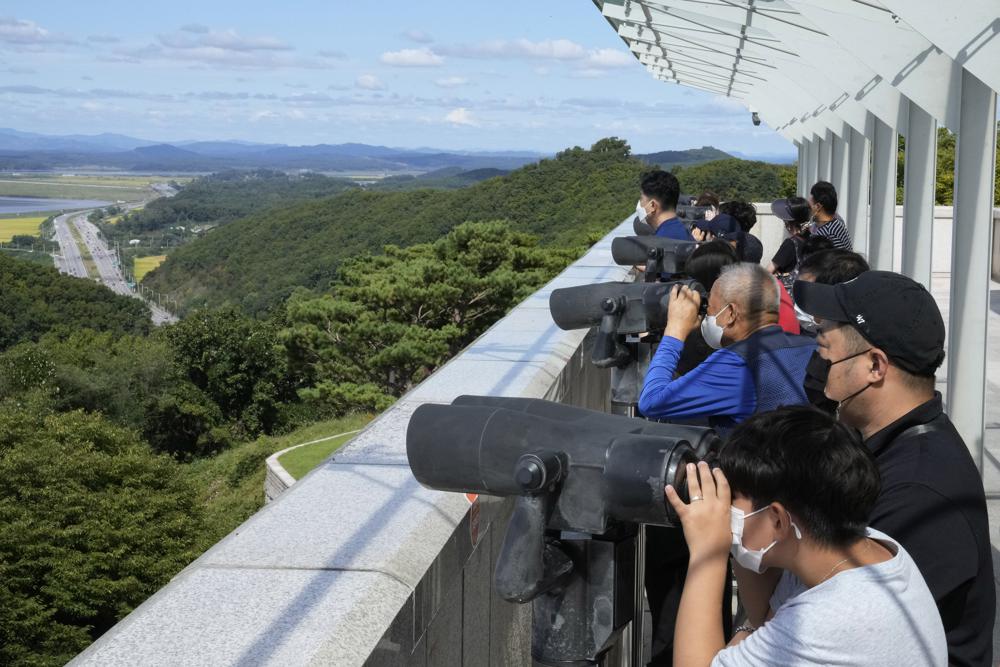 Visitors watch the North Korea side from the Unification Observation Post in Paju, South Korea, near the border with North Korea, Sunday, Sept. 26, 2021. The powerful sister of North Korean leader Kim Jong Un said Saturday that her country will take steps to repair ties with South Korea, and may even discuss another summit between their leaders, if the South drops what she described as hostility and double standards. (AP Photo/Ahn Young-joon)
Read more:
https://apnews.com/article/seoul-south-korea-north-korea-kim-yo-jong-ef0b8abcfbe164b9d16cb281aefd26f6
1 replies, 706 views
Replies to this discussion thread
| | | | |
| --- | --- | --- | --- |
| 1 replies | Author | Time | Post |
| South Korea urges North to restore hotlines for any talks (Original post) | Omaha Steve | Sep 26 | OP |
| | soryang | Sep 28 | #1 |
---
Response to Omaha Steve (Original post)
Tue Sep 28, 2021, 01:13 PM
soryang (3,050 posts)
1. There won't be much progress in talks until after March 2022 presidential elections
One avenue suggested uncharacteristically by neocon Victor Cha was the humanitarian aid route. Clearly, some kind of breakthrough needs to be made to suggest good will on the US side, by unplugging sanctions bottlenecks that make humanitarian aid difficult. The open phone lines at a liaison office would be nice too, but the North seems to be carried away with their symbolic value when in fact, such communications are very practical to avoid unnecessary friction and misunderstandings that could lead to military confrontation.

If a conservative candidate is elected president in South Korea in March 2022, future talks will probably be stalled indefinitely. The conservative candidates seem too preoccupied with military solutions like asking the US to deploy tactical nuclear weapons in the South. It could just be rhetoric for campaign purposes, but it represents an unhealthy drift in South Korean politics and affects current perceptions of what they are doing militarily.

The south just rolled out its third SLBM submarine and earlier this month successfully test fired a sub launched ballistic missile.