Sat Jan 1, 2022, 07:27 AM
Omaha Steve (85,645 posts)
Pope, in New Year's homily, praises women as peacemakers
Source:
AP
By FRANCES D'EMILIO
VATICAN CITY (AP) — Pope Francis ushered in the new year Saturday by praising the skills women bring to promoting peace in the world, and he equated violence against women to an offense against God.
The Roman Catholic Church marks Jan. 1 as a day dedicated to world peace, and a late-morning Mass in Vatican City's St. Peter's Basilica paid tribute to the Virgin Mary's special place in the faith as the mother of Jesus.
Mothers "know how to overcome obstacles and disagreements, and to instill peace," Francis said during his homily.
"In this way, they transform problems into opportunities for rebirth and growth. They can do this because they know how to 'keep,' to hold together the various threads of life," the pontiff said. "We need such people, capable of weaving the threads of communion in place of the barbed wire of conflict and division."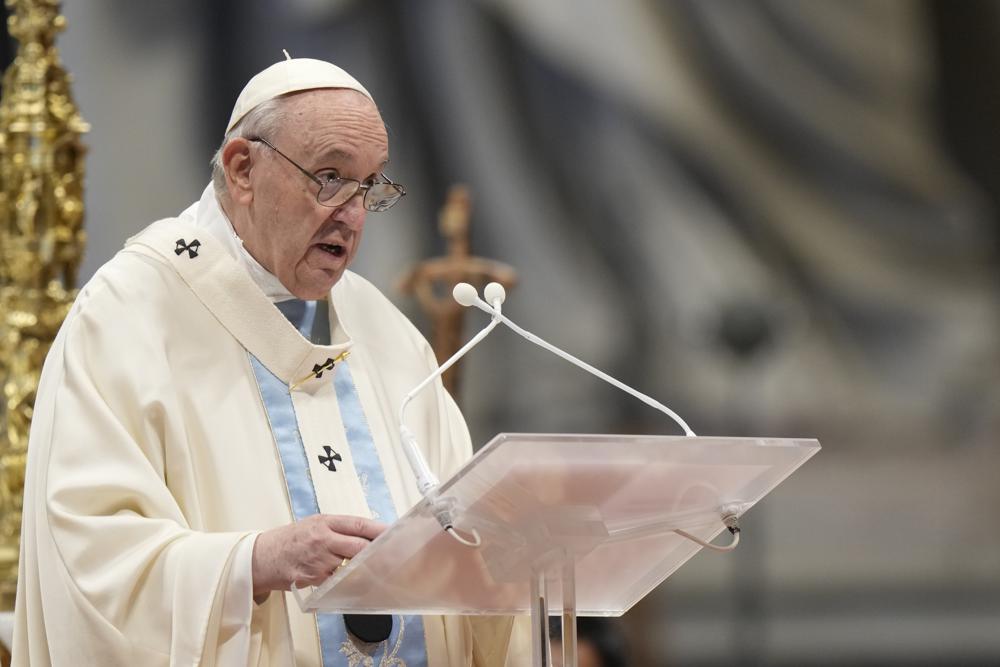 Pope Francis delivers his homely as he celebrates a Mass for the solemnity of St. Mary at the beginning of the new year, in St. Peter's Basilica, at the Vatican, Saturday, Jan. 1, 2022. (AP Photo/Andrew Medichini)
Read more:
https://apnews.com/article/pope-francis-europe-religion-vatican-city-da9f221497b6922c32cdf1f24c30a030
7 replies, 1425 views
Replies to this discussion thread
| | | | |
| --- | --- | --- | --- |
| 7 replies | Author | Time | Post |
| Pope, in New Year's homily, praises women as peacemakers (Original post) | Omaha Steve | Jan 2022 | OP |
| | Magoo48 | Jan 2022 | #1 |
| | demigoddess | Jan 2022 | #2 |
| | Fortinbras Armstrong | Jan 2022 | #3 |
| | llmart | Jan 2022 | #4 |
| | twodogsbarking | Jan 2022 | #5 |
| | 2Gingersnaps | Jan 2022 | #6 |
| | PlutosHeart | Jan 2022 | #7 |
---
Response to Omaha Steve (Original post)
Sat Jan 1, 2022, 10:19 AM
Magoo48 (2,927 posts)
1. Kool.
Now, recognize women as equals.
---
Response to Magoo48 (Reply #1)
Sat Jan 1, 2022, 02:12 PM
demigoddess (6,224 posts)
2. he just recognized women as superiors.
---
Response to Magoo48 (Reply #1)
Sat Jan 1, 2022, 05:33 PM
Fortinbras Armstrong (4,467 posts)
3. That won't be easy.
For well over a millenium, the Catholic Church has taught that women cannot be ordained. The latest position paper on the subject,
Inter Insigniores
is a piece of crap which:
• Admits that one of the main reasons for denying ordination to women has been the attitude that women were inferior to men and says that this argument should be abandoned but then resurrects it without admitting it's doing so.
To expand on this last, see, for example, Thomas Aquinas,
Summa Theologica
Supplement, question 39 article 1, which considers the question, "Whether the female sex is an impediment to receiving Orders?". He says that it is, for two reasons. The first is that women are inferior to men ("since it is not possible in the female sex to signify eminence of degree, for a woman is in the state of subjection, it follows that she cannot receive the sacrament of Orders"
. The Vatican has officially repudiated this argument.
The second reason is: "Further, the crown is required previous to receiving Orders, albeit not for the validity of the sacrament. But the crown or tonsure (a ritual shaving of the head) is not befitting to women according to 1 Cor. 11. Neither therefore is the receiving of Orders." Now, he admits that the tonsure is not required for the validity of the sacrament. Indeed, the tonsure is not performed nowadays. Thus, this reason, which was shaky in Aquinas' day, no longer is a real objection.
• Relies on the extremely dubious argument that Christ ordained only men to the priesthood, therefore women cannot be ordained. First, even if you grant this argument, one can just as reasonably say that since Christ ordained only Jews to the priesthood, gentiles should not be priests. But the fact is that Christ did not "ordain" anyone.
• Makes the really silly argument that since the priest is supposed to "mirror Christ", the laity would not be able to see Christ in a woman. I daresay that the laity would be far less likely to see Christ in a pedophile. This argument also shows the Vatican's basic contempt for the laity.
Finally, Pope John Paul II attempted to quell discussion in his
Ordinatio Sacerdotalis
-- "On Priestly Ordination", which can be summed up as "Women cannot be ordained because I say so. Now sit down and shut up!" This argument may work with very small children (but don't count on it), but it only convinces those who believe that every burp which issues from a papal throat is the word of God. They shouldn't expect any adults to buy it.
JPII also put out a document,
Mulieries Dignitatem
-- "The Dignity of Women" -- which speaks of the "complementarity" of men and women, saying that there are "ontological differences" between the sexes. Exactly what these ontological differences are and how they preclude women from being ordained is more than a bit vague. I believe that this is nothing more than the discredited inferiority argument, tarted up with philosophical gobbledygook and with a new coat of paint over the dry rot. JPII writes as if denying ordination to women was a good thing for women, which reminds me of some pre-Civil War pro-slavery types who tried to say that slavery benefitted the slave.
---
Response to Omaha Steve (Original post)
Sun Jan 2, 2022, 06:54 AM
llmart (12,922 posts)
4. Hey, Popey...
talk is cheap.

Oh, and we don't need a man to tell us this.


---
Response to Omaha Steve (Original post)
Sun Jan 2, 2022, 07:46 AM
twodogsbarking (3,792 posts)
5. Blah, blah, blah, blah, blah,
---
Response to Omaha Steve (Original post)
Sun Jan 2, 2022, 12:34 PM
2Gingersnaps (905 posts)
6. Isn't this just going to get the US Conference of Catholic Bishop's cassocks in a bunch?
---
Response to 2Gingersnaps (Reply #6)
Sun Jan 2, 2022, 04:13 PM
PlutosHeart (23 posts)
7. Certain this will be just another upset for Conservative Catholic figures
But what has ever stopped them? They dislike Francis.
My old historic Catholic grade school was just bulldozed last week to enlarge the parking lot to accompany the increase of people flocking to hear masses in Latin. They just put a gaudy alter facing away from the public as well and insist they can still give communion on the tongue. What could possibly go wrong with that?
History should not be ignored but I give Francis props for many things he cares about and speaks about even if US clergy have a hairball.