Fri Aug 5, 2022, 12:25 PM
Omaha Steve (87,564 posts)
Pelosi: China cannot isolate Taiwan by preventing visits
Source:
AP
By MARI YAMAGUCHI
TOKYO (AP) — China will not be able to isolate Taiwan by preventing U.S. officials from traveling there, U.S. House Speaker Nancy Pelosi said Friday in Tokyo as she wrapped up an Asia tour highlighted by a visit to Taipei that infuriated Beijing.
Beijing has tried to isolate Taiwan, including by preventing the self-governing island from joining the World Health Organization, Pelosi said.
"They may try to keep Taiwan from visiting or participating in other places, but they will not isolate Taiwan by preventing us to travel there," she said, defending her trip that has escalated tensions in the region.
Pelosi said her visit to Taiwan was not intended to change the status quo for the island but to maintain peace in the Taiwan Strait, which separates Taiwan and mainland China. She praised Taiwan's hard-fought democracy and success in technology and business, while criticizing Chinese violations of trade agreements, weapons proliferation and human rights problems, including its treatment of its Muslim Uyghur minority.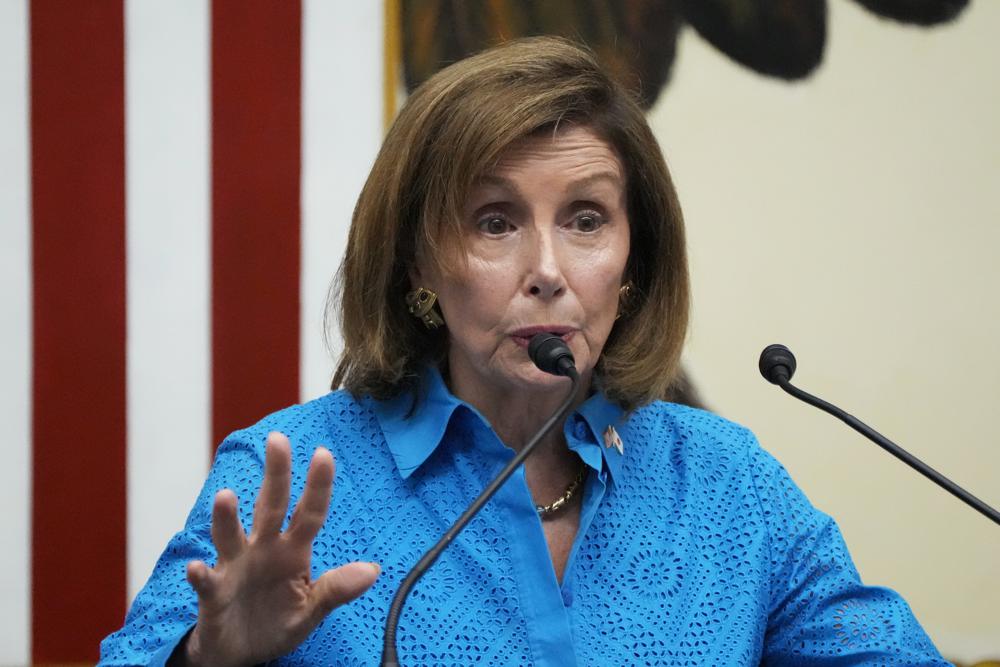 U.S. House Speaker Nancy Pelosi speaks during a news conference with her congressional delegation at the U.S. Embassy in Tokyo, Friday, Aug. 5, 2022. (AP Photo/Eugene Hoshiko)
Read more:
https://apnews.com/article/taiwan-china-japan-nancy-pelosi-taipei-7114ce2a974d0a806ba5c85665287bb4
4 replies, 904 views
Replies to this discussion thread
| | | | |
| --- | --- | --- | --- |
| 4 replies | Author | Time | Post |
| Pelosi: China cannot isolate Taiwan by preventing visits (Original post) | Omaha Steve | Aug 5 | OP |
| | yankee87 | Aug 5 | #1 |
| | David__77 | Aug 5 | #2 |
| | Roc2020 | Aug 5 | #3 |
| | SWBTATTReg | Aug 5 | #4 |
---
Response to Omaha Steve (Original post)
Fri Aug 5, 2022, 12:28 PM
yankee87 (235 posts)
1. Nancy the Bad Ass
Do not mess with Nancy. She is a bad ass, who takes no crap from anyone. She has gotten more done this term then anyone could have imagined. She is an American hero.
---
Response to Omaha Steve (Original post)
Fri Aug 5, 2022, 12:32 PM
David__77 (21,147 posts)
2. I'm glad US is sticking firmly to one China policy.
---
Response to Omaha Steve (Original post)
Fri Aug 5, 2022, 01:40 PM
Roc2020 (1,394 posts)
3. Democracy is on the ropes. The WEST
is not in the mood. China be very careful.
---
Response to Omaha Steve (Original post)
Fri Aug 5, 2022, 03:49 PM
SWBTATTReg (18,296 posts)
4. and China needs to grow up, and be a responsible adult in the room. They are acting ridiculous
over one person's visit, you would think that the 'End Times' are here.

Ridiculous. Grow up China.