Wed Oct 28, 2015, 10:30 PM
Judi Lynn (140,935 posts)
Utah Congressman Wants to Stop Government Funding for Parks Across the Country
Utah Congressman Wants to Stop Government Funding for Parks Across the Country
Posted: October 28, 2015
Remember Obama's early days, when efforts to reform health care were met with demands that the U.S. government keep its dirty mitts off Medicare? Taking that same cross-eyed look at public institutions, a Utah congressman is determined to shut down a 50-year-old bipartisan stewardship program for forests and parks across the country because he says it's an improper use of public funds.
"There's no way in hell I am going to allow you...to expand the footprint of the federal government," Rep. Rob Bishop, R-Utah, chairman of the House Natural Resources Committee, said of the program.
The Land and Water Conservation Fund (LWCF) was created by Congress in 1964 in response to requests President Kennedy's call for , "a land acquisition program to preserve both prime federal and state areas for outdoor recreation purposes." A 221% increase in the use of park and forest lands since 1946 drove Kennedy's sense that something had to be done, "before the land becomes unavailable either because of skyrocketing prices or because it has been preempted for other purposes."
The LWCF is funded with money made from economic activity on public lands, mostly royalties from oil and gas drilling leases. It's a fitting arrangement, and one that has resulted in 5 million acres of protected public space. Since 1978, according to High Country News, the fund has been authorized to receive up to $900 million annually, though in recent years Congress has appropriated less than a third of that. Even so, its work has helped generate hundreds of millions of dollars in outdoor recreation and working lands.
More:
http://progressive.org/news/2015/10/188379/utah-congressman-wants-stop-government-funding-parks-across-country#sthash.mXj6Uy5t.dpuf
[center]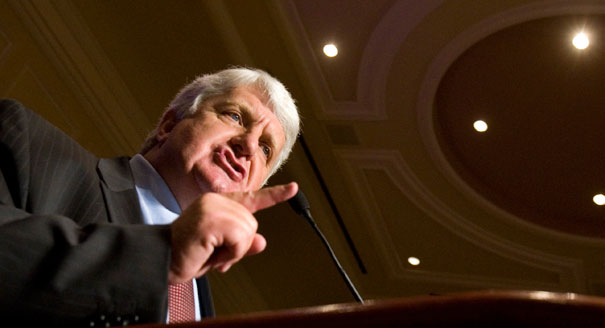 Rep. Rob Bishop, R-Utah
Derp! [/center]
4 replies, 1066 views
Replies to this discussion thread
| | | | |
| --- | --- | --- | --- |
| 4 replies | Author | Time | Post |
| Utah Congressman Wants to Stop Government Funding for Parks Across the Country (Original post) | Judi Lynn | Oct 2015 | OP |
| | HassleCat | Oct 2015 | #1 |
| | yeoman6987 | Oct 2015 | #3 |
| | procon | Oct 2015 | #2 |
| | global1 | Oct 2015 | #4 |
---
Response to Judi Lynn (Original post)
Wed Oct 28, 2015, 10:35 PM
HassleCat (6,409 posts)
1. What a mess!
OK, he can't help it if he's fat. I give him a pass on that. But he could get a decent haircut. And he could stop saying stupid shit. I realize there's nothing he can do to increase his IQ, but he could learn to conceal his stupidity.
---
Response to HassleCat (Reply #1)
Wed Oct 28, 2015, 11:04 PM
yeoman6987 (14,449 posts)
3. Well heck with him
Budget just passed house for two years. By 2017, they will cry about something else. I am so glad not to hear budget into January 2017. This budget goes until March 2017. Oh sure rand Paul is going to stand and filibuster the bill but it will pass.
---
Response to Judi Lynn (Original post)
Wed Oct 28, 2015, 11:02 PM
procon (14,701 posts)
2. I'm pretty sure I read that there were a lot of parks in his state.
What a shortsighted dumbass. Tourists aren't going to visit Utah national parks if they aren't safe and maintained. What about all the local towns and workers that depend on tourists for their livelihood?
---
Response to procon (Reply #2)
Wed Oct 28, 2015, 11:28 PM
global1 (21,396 posts)
4. That Will Be A Matter The Voters Of Utah Will Have To Take Up With This Guy.....
the next time he's up for re-election.