Thu Mar 17, 2016, 01:24 AM
Behind the Aegis (46,932 posts)
'When You're Accustomed to Privilege, Equality Feels Like Oppression'
I've never been punched in the face. Not in an actual fight, at least. I'm not much of a fighter, I suppose... more of an "arguer." I don't think I'm "scared" to get into a fight, necessarily -- there have been many times I have put myself in situations where a physical fight could easily have happened.
I just can't see myself ever being the guy who throws the first punch, and I'm usually the kind of guy who DE-escalates things with logic or humor. And one of the things about being that sort of person, is that the other sort of guy -- the sort who jumps into fights quickly -- tends to not really be a big fan of me. Not when he first meets me, at least. They usually like me later. Not always. You can't win 'em all...
---snip---
And things started making a little more sense to me. All this anger we see from people screaming "All Lives Matter" in response to black protesters at rallies. All this anger we see from people insisting that their "religious freedom" is being infringed because a gay couple wants to get married. All these people angry about immigrants, angry about Muslims, angry about "Happy Holidays," angry about not being able to say bigoted things without being called a bigot...
They all basically boil down to people who have grown accustomed to walking straight at other folks, and expecting them to move. So when "those people" in their path don't move -- when those people start wondering, "Why am I always moving out of this guy's way?"; when those people start asking themselves, "What if I didn't move? What if I just kept walking too?"; when those people start believing that they have every bit as much right to that aisle as anyone else -- it can seem like their rights are being taken away.
more...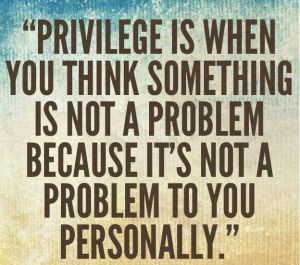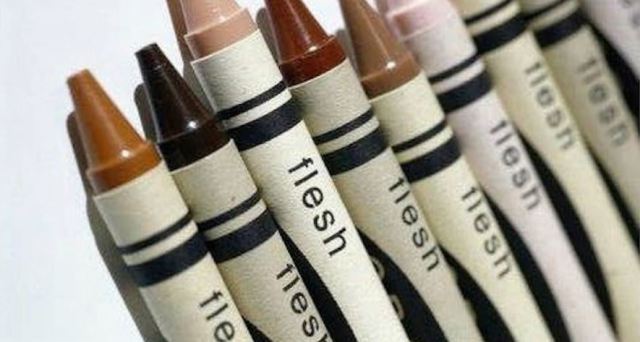 6 replies, 4654 views
Replies to this discussion thread
| | | | |
| --- | --- | --- | --- |
| 6 replies | Author | Time | Post |
| 'When You're Accustomed to Privilege, Equality Feels Like Oppression' (Original post) | Behind the Aegis | Mar 2016 | OP |
| | jberryhill | Mar 2016 | #1 |
| | ProfessorPlum | Mar 2016 | #2 |
| | whathehell | Mar 2016 | #3 |
| | Babel_17 | Mar 2016 | #4 |
| | uriel1972 | Mar 2016 | #5 |
| | Babel_17 | Mar 2016 | #6 |
---
Response to Behind the Aegis (Original post)
Thu Mar 17, 2016, 01:40 AM
jberryhill (62,444 posts)
1. Yep

For occasional amusement I read wingnut blogs, and I'm always fascinated by this idea that "Obama is divisive". That one has been a longstanding mystery to me.

But in a recent discussion among wingnuts, one of them was going on about how Obama has supposedly sown "division" and used, as an example, the circumstances leading up to the "beer summit" when Professor Gates was arrested for entering his own house on the basis of presumptions based on the color of his skin.

To them, making that incident part of our national discussion was an example of sowing or stirring up racial discord and resentment because, after all, that kind of thing certainly never puts a crimp in their day. So why all the fuss?

What I find fascinating in that perception is the default assumption that, to avoid sowing such discord, our society should simply accept things like being arrested for "going home while black" as the acceptable norm. To point out that the "acceptable norm" is not as it should be, is to be "divisive".

It is "divisive" to them if you recognize existing inequality for the purpose of attempting to eliminate a division that already exists, but which the privileged group does not want to change.
---
Response to jberryhill (Reply #1)
Thu Mar 17, 2016, 08:10 AM
ProfessorPlum (11,065 posts)
2. excellent post
---
Response to Behind the Aegis (Original post)
Thu Mar 17, 2016, 09:54 AM
whathehell (25,254 posts)
3. When you are accustomed to oppression, equality feels like privilege.
---
Response to Behind the Aegis (Original post)
Thu Mar 17, 2016, 07:17 PM
Babel_17 (5,400 posts)
4. "Tell the truth; Who among you would be satisfied with justice?"
I sort of remember reading that decades ago, but google shows nothing. Oh well, hopefully it stands for itself.
---
Response to Babel_17 (Reply #4)
Fri Mar 18, 2016, 12:10 AM
uriel1972 (4,028 posts)
5. I would, justice would be a vast improvement over the current situation... nt
---
Response to uriel1972 (Reply #5)
Fri Mar 18, 2016, 12:27 AM
Babel_17 (5,400 posts)
6. That's one way of taking the quote, and it's a fair comment for many to make (sadly)
Another way is that people have a highly individualistic way of seeing what justice is. The quote is directed at privileged people who are only mindful of their own desires. True justice takes into account the larger picture. When people say the system isn't fair, they often mean they feel entitled to more. How often are they thinking of other exploited people, many of whom are far worse off? If our nation somehow experienced a financial windfall, and all of it went to only those at the very bottom, how loud would be the yelling against the fairness of that? Where's the yelling now for the fairness of so many being in dire need in a country as wealthy as ours? When does justice come into play?

And at the end of the road, for those who believe in an afterlife, and some kind of accounting, how many would be satisfied with a just judgement, rather than a merciful one?