Wed Jul 27, 2016, 10:03 PM
newthinking (3,982 posts)
The Nation -  Against Neo-McCarthyism
 In their eagerness to defeat Trump, liberal pundits are reviving a damaging discourse.
By the Editors
The Nation Magazine
https://www.thenation.com/article/against-neo-mccarthyism/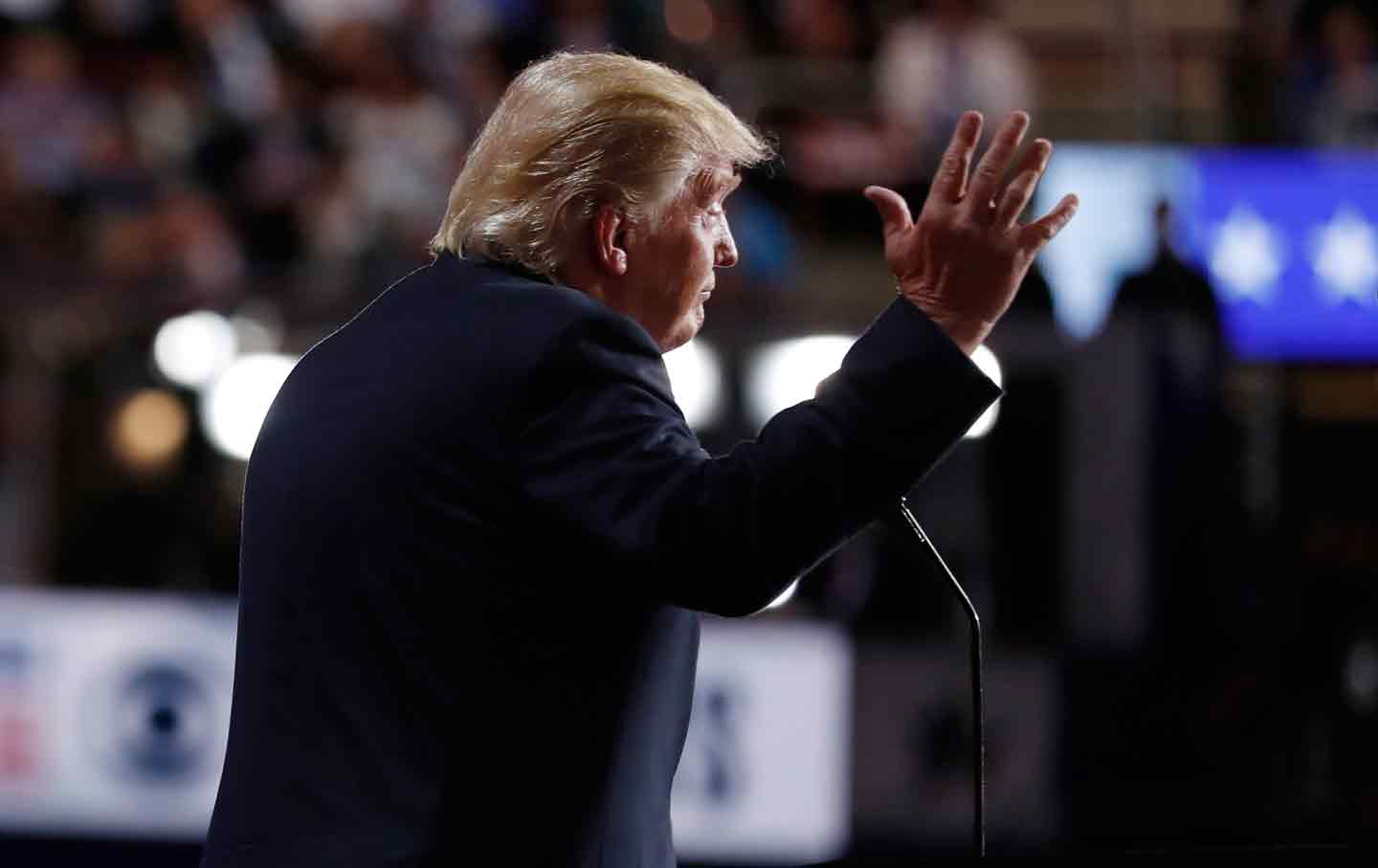 Republican presidential nominee Donald Trump speaks at the Republican National Convention in Cleveland, Ohio on July 21, 2016. (Reuters / Mark Kauzlarich)
I
n their zeal to prevent Donald Trump from becoming president—a goal we share—representative voices of the liberal establishment have joined with the forces of neoconservatism to engage in what can only be described as McCarthyist rhetoric. This magazine, which has a long and proud history of standing up to the
 worst excesses of McCarthyism, repudiates this unwelcome echo of the past. Let us recall that McCarthyism impugned the loyalty of American citizens by accusing them of allegiance to the Soviet Union. This political defamation—often a joint undertaking of Congress and the media—suppressed democratic debate over alternative policies and ideas, and in the process destroyed lives by stigmatizing those whose views were deemed insufficiently loyal to Cold War–era orthodoxies. The overall effect was to poison, chill, and censor the political discourse of the nation.
To adopt the pernicious language of McCarthyism is to turn our backs on the best traditions of our country.
While Trump himself has hardly been damaged by today's revival of McCarthyism, the same cannot be said for our national debate. Over the past month alone, establishment voices like Franklin Foer, Paul Krugman, Jeffrey Goldberg, Josh Marshall, and Jonathan Chait, among others, have Kremlin-baited Trump in lieu of reasoned argument and factual critique. On July 21, The Atlantic's Goldberg informed readers that "The Republican nominee for president, Donald J. Trump, has chosen this week to unmask himself as a de facto agent of Russian President Vladimir Putin." Krugman followed this up on July 22 by asking in The New York Times: "If elected, would Donald Trump be Vladimir Putin's man in the White House?" Krugman then answered his own baseless question: "Mr. Trump would, in office, actually follow a pro-Putin foreign policy, at the expense of America's allies and her own self-interest."
The idea that Trump is some kind of Manchurian candidate first took root thanks to a mistranslation of a remark by Putin, which was misconstrued as high praise for Trump by the media—and by Trump himself. To be sure, the GOP candidate has suggested that he may pursue a policy of détente with Russia. He also, in our view wisely, threw out a reckless plank in the Republican platform that pledged to further arm Kiev. But Trump is only following the lead of the current administration. Should we assert seditious links between President Obama's policy and the Kremlin?
This neo-McCarthyism now threatens to derail a vital debate over the substance of the 20,000-plus e-mails, made public by WikiLeaks on July 22, that reveal the purportedly neutral Democratic National Committee's derision and contempt for Senator Bernie Sanders's campaign—as well as several aborted attempts to tip the scales against him. While the FBI has launched an investigation, as of press time, nobody has conclusively proven who hacked into the DNC's network, much less demonstrated what their motives were. But that didn't stop Clinton campaign manager Robby Mook from appearing on CNN on July 24 to allege that Russia was behind the hack. "Sources are saying the Russians are releasing these e-mails for the purpose of actually helping Donald Trump," said Mook. To no one's great surprise, he neglected to tell CNN who his sources were. Nevertheless, liberal-media elites have joined with the Clinton campaign in promoting the narrative of a devious Russian cyber-attack, which Fairness and Accuracy in Reporting's Adam Johnson correctly points out "is being used to outweigh the damning substance of the leak itself."
Continued:
https://www.thenation.com/article/against-neo-mccarthyism/
6 replies, 1769 views
Replies to this discussion thread
| | | | |
| --- | --- | --- | --- |
| 6 replies | Author | Time | Post |
| The Nation -  Against Neo-McCarthyism (Original post) | newthinking | Jul 2016 | OP |
| | dsc | Jul 2016 | #1 |
| | newthinking | Jul 2016 | #2 |
| | Bluenorthwest | Jul 2016 | #3 |
| | geek tragedy | Jul 2016 | #4 |
| | newthinking | Jul 2016 | #5 |
| | Post removed | Jul 2016 | #6 |
---
Response to newthinking (Original post)
Wed Jul 27, 2016, 10:37 PM
dsc (50,895 posts)
1. He literally asked Russia to spy on us
this isn't Bernie honeymooned in the USSR. He literally asked Russia to spy on us.
---
Response to dsc (Reply #1)
Wed Jul 27, 2016, 10:44 PM
newthinking (3,982 posts)
2. Which is a reasonable thing to criticize
I think you are not seeing the point of the article. It is not about giving Trump a pass. But rather about sticking to the issues and not resurrecting McCarthyism. Many of the other claims being made are without merit and serve to move us away from progressive principles (which rejecting McCarthiyism is one of) and into dangerous territory.
---
Response to newthinking (Original post)
Thu Jul 28, 2016, 08:49 AM
Bluenorthwest (45,319 posts)
3. The Nation. McCarthyism is not 'linking people to Russia' it was about communism and
Russia is not communist. The Nation during Sochi lost my affections by insulting President Obama by complaining that he sent 'aged gay' people to the Olympics in his place. The Nation is far out of date and often has a 1950's social conservatism hidden by a thin veneer of affected liberal rhetoric. They see 'gay' as a bad thing, and that fact rears up subtly and not so subtly as with the complaints about sending gay people to the Olympics.

I'm sure straight people enjoy their work and I subscribed going back to the 80's. The Olympics crap was the last for me. They are opposed to the rights of LGBT around the globe if those rights get in the way of those they feel historical bonds with.
---
Response to newthinking (Original post)
Thu Jul 28, 2016, 09:06 AM
geek tragedy (68,868 posts)
4. Cohen is a Putin Apologist so of course he rallies to Trump's defense.
When a white nationalist retrograde bigoted protofascist has deep financial ties to a gangster mafia oligarchic fascist bigoted state, is the beneficiary of actions taken by the intelligence services of that gangster mafia oligarchic fascist bigoted state, and has a very public bromance with the white nationalist retrograde fascist bigoted oligarch running that gangster mafia oligarchic fascist bigoted state, it's not McCarthyism to point that out.

This isn't accusing people of being Commies because they favor public health care. It's noting disturbing ties between a candidate for President and a hostile nation run by a fascist bigot.

Gimme a break.


---
Response to geek tragedy (Reply #4)
Thu Jul 28, 2016, 12:34 PM
newthinking (3,982 posts)
5. Oh
Last edited Thu Jul 28, 2016, 07:08 PM - Edit history (2)
another Neo-Mccarthyist line.

Can you distinguish between opinion on foreign events and policy and support for Putin himself? Sounds like not. That article is written about exactly what you just did.

If you are comfortable implementing a republican authoritarian idea that most progressives called out as unnacceptable and rejected years ago well, OK.
---