Mon Dec 12, 2016, 03:12 AM
Judi Lynn (145,870 posts)
Trump's Election Represents an Evolutionary Clash Between Eras in Human History
Last edited Mon Dec 12, 2016, 12:36 PM - Edit history (1)
Trump's Election Represents an Evolutionary Clash Between Eras in Human History
By Jacob Weindling | December 6, 2016 | 10:58am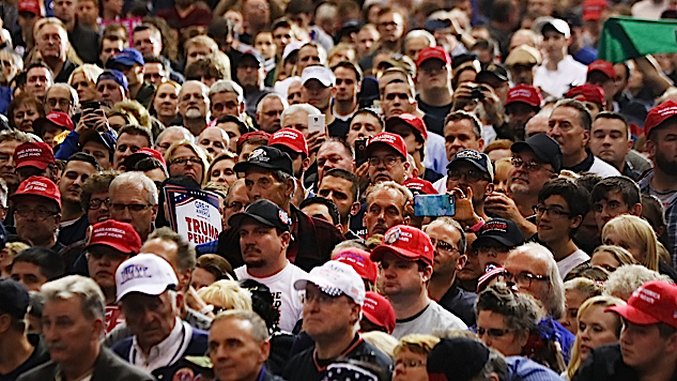 If you do not believe in evolution (and a reported 42% of you donít), well, studies have shown that any amount of evidence I give you will only harden your position, so Iíll just leave it at: I may not be right, but my side has millions of years of tangible evidence while yours has a book translated through several dictionaries whose words may not have initially come from humans, but whose text was handled and taught by them for centuries. If you havenít noticed lately, weíre not the most trustworthy species. But can you really blame us? We used to live in trees.
Australopithecus descended from the forests between 3.5 and 4.2 million years ago. We know this because its wrist bones became less adapted to swinging from trees and instead became geared towards a multitude of tasks. Essentially, this is proof of when we began to really walk, which lead to a new home for humans: caves. Thirty million people in China still live in caves, and not in the prehistoric vein that is typically portrayed. Others around the world are even available to rent on Airbnb. We are transitioning from a life dominated by the ďcaveĒ to one situated in the cloud. This is a major shock that is one of the primary drivers behind the election of Trump.
As soon as Neanderthals established their permanent home inside pieces of the earth, this dramatically changed our habits from when we would spend our days dangling close to the heavens. For example, we had to warm the cave during the winter, so we discovered fire. Having a home to retreat to enabled us to create a more tactical relationship with nature.
Around 700,000 to 200,000 years ago, we began to build our own homes. The reason for the wide range is that this evolution did not transition seamlessly across mankind. Those of us in harsher climates had a more difficult task at hand than people living in future San Diego. Around 170,000 years ago, humans began wearing clothes (we know this thanks to lice found with human remains Ė isnít science neat?). This advancement accelerated our evolution, as we could now travel to exponentially more places, while winter was not the death sentence it used to be. As humans explored more of the land, they understood how to tame it, and agriculture set us on a firm evolutionary track that we are just now transitioning away from.
More:
https://www.pastemagazine.com/articles/2016/12/trumps-election-represents-an-evolutionary-clash-b.html
6 replies, 1686 views
Replies to this discussion thread
| | | | |
| --- | --- | --- | --- |
| 6 replies | Author | Time | Post |
| Trump's Election Represents an Evolutionary Clash Between Eras in Human History (Original post) | Judi Lynn | Dec 2016 | OP |
| | pnwest | Dec 2016 | #1 |
| | Judi Lynn | Dec 2016 | #3 |
| | pnwest | Dec 2016 | #5 |
| | applegrove | Dec 2016 | #2 |
| | Judi Lynn | Dec 2016 | #4 |
| | Nitram | Dec 2016 | #6 |
---
Response to Judi Lynn (Original post)
Mon Dec 12, 2016, 03:27 AM
pnwest (2,842 posts)
1. link goes to story about malaria...
---
Response to pnwest (Reply #1)
Mon Dec 12, 2016, 12:38 PM
Judi Lynn (145,870 posts)
3. Wow. Just saw your post, found the right link. So sorry, didn't mean to screw it up. Thank you.
---
Response to Judi Lynn (Reply #3)
Mon Dec 12, 2016, 02:23 PM
pnwest (2,842 posts)
5. No worries, stuff happens:) I just read
the correct article, fascinating insight.
---
Response to Judi Lynn (Original post)
Mon Dec 12, 2016, 03:46 AM
applegrove (98,981 posts)
2. Link is wrong.
---
Response to applegrove (Reply #2)
Mon Dec 12, 2016, 12:39 PM
Judi Lynn (145,870 posts)
4. Just corrected it, didn't know it was wrong until a couple of minutes ago. Thank you, applegrove.
---
Response to Judi Lynn (Original post)
Mon Dec 12, 2016, 02:38 PM
Nitram (16,505 posts)
6. OK, some of this sounds very amateurish and based on questionable science.
For example, the author writes that it is impossible for two brown-eyed parents to have a blue-eyed baby. Actually it's exactly the opposite. It's impossible for two blue-eyed parents to have a brown-eyed baby, but if two brown-eyed parents both have a recessive gene for blue eyes, their kid can have blue eyes. For another, the lack of wisdom teeth doesn't mean an individual "represents" evolution. It means they are one of a minority of people who inherited a gene that omits wisdom teeth. Since no one suffers an early death from having or not having wisdom teeth, there is no evolutionary pressure for an evolutionary trend in this regard. The author would have done better to have avoided the awkward evolutionary aspect of his argument altogether. There is no evidence of "evolution" in modern man. Modern medicine and technology compensate for traits that might have resulted in a failure to pass on disadvantageous genes. Evolution only occurs when a new gene becomes more common in a population, or an old gene becomes less common, due to death occurring before reproduction has a chance to take place. Perhaps the evolutionary theme in the piece makes more sense as a metaphor.
This is the DU member formerly known as Nitram.