Wed Jul 26, 2017, 03:56 PM
populistdriven (5,554 posts)
Trump's Only Coherent Ideology Is Making You Mad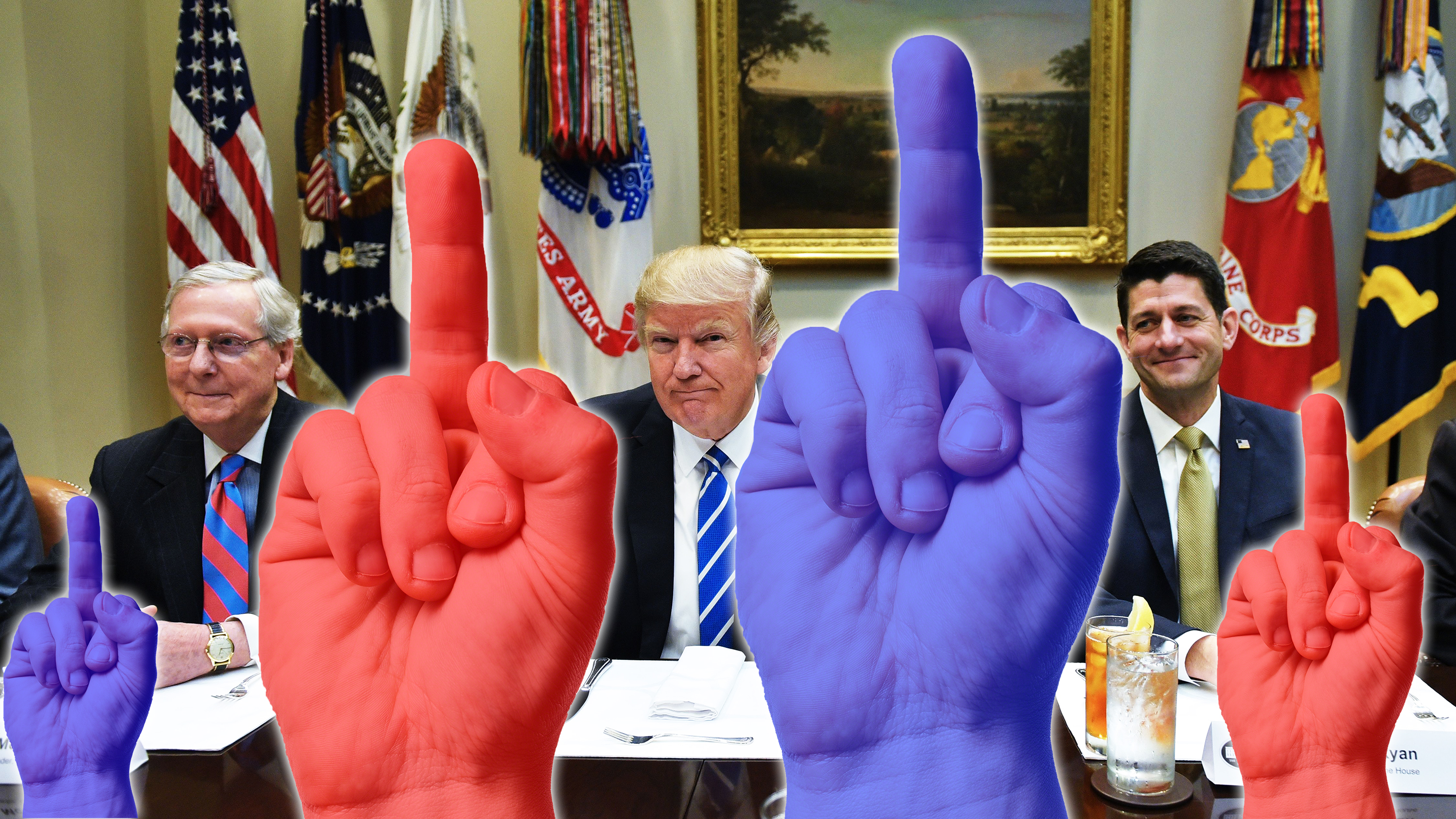 The only politics the right-wing knows how to champion is the politics of punching down.
These aren't dog whistles but open appeals to conservatives who aren't as ideological as much as they're angry—angry at immigrants for taking the jobs, angry at phone menus that ask them to press 1 for English, angry that they have to think about whether someone is a Christian or not, or whether they're hurting someone's feelings by using the wrong pronoun. Maybe Trump will make all of that better. Or maybe he'll just infuriate liberals, which is the next best thing.

Or, as Jane Coaston put it in a recent op-ed for BuzzFeed, "The policy conversations and conflicts and basic premises that once governed conservatism—or at least appeared to—have been largely replaced by a set of principles built on the rock-solid foundation of irritating liberals." GOP policies can do much more than merely annoy liberals—ask any trans soldier—but knee-jerk reactions against social progress is what defines conservatism today. Maybe in the past conservatives used the Bible or some nod to tradition to defend their views. But in the age of Trump, they can skip a few steps and go right to hating whatever liberals say.

In a column on Townhall headlined "We Must Elect Senator Kid Rock," conservative Kurt Schlichter wrote, "We're past voting for the ideology. Now we're ready to vote for the id." These two sentences, quoted by Coaston, better explain the rise of Trump, and the reasoning behind the majority of his political decisions, better than almost anything you'll read. Trump has succeeded by playing into broad cultural fears, never mind that his policies are hurting people, like trans folks in the military or undocumented immigrants, who don't have the power to defend themselves.
https://www.vice.com/en_us/article/zmvd8y/trumps-only-coherent-ideology-is-making-you-mad
4 replies, 2091 views
Replies to this discussion thread
| | | | |
| --- | --- | --- | --- |
| 4 replies | Author | Time | Post |
| Trump's Only Coherent Ideology Is Making You Mad (Original post) | populistdriven | Jul 2017 | OP |
| | TeapotInATempest | Jul 2017 | #1 |
| | populistdriven | Jul 2017 | #3 |
| | dubyadiprecession | Jul 2017 | #2 |
| | C_U_L8R | Jul 2017 | #4 |
---
Response to populistdriven (Original post)
Wed Jul 26, 2017, 04:00 PM
TeapotInATempest (804 posts)
1. "Now we're ready to vote for the id."
Yeah, that's the way to run a nuclear superpower. Idiots.

Seriously, what is wrong with these people??
---
Response to TeapotInATempest (Reply #1)
Wed Jul 26, 2017, 04:15 PM
populistdriven (5,554 posts)
3. Kurt Schlichter said that & Trump is following his playbook
---
Response to populistdriven (Original post)
Wed Jul 26, 2017, 04:02 PM
dubyadiprecession (4,799 posts)
2. I can't see kid rock spending more than two minutes in the senate chamber listening to a debate...
on any issue. As for attendance records, i could imagine his would be worse than Marco Rubio.
---
Response to populistdriven (Original post)
Wed Jul 26, 2017, 04:25 PM
C_U_L8R (43,132 posts)
4. He plays the role well.
"What you lookin' at? You all a bunch of fuckin' assholes. You know why? You don't have the guts to be what you wanna be? You need people like me. You need people like me so you can point your fuckin' fingers and say, "That's the bad guy." So... what that make you? Good? You're not good. You just know how to hide, how to lie. Me, I don't have that problem. Me, I always tell the truth. Even when I lie. So say good night to the bad guy! Come on. The last time you gonna see a bad guy like this again, let me tell you. Come on. Make way for the bad guy. There's a bad guy comin' through! Better get outta his way!"