Wed Nov 15, 2017, 12:43 AM
Judi Lynn (147,053 posts)
A New Report Sheds Light on the Plot to Murder Honduran Activist Berta Cceres
In Honduras, the United States willfully ignores institutional rot and buttresses crooked strongmen.
By Lauren Carasik TODAY 3:04 PM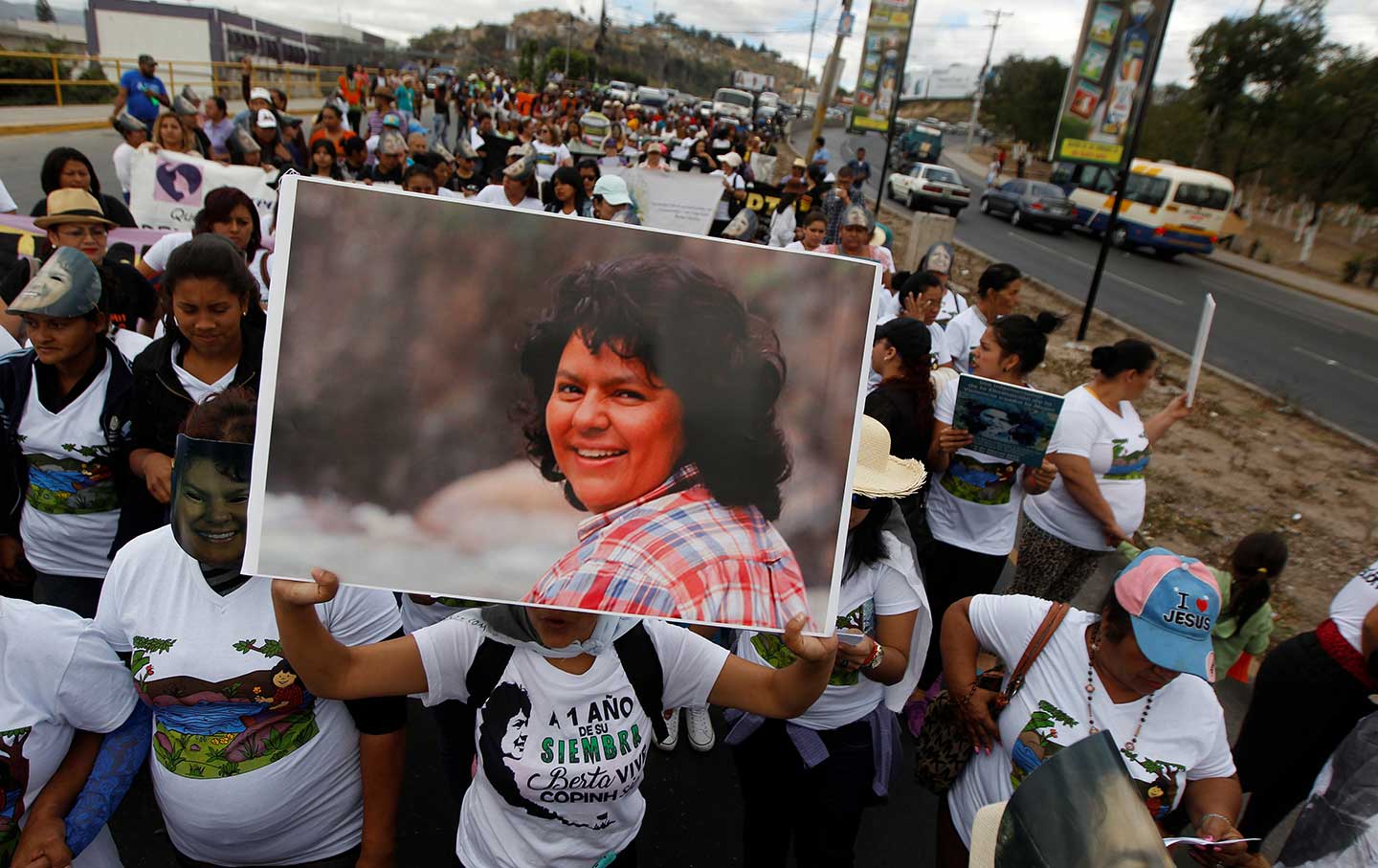 Environmental leader Berta Cáceres was in her modest house in La Esperanza, Honduras, with fellow activist and Mexican national Gustavo Castro Soto on March 2, 2016. Cáceres had purchased the home with award money from the Goldman Environmental Prize, which she won in 2015 for rallying her indigenous Lenca community against a proposed dam. It was the first house she had ever owned, and it was meant to provide sanctuary from the intensity and danger of her work. Shortly before midnight, gunmen kicked in the door and fired six shots into her bedroom, hitting Cáceres three times. Castro, who was also shot, rushed to her side, and cradled her as she died.
During her funeral procession a few days later, a crowd of thousands wound down the street with a mix of grief and defiance, chanting what would become a rallying cry, "¡Berta vive, la luche sigue!" or "Long live Berta, the struggle continues." Cáceres's four children vowed to channel their anguish into pursuing justice for their mother's killers and carrying on her work. Daughter Bertha Zúñiga Cáceres has stepped up to fill the void, taking over leadership of the Civic Council of Popular and Indigenous Organizations of Honduras (COPINH), the organization her mother co-founded decades ago. It wasn't long before she too was attacked, barely escaping the assailants.
. . .
As with anything in Honduras, the United States looms large in this case. Honduras has been a US "captive nation" for over a century, serving Washington's military, geopolitical, and economic interests. It historically functioned as a conduit for transnational investment, such as American banana companies, and was later the staging ground for the US-supported contra death squads in Nicaragua in the 1980s. Today Honduras hosts the military base that anchors US military presence in the region and provides an important launching pad for anti-drug efforts.
More:
https://www.thenation.com/article/new-report-sheds-light-on-the-plot-to-murder-honduran-activist-berta-caceres/
0 replies, 935 views