Mon Feb 4, 2019, 06:31 AM
Behind the Aegis (44,910 posts)
100 Years Later, Dearborn Confronts the Hate of Hometown Hero Henry Ford
Deadline Detroit publishes "Henry Ford and 'The International Jew'" with permission from The Dearborn Historian, a city-funded quarterly magazine of the Dearborn Historical Commission. The story appears in the Historian's current issue, which marks the 100th anniversary of Dearborn native Henry Ford buying the weekly Dearborn Independent, which he used to attack Jews.
The Historian story is Dearborn's first detailed examination of Ford's anti-Jewish crusade, whose content lives on today in the online world of anti-Semites and other hate groups as anti-Semitic incidents are on the rise. While Ford's dark side has been off-limits in Dearborn, the city has taken steps in recent years to come to terms with its other symbol of hate, Orville Hubbard, the segregationist mayor from 1942-78.
The story's author and editor of The Historian is veteran Detroit journalist Bill McGraw, a Dearborn resident who co-founded Deadline Detroit with Allan Lengel. The Historian has no online presence; the story has been edited for posting on a website.
Chapter 1: Mass-Producing Hate
Henry Ford was peaking as a global celebrity at the conclusion of World War I, having introduced the $5 workday, assembly line and Model T -- revolutionary changes that transformed the way people lived. Reporters staked out the gates of his Fair Lane mansion. Ford loved the limelight and he constantly made news, even running for the U.S. Senate in Michigan as a Democrat in 1918. He narrowly lost.
more...
The author of this piece was
fired
for writing this article and the publication was halted.
7 replies, 1132 views
Replies to this discussion thread
| | | | |
| --- | --- | --- | --- |
| 7 replies | Author | Time | Post |
| 100 Years Later, Dearborn Confronts the Hate of Hometown Hero Henry Ford (Original post) | Behind the Aegis | Feb 2019 | OP |
| | k8conant | Feb 2019 | #1 |
| | caraher | Feb 2019 | #2 |
| | Behind the Aegis | Feb 2019 | #3 |
| | caraher | Feb 2019 | #5 |
| | appalachiablue | Feb 2019 | #4 |
| | dalton99a | Feb 2019 | #6 |
| | Judi Lynn | Feb 2019 | #7 |
---
Response to Behind the Aegis (Original post)
Mon Feb 4, 2019, 08:07 AM
k8conant (2,862 posts)
1. I lived in Dearborn from 1952 to 1971 and 1977 to 1981
and had thought its worst days were over by now.
Apparently not.
Mayor O'Reilly should rescind his firing of McGraw.
Henry Ford was definitely a flawed man. Besides 'The International Jew" which fueled Hitler and the Nazis ("In summer 1938, with the German Wehrmacht having marched into Austria, and despite years of deflecting charges he was an anti-Semite, Ford accepted a 75th birthday present from Hitler. It was the Grand Cross of the Supreme Order of the German Eagle, the highest award the regime bestowed on foreigners.&quot
, he also had an illegitimate son, John Côté Dahlinger.
---
Response to Behind the Aegis (Original post)
Mon Feb 4, 2019, 02:06 PM
caraher (5,509 posts)
2. Here's the statement from the mayor's office
From the
City of Dearborn's web site
:
For years, Dearborn has supported and participated with interfaith organizations and in regional roundtables with diverse communities, and actively promotes initiatives dedicated to increasing unity and understanding.

So we want Dearborn to be understood as it is today—a community that works hard at fostering positive relationships within our city and beyond. We expect city-funded publications like The Historian to support these efforts.

It was thought that by presenting information from 100 years ago that included hateful messages -- without a compelling reason directly linked to events in Dearborn today -- this edition of the city-funded Historian could become a distraction from our continuing messages of inclusion and respect.

For this reason, the Mayor asked that the distribution of the hard copies of the current edition of The Historian be halted.
They also deny "firing" McGraw (because he is a contractor, not a city employee - never mind that the mayor told the curator to end McGraw's contract). Pretty fine distinction
---
Response to caraher (Reply #2)
Mon Feb 4, 2019, 04:13 PM
Behind the Aegis (44,910 posts)
3. Sounds like a BS excuse to whitewash the past.
Pretty standard when it comes to exposing anti-Semitism.
---
Response to Behind the Aegis (Reply #3)
Tue Feb 5, 2019, 12:28 AM
caraher (5,509 posts)
5. Yes
And the irony is that if the mayor had simply let the article be published there would be 200 history buffs reading the story, rather than a nation reading about his pathetic effort to squelch the ugly facts about Dearborn's most famous citizen.
---
Response to Behind the Aegis (Original post)
Mon Feb 4, 2019, 09:22 PM
appalachiablue (21,303 posts)
4. Excellent article, TY. WTH drove Ford's rabid anti semitism I wonder.
K & R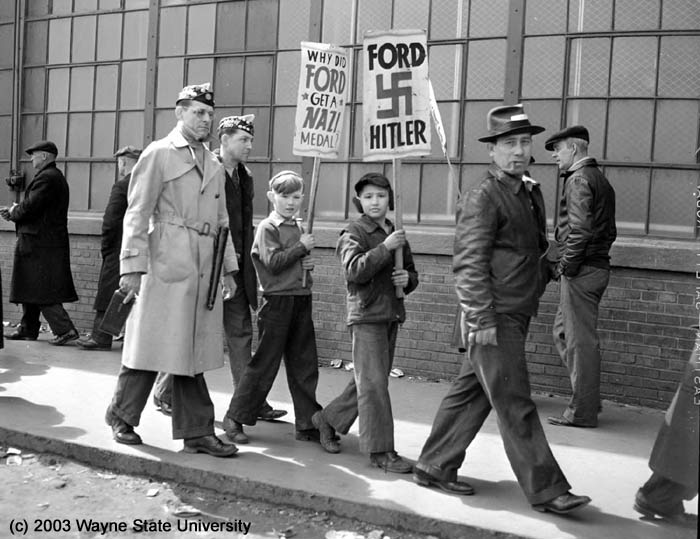 Ford River Rouge Factory strike, Dearborn, Michigan, 1941.
---
Response to Behind the Aegis (Original post)
Tue Feb 5, 2019, 01:20 AM
dalton99a (40,340 posts)
6. "Ford's books inspired Adolph Hitler, scholars say."
Experts on Hitler have noted Ford's literature influenced Hitler's writing in "Mein Kampf." Reading "The International Jew," which became a hit in Germany after being published in German in 1922, helped push Hitler further into "conspiratorial anti-Semitism," Thomas Weber wrote in "Becoming Hitler: The Making of a Nazi."

"Henry Ford is important for having provided to Hitler confirmation, coming from the very heart of America, of an idea that had been brewing in his mind," Weber wrote. The idea was that Jews' control of global finance was behind the world's problems.

"Henry Ford thus turned into an anti-Semitic icon for Hitler."

In summer 1938, with the German Wehrmacht having marched into Austria, and despite years of deflecting charges he was an anti-Semite, Ford accepted a 75th birthday present from Hitler. It was the Grand Cross of the Supreme Order of the German Eagle, the highest award the regime bestowed on foreigners.
---
Response to Behind the Aegis (Original post)
Tue Feb 5, 2019, 09:02 PM
Judi Lynn (134,240 posts)
7. "Was Henry Ford a good boss?" (article from 2017)
Kelly La Rue, I Have Driven a Taxi
Updated Oct 9, 2017
No.
One of Hitler's heroes was Henry Ford and Ford returned the favor. Both kept photos of the other in their offices. Hitler awarded Ford the highest Nazi civilian award, the Grand Cross of the German Eagle in 1938.
Henry Ford was a fanatical anti-Semite so much so he bought a newspaper,
Dearborn Independent
, in order to give wide circulation to his ideas and published one of the most famous forgeries in history.
The
Protocols of the Elders of Zion
is a well-known malicious forgery created by the Russian Czar's secret service in the 1880′s that purportedly recorded a series of lectures by a Jewish elder outlining a conspiracy to overthrow European governments. This forgery is popular with White Supremacists and remains an influential document that changes minds.
Ford passed the
Protocols
to Cameron, the editor of the
Dearborn Independent
, Ford's newspaper, and the
Independent
turned its attention to bringing this blueprint for world domination to the public.
So enthralled was Ford with "Jewish menace" that he wrote a book
The International Jew
reprinting his most outlandish articles taken from his newspaper series propagating his theories.
The International Jew
made a deep impression on many of the German youth whose American heroes were Herbert Hoover and Henry Ford. Hitler had a worn copy of the book in his library.
More:
https://www.quora.com/Was-Henry-Ford-a-good-boss
~ ~ ~
How the Ford Motor Company Won a Battle and Lost Ground
Corporate violence against union organizers might have gone unrecorded—if it not for an enterprising news photographer
Before the blows began to rain: Walter Reuther (hand in pocket) and Richard Frankensteen (to Reuther's left). (James Kilpatrick of the Detroit News, Wikimedia Commons)
By Gilbert King
smithsonian.com
April 30, 2013
In 1937, Walter Reuther and his United Autoworkers Union had brought General Motors and Chrysler to their knees by staging massive sit-down strikes in pursuit of higher pay, shorter hours and other improvements in workers' lives. But when Reuther and the UAW set their sights on the Ford Motor Company's River Rouge complex in Dearborn, Michigan, Henry Ford made it clear that he'd never give in to the union.
On the morning of May 26, 1937, Detroit News photographer James "Scotty" Kilpatrick was among a crowd waiting for the shift change at River Rouge, which employed 90,000 workers. About 2 p.m. that May 26, Reuther arrived at the Miller Road Overpass at Gate 4 with an entourage of clergymen, representatives from the Senate Committee on Civil Liberties and dozens of women from UAW Local 174, where Reuther was president. The woman wore green berets and carried leaflets reading, "Unionism, not Fordism," which they intended to hand out to departing workers. At the direction of "Scotty" Kilpatrick, Reuther posed for photographs with UAW organizational director Richard Frankensteen and a few other organizers atop the overpass—public property—with the Ford Motor Company sign in the background.
Then Harry Bennett showed up with his entourage. Bennett, one of Henry Ford's right-hand men, led the notorious Ford Service Department, a private police force composed of ex-convicts, ex-athletes, ex-cops and gang members.
"You will have to get off here," one of Bennett's men told the unionists.
We're not doing anything," Reuther replied.
Frankensteen (with his jacket pulled over his head) said members of the Ford Service Department gave him "the worst licking I've ever taken." (James Kilpatrick, Detroit News, Wikimedia Commons)
More:
https://www.smithsonianmag.com/history/how-the-ford-motor-company-won-a-battle-and-lost-ground-45814533/
So interesting he had so much room in his heart to viciously hate so many other people, too. A real "American" success story. So strange so many people have deified this dirty, unprincipled, pompous clown.
Another angle of Ford's henchmen clobbering Frankensteen.
"Richard Frankensteen, the UAW's 'other guy'"
https://slideplayer.com/slide/8555431/26/images/6/The+Battle+of+the+Overpass.jpg
~ ~ ~
The Ford Massacre: Detroit's darkest day.
. . .
The Massacre
Protesters running away after the first shots were fired.
All looked well until they reached the Fort Street bascule Bridge, the entrance to Ford's manufacturing complex. While Henry Ford was inside the manufacturing complex, he ordered his "Service Men", who were Ford's mafia, or hated spies and thugs who Ford hired in order to make his company unstoppable, to open fire at the approximately 5,000 protesters outside the manufacturing complex. They were also backed by the Detroit police an fire department, which were dispatched by Clyde Ford, Henry Ford's cousin. The police were joined by Ford security guards, and began shooting into the crowd. Joe York, Coleman Leny and Joe DeBlasio were killed, and at least 22 others were wounded by gunfire.
The protesters were about to call the march off and walk back home peacefully when suddenly the notorious Harry Bennett, head of Ford Security and the infamous Service Men, went out of a car with two other accomplices and started to open fire on the protesters with machine guns. The auto magnate's right-hand man, Harry Bennett, was immediately recognized and injured by stone-throwing workers. Bennett emptied his own gun and then a police officer's revolver into the workers. He and his goons killed 16-year-old Joe Bussell and left many more injured. Forty-eight workers were arrested, some chained to their hospital beds.
More:
https://www.carthrottle.com/post/dolzbz7/
Remember, Republicans intend to put the country right back in the situation it was in before Unions were "allowed" to function for workers. America, "great again." Yeah, sure.
Here is the image of Ford's "masterpiece":