Thu Mar 14, 2019, 09:58 PM
appalachiablue (21,558 posts)
Climate: Green Groups (Oxfam, Greenpeace) Sue To Make FRANCE Act Boldly On Climate Change
Last edited Thu Mar 14, 2019, 11:01 PM - Edit history (1)
Enough Inaction: Green Groups Sue to Make France Act Boldly on Climate Crisis. "We still have a choice, and the possibility of saving the world" by Andrea Germanos, staff writer, Common Dreams, March 14, 2019.
Four advocacy groups filed a lawsuit against France on Thursday for failing to take necessary action to tackle the climate crisis. The French groups—Fondation pour la Nature et l'Homme (FNH), Greenpeace France, Notre Affaire à Tous, and Oxfam France—filed their case, which they've dubbed "l'Affaire du siècle" or the case of the century, in the administrative court of Paris.
Boosting support for their action is an online petition, which has already gathered over 2 million signatures, as well as a YouTube campaign video with noted figures including Marion Cotillard & Juliette Binoche. To boot, there's a "march of the century" demanding climate justice planned for Saturday, March 16. Over 130 actions have been planned, organizers say.
"We still have a choice, and the possibility of saving the world," said Jean-Baptiste Bosse at a press conference Thursday on the suit. "We're up against the greatest challenge in the history of mankind; as a scientist or as a citizen, I simply do not have the choice not to commit myself."
- Demonstrators take part in a climate march on Oct. 13, 2018 in Bordeaux, southwest France.
The "reality of the climate urgency" is clear, the groups said in an earlier press statement (pdf) announcing the legal action. As is the nation's failure to act, given that every administration since the 1960s "has repeatedly postponed the adoption of adequate policies that could have helped avoid the climate catastrophe."
They added: Despite its long-term involvement in global climate talks, France is not taking further steps to successfully tackle climate change: in this perspective, it should be reminded that the French state committed to do everything in its power to limit the global temperature rise to below 2°C (and eventually, below 1.5° C), by ratifying the Paris Climate Agreement and many other European programs focused on greenhouse gases reduction and renewable and sustainable energy. France has failed to respect both its international commitments and its own national climate policies.
"We want the French state's commitments and stated ambitions to be translated into concrete action," Noelie Coudurier, who director of Oxfam France's climate section, told FRANCE 24. "And in order to enforce this, we need the courts to recognize the state's responsibility in failing to meet its targets."..
https://www.commondreams.org/news/2019/03/14/enough-inaction-green-groups-sue-make-france-act-boldly-climate-crisis
---------------
REUTERS, "Environmental Groups Take France To Court Over Climate Change Inaction," March 13, 2019
https://www.reuters.com/article/us-climatechange-france/environmental-groups-take-france-to-court-over-climate-change-inaction-idUSKCN1QV1YB
FRANCE24, "French State Faces Landmark Lawsuit Over Climate Inaction," March 13, 2019
https://www.france24.com/en/20190314-french-state-lawsuit-climate-change-environment
When French President Emmanuel Macron showed up for a town hall meeting last week in the picturesque provenal town of Groux-les-Bains, part of a Great National Debate that has seen him engage with local communities across the country, the star guest from Paris was upstaged by a local schoolboy who, mic in hand, urged him to get serious about saving the planet.
"What do you mean by ecology, since our factories are free to discard their waste at sea, pesticides pollute our soils and thus our food, Europe sends 20,000 tonnes of junked electrical equipment to Nigeria, and plastic rubbish invades our oceans and our planet?" asked the plucky 14-year-old, who went by the name of Charlie.
"When are you going to react? You have the power to," the youngster added. "Or do you think money will buy us a new planet?" As video footage of the tirade went viral, the young Charlie was soon described as the "French Greta Thunberg", after the Swedish schoolgirl whose weekly "school strike for climate" in front of Stockholm's Parliament House has won a global following, inspiring student protests and strikes in cities across the globe...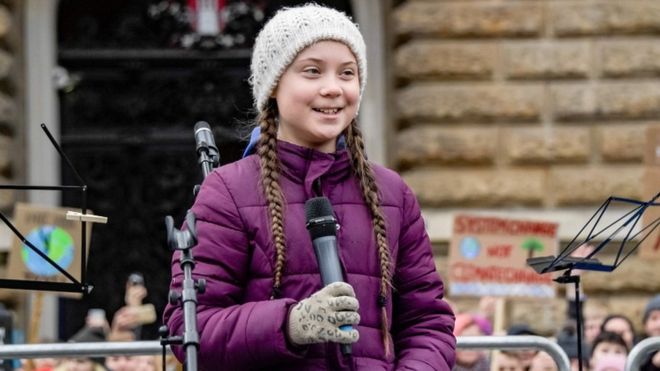 BBC, Greta Thunberg of Sweden nominated for Nobel Peace Prize for climate activism, March 14, 2019
https://www.bbc.com/news/world-europe-47568227
0 replies, 436 views