Tue May 21, 2019, 04:26 PM
Fritz Walter (2,764 posts)
Want to stop money laundering? Require names of "Beneficial Owners"
While spending a few days visiting "up north," I saw this
editorial
in today's Globe and Mail.
Apparently, Canada is also seeing a huge impact of money laundering. For instance, in British Columbia,
...reports estimated that $5-billion was washed through the province's real-estate market in 2018, inflating prices by 5 per cent.

There is good reason to believe that the same is happening in other Canadian cities. A report in March from Transparency International tallied almost $30-billion of "unknown funds" – from entities whose true ownership is cloaked – that have been pumped into the Greater Toronto Area housing market since 2008. Of that figure, $9.8-billion worth of deals were done in cash, avoiding the few checks on money laundering that exist in real estate.

B.C.'s money-laundering reports – on casinos, luxury cars and real estate – are the beginning of the story, not the end. The province last week announced a public inquiry, which should be a prelude to action.
It appears that our northern neighbors (neighbours?) have legislators with actual backbones. In this province, their parliament has come up with an effective solution: name names. Presumably, ass-kickings may follow.
An essential first step is a public registry of who owns what real estate. B.C. has taken the lead with first-in-Canada legislation introduced this spring that will reveal beneficial owners – the names of actual people – behind structures such as numbered companies.

As Transparency International argues, disclosure of beneficial ownership "should be a prerequisite for any property transfer."
Just out of curiosity, has this idea ever occurred to
our own
* public servants?
Perhaps it's the local climate. Or the great dining experiences I'm enjoying here, but is it "aluminium" hat-worthy to suggest that this is part of Putin's scheme? Encourage (require?) Russian oligarchs to buy up property in western countries. No only to avoid taxes and other, pesky government "interference", diversify holdings, and other easily recognizable advantages of money laundering; but also
add to the destabilization of Western economies
. Hyper-inflate real estate and luxury commodity sales, then watch the local/regional/national economies recede if not outright crash. Which provides even more opportunities for hidden investors to scoop up even more assets.
Nah! Must be the weather here...
___
*
We all know who owns the RepubliCONs. A list of names would read like the Moscow phonebook!
3 replies, 1279 views
Replies to this discussion thread
| | | | |
| --- | --- | --- | --- |
| 3 replies | Author | Time | Post |
| Want to stop money laundering? Require names of "Beneficial Owners" (Original post) | Fritz Walter | May 2019 | OP |
| | FakeNoose | May 2019 | #1 |
| | Fritz Walter | May 2019 | #2 |
| | FakeNoose | May 2019 | #3 |
---
Response to Fritz Walter (Original post)
Wed May 22, 2019, 12:32 PM
FakeNoose (12,969 posts)
1. Stolen wealth from Russia is corrupting the western world
This has been going on since 2005 and it's still snowballing. To learn more about this cancer on our system, I recommend Bill Browder's book "Red Notice."
Mr. Browder was an early hedge-fund investor in Russia immediately after their "peaceful" revolution, and he got trapped in a criminal scheme that became life-threatening. Browder got out and lived to tell about it, but sadly his lawyer Sergei Magnitsky paid with his life.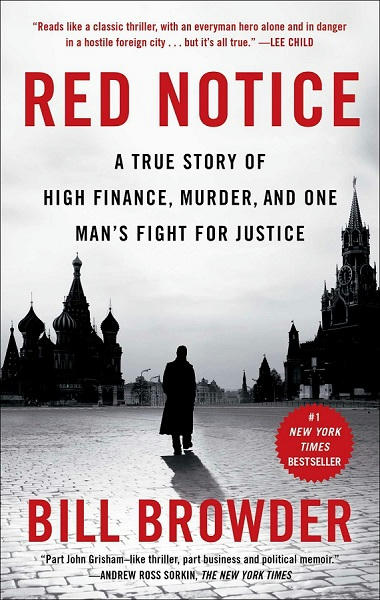 The fact that the US Republican Party is willing to accept their money after everything we know about these Russian mob-boss oligarchs, tells us all we need to know.
---
Response to FakeNoose (Reply #1)
Wed May 22, 2019, 01:28 PM
Fritz Walter (2,764 posts)
2. I recall hearing or reading that story
I'll see if my public library has it in stock.
And I'd better hurry before the RepubliCONs shut down libraries.
---
Response to Fritz Walter (Reply #2)
Wed May 22, 2019, 04:15 PM
FakeNoose (12,969 posts)
3. It's chilling, but at the same time inspiring
It reads like a John Grisham novel.