Sat Jun 15, 2019, 07:20 PM
Miigwech (1,918 posts)
Peasant clothing? It could be a thing in the fashion world soon?
since most of us are being forced back into feudal times due to climate change and wealth disparage.
The 'Tunic' ... what we will all be wearing if trump wins in 2020.
While the fashions of the upper classes were changing with the decade (or at least the century), peasants and laborers stuck to the useful, modest garments their progenitors had been clad in for generations during the Middle Ages. Of course, as the centuries passed, minor variations in style and color were bound to appear; but, for the most part, European peasants wore very similar clothing in most countries from the 8th to the 14th century.
The Ubiquitous Tunic

The basic garment worn by men, women, and children alike was a tunic. This appears to have evolved from the tunica of late antiquity. Such tunics are made either by folding over a long piece of fabric and cutting a hole in the center of the fold for the neck or by sewing two pieces of fabric together at the shoulders, leaving a gap for the neck. Sleeves, which weren't always part of the garment, could be cut as part of the same piece of fabric and sewn closed or added later. Tunics fell to at least the thighs. Though the garment might be called by different names at different times and places, the construction of the tunic was essentially the same throughout these centuries.

At various times, men and, less often, women wore tunics with slits up the sides to afford more freedom of movement. An opening at the throat was fairly common to make it easier to put on over one's head; this might be a simple widening of the neck hole; or, it might be a slit that could be tied closed with cloth ties or left open with plain or decorative edging.

Women wore their tunics long, usually to mid-calf, which made them, essentially, dresses. Some were even longer, with trailing trains that could be used in a variety of ways. If any of her chores required her to shorten her dress, the average peasant woman could tuck the ends of it up in her belt. Ingenious methods of tucking and folding could turn the excess fabric into a pouch for carrying picked fruit, chicken feed, etc.; or, she could wrap the train over her head to protect herself from the rain.

Women's tunics were usually made of wool. Woolen fabric could be woven rather finely, though the quality of the cloth for working-class women was mediocre at best. Blue was the most common color for a woman's tunic; though many different shades might be achieved, the blue dye made from woad was used on a large percentage of manufactured cloth. Other colors were unusual, but not unknown: pale yellow, green, and a light shade of red or orange could all be made from less-expensive dyes. All these colors would fade in time; dyes that stayed fast over the years were too expensive for the average laborer.

https://www.thoughtco.com/european-peasant-dress-1788614
5 replies, 2131 views
Replies to this discussion thread
| | | | |
| --- | --- | --- | --- |
| 5 replies | Author | Time | Post |
| Peasant clothing? It could be a thing in the fashion world soon? (Original post) | Miigwech | Jun 2019 | OP |
| | appalachiablue | Jun 2019 | #1 |
| | Miigwech | Jun 2019 | #2 |
| | PoindexterOglethorpe | Jun 2019 | #3 |
| | gay texan | Jun 2019 | #4 |
| | Miigwech | Jun 2019 | #5 |
---
Response to Miigwech (Original post)
Sat Jun 15, 2019, 09:40 PM
appalachiablue (21,304 posts)
1. Photo, Poor fishermen wearing tunic clothing, 1908 Barbados.
Locally these folks are referred to as 'Redlegs,' centuries old inhabitants of Barbados in the Caribbean. The Redlegs are descendants of Irish and Scots transports who were brought to the island by the British during the mid 1600s as POWs and indentured servants to work in the sugar cane fields. In the last 10+ years, this photo and others have been used to prop up a myth of 'white slaves,' an internet meme.
In the late 1980s I saw the photo, or a similar one from the same group displayed at a historic property, Sunbury Plantation in Saint Phillip Parish, Barbados. I asked the guide at Sunbury about the photo which had a caption, 'Redlegs' and she pointed outside saying, 'over there.' We left and walked around a good while but couldn't get more information until years later, mostly online.
I was struck at seeing a 20th c. photo of people wearing medieval tunics, similar to what I saw in artworks and tapestries.
https://en.wikipedia.org/wiki/Redleg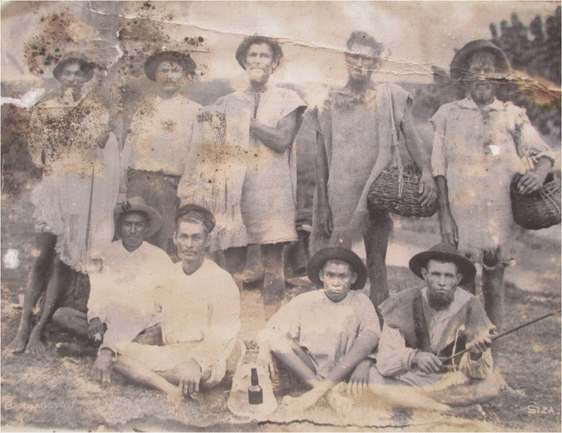 'Redlegs' of Barbados, 1908.
Serfs/peasants from the medieval period, the Middle Ages in Europe, 5th -15th centuries.
https://en.wikipedia.org/wiki/Serfdom
---
Response to appalachiablue (Reply #1)
Sat Jun 15, 2019, 09:46 PM
Miigwech (1,918 posts)
2. Very interesting, thanks
---
Response to Miigwech (Original post)
Sun Jun 16, 2019, 12:51 AM
PoindexterOglethorpe (10,727 posts)
3. Peasant style clothing has been in and out of fashion
at various times over the years.
---
Response to Miigwech (Original post)
Sun Jun 16, 2019, 12:50 PM
gay texan (742 posts)
4. Complete the look by adding
A pair of sandals made out of a used tire....
---
Response to gay texan (Reply #4)
Sun Jun 16, 2019, 06:42 PM
Miigwech (1,918 posts)
5. Such a great accoutrement for the lean times
humans will soon be facing.