Thu Oct 15, 2020, 01:07 AM
appalachiablue (28,685 posts)
Greece's Neo- Nazi, Violent Far Right 'Golden Dawn' Fuhrer & Leaders Sentenced To 13 Yrs In Athens
Last edited Thu Oct 15, 2020, 10:21 AM - Edit history (1)
'Neo-Nazi leaders of Greece's Golden Dawn sentenced to 13 years.' Leaders of violent far-right group, including former MPs, shown little leniency by judges. The Guardian, Oct. 14, 2020. - Excerpts:
The neo-Nazi leaders of Golden Dawn have each been sentenced to 13 years in prison by a court in Athens, at the end of a historic hearing. The neo-fascist group was officially laid to rest as its disgraced former MPs were shown little mercy by a three-member panel of judges. Last week the court ruled that Golden Dawn lawmakers had operated a criminal organisation under the guise of being a democratically elected party.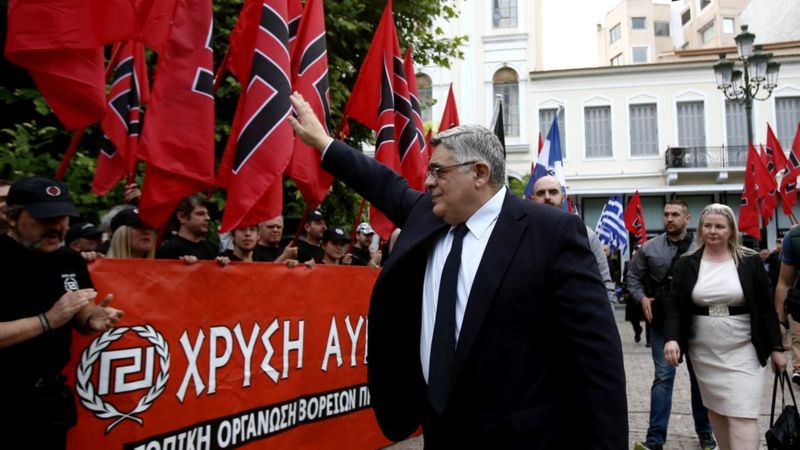 - Greek fascist leader Nikos Michaloliakos, self- appointed fuhrer of Golden Dawn.
A public prosecutor proposed lengthy prison terms for 57 defendants convicted of murder, assault, weapons possession and either running or participating in the criminal outfit, and on Wednesday a total of more than 500 years behind bars was handed down by the tribunal. The court, which almost unanimously dismissed pleas for leniency, went into recess following the announcement to deliberate on whether the sentences would be suspended pending appeal. Defence lawyers had argued during the marathon legal proceedings for sentences to be reduced, citing their clients' good behaviour, honourable family lives and even love of animals. Under Greece's revised penal code, the maximum prison sentence for the crime of heading a criminal gang is 15 years.
Kampagiannis, a lawyer who represented four Egyptian fishermen brutally attacked by Golden Dawn supporters, said it was "critical for the vindication of the victims" and how the trial would ultimately be assessed that the sentences should not be suspended. The prospect of the convicted neo-Nazis walking free until a higher court heard the case again would trigger an explosive reaction, anti-fascist activists predicted. Golden Dawn's founder, Nikolaos Michaloliakos, 62, is facing 13 and a half years in prison, the price for not only masterminding the organisation's criminal activities as its self-appointed führer but turning what was once a fringe Nazi movement into a political force whose modus operandi was the eradication of enemies by hit squads. His extremist views were formed during Greece's 1967-74 Colonels' regime. He was handed an extra six-month jail term for illegal arms possession.
From its inception in the early 1980s through to 2012 when, riding a wave of economic anger and despair, it began its seven-year stint in parliament, the far right group targeted leftists, anti-nationalist "traitors", communist trade unionists, members of the LGBTQ community, migrants and refugees. Michaloliakos, a Holocaust denier and diehard Hitler apologist, has refused steadfastly to own up to any of the crimes, despite incriminating speeches, videos and Third Reich paraphernalia found in his home. Instead, he maintains the ultra-nationalist "patriotic" party has been a victim of political persecution, hounded for its ideology rather than its actions. "We were condemned for our ideas," he tweeted last week before his account was suspended.
"When illegal immigrants are the majority in Greece, when [the government] hands over everything to Turkey, when millions of Greeks are unemployed on the street, they will remember Golden Dawn."
Golden Dawn MPs found guilty of sowing terror on the streets of suburbs far and wide, coordinating black-clad militias in their constituencies, were handed sentences ranging from five to seven years...
More,
https://www.theguardian.com/world/2020/oct/14/greece-golden-dawn-neo-nazi-prison-sentences
___________________________
- Golden Dawn, Violence: Members of Golden Dawn have been accused of carrying out acts of violence and hate crimes against immigrants, political opponents, homosexuals and ethnic minorities. Golden Dawn's offices have been attacked repeatedly by anarchists and other leftists, and clashes between members of Golden Dawn and leftists have not been unusual.
In 2000, unknown suspects vandalized the Monastirioton synagogue, a memorial for Holocaust victims, and Jewish cemeteries in Thessaloniki and Athens. There were claims that Golden Dawn's symbols were present at all four sites. The KIS, the Central Board of Jewish Communities in Greece, the Coalition of the Left, of Movements and Ecology, the Greek Helsinki Monitor and others issued statements condemning these acts. The Cyprus chapter of Golden Dawn has been accused of attacks against Turkish Cypriots, and one member was arrested for attacking Turkish Cypriots in 2005.
- Allegations of connections to the Greek police: In an interview with Eleftherotypia in 1998, Minister for Public Order Georgios Romaios (PASOK) alleged the existence of "fascist elements in the Hellenic Police", and vowed to suppress them. In a TV interview that same year, Romaios again claimed that there was a pro-fascist group within the police force, although he said it was not organized and was only involved in isolated incidents. The same year, Eleftherotypia published an article which outlined connections between the police and neo-fascism. Dimitris Reppas, the PASOK government spokesman, strongly denied such connections. However, the article quoted a speech by the PASOK...
https://en.wikipedia.org/wiki/Golden_Dawn_
(Greece)
https://www.bbc.com/news/world-europe-54433396
4 replies, 477 views
Replies to this discussion thread
| | | | |
| --- | --- | --- | --- |
| 4 replies | Author | Time | Post |
| Greece's Neo- Nazi, Violent Far Right 'Golden Dawn' Fuhrer & Leaders Sentenced To 13 Yrs In Athens (Original post) | appalachiablue | Oct 15 | OP |
| | Thekaspervote | Oct 15 | #1 |
| | appalachiablue | Oct 15 | #2 |
| | DEbluedude | Oct 15 | #3 |
| | appalachiablue | Oct 15 | #4 |
---
Response to appalachiablue (Original post)
Thu Oct 15, 2020, 01:53 AM
Thekaspervote (15,883 posts)
1. wouldn't be great if that was dotard if a year or two? I doubt it will happen
But at least, could someone please photo shop that. Dotard would look stunning next to all those red flags
---
Response to Thekaspervote (Reply #1)
Thu Oct 15, 2020, 02:18 AM
appalachiablue (28,685 posts)
2. Familiar & the right color for Make Greece Great Again
---
Response to appalachiablue (Original post)
Thu Oct 15, 2020, 05:40 AM
DEbluedude (479 posts)
3. The next AG needs to take a page from these guys playbook.
"... lawmakers had operated a criminal organization under the guise of being a democratically elected party."
---
Response to DEbluedude (Reply #3)
Thu Oct 15, 2020, 10:24 AM
appalachiablue (28,685 posts)
4. For sure. Too familiar, this political party active since the 1980s
has committed acts of violence and holds fascist views similar to what we see rising in the US. These anti democratic movemenst are dangerous to free societies.