Wed Oct 28, 2020, 12:44 PM
Kitchari (1,189 posts)
Handwriting analysis from 30 years ago of Donald Trump
from the article:
Klein revealed who the writer was and showed us Trump's overly large, narcissistic signature ... Klein began his analysis saying that Trump's writing revealed his immense insecurity, aggressiveness and rigid inability to think and perceive the world accurately. He said Trump was grandiose, extremely narcissistic and paranoid, so much so that he considered him delusional. Moreover, Trump was unable to relate to other humans with any degree of emotional attachment or consideration. People to him were objects, only useful to feed his insatiable need for adoration and attention. In looking specifically at his signature, Klein explained that Trump's rigidly angular letter connections formed what he called shark's teeth, which is indicative of rage and the capacity for extremely aggressive, acting out behaviors.

... as he continued to speak, he became visibly upset and agitated which surprised me. Attempting to calm him, I said something to the effect that, since Trump was just a vulgar real estate developer, there was no need to get upset. He continued that Trump was a very dangerous individual, capable of all manner of criminal behavior and was a menace to society. He went on to say that Trump was hypo-manic and determined to get whatever he wanted, describing him as a "screaming locomotive running down the tracks without breaks," adding, "and God help anyone who tries to stop him!" Once again I tried to talk him down without success, whereupon he stopped me in my tracks, with these unforgettable, exact next words: "I've probably examined well over 200,000 handwriting samples over more than 60 years and Trump's writing is one of the worst I've ever seen. In fact, the only writing that comes to mind that is as bad is Charles Manson's."

To say I was dumbfounded would not be an exaggeration, but I have had a long time to reflect on why Klein became so upset, as this presidency has proven him right. ...
More at: [link:
https://www.dailykos.com/stories/2020/10/27/1990192/-Trump-s-Handwriting-Analyzed-By-Expert-in-1988
|]
This is the DU member formerly known as Kitchari.
11 replies, 1910 views
Replies to this discussion thread
| | | | |
| --- | --- | --- | --- |
| 11 replies | Author | Time | Post |
| Handwriting analysis from 30 years ago of Donald Trump (Original post) | Kitchari | Oct 2020 | OP |
| | catbyte | Oct 2020 | #1 |
| | CaptYossarian | Oct 2020 | #10 |
| | Blue Owl | Oct 2020 | #2 |
| | global1 | Oct 2020 | #3 |
| | FoxNewsSucks | Oct 2020 | #4 |
| | SCantiGOP | Oct 2020 | #8 |
| | kurtcagle | Oct 2020 | #5 |
| | Harker | Oct 2020 | #6 |
| | DavidDvorkin | Oct 2020 | #7 |
| | SCantiGOP | Oct 2020 | #9 |
| | Javaman | Oct 2020 | #11 |
---
Response to Kitchari (Original post)
Wed Oct 28, 2020, 12:47 PM
catbyte (25,152 posts)
1. ...
---
Response to catbyte (Reply #1)
Wed Oct 28, 2020, 05:10 PM
CaptYossarian (6,448 posts)
10. His letters are wearing shackles on their feet.
Is this another predictor?
---
Response to Kitchari (Original post)
Wed Oct 28, 2020, 12:49 PM
Blue Owl (32,651 posts)
2. K&R
---
Response to Kitchari (Original post)
Wed Oct 28, 2020, 01:18 PM
global1 (22,359 posts)
3. So Why Didn't This Come Out When He Was Running For President?..
why is it only coming out now?
---
Response to global1 (Reply #3)
Wed Oct 28, 2020, 01:30 PM
FoxNewsSucks (3,149 posts)
4. Because he ran as a republicon. nt
---
Response to global1 (Reply #3)
Wed Oct 28, 2020, 03:45 PM
SCantiGOP (11,176 posts)
8. Because handwriting analysis is about as scientific
as reading someone's palm.
In blind controlled tests it has been disproven many times. It cannot be admitted into court, and no legitimate psychoanalyst would consider using it.
---
Response to Kitchari (Original post)
Wed Oct 28, 2020, 01:52 PM
kurtcagle (1,079 posts)
5. I've done both graphology and calligraphy
Calligraphy - the art of beautiful writing - involves a fairly deep understanding about the nature of handwriting, and it's a relatively small hop from calligraphy (and the ability to identify "hands&quot
and graphology, or the use of psychological analysis to understand the scribes.
To understand Trump's signature, it's first worth understanding that this signature is one of the most recognized in the world, as he uses it extensively in his branding. I suspect that he perfected it specifically to look forceful, confident, and domineering, though like so much else of what Trump does, there's a lot that leaks through.
?quality=75&strip=all&w=1600&h=900&crop=1
First, there are no loops. The letters D,o,n,a,d,J, r,u,m,p and all have curves or loops, yet in most examples of his signature, there is little to no curvature nor is there completeness. Curves are feminizing aspects, and the completely lack of them likely point to a fear of being perceived as anything but an aggressive, alpha male. There are also no flat surfaces anywhere in his signature. That tends to be a characteristic of people who do not think ahead, who look only at the moment.
The signature is tall, but the ratio of the x-height (the top of lower case letters) to capital letters, is comparatively large - about 0.6 to 1. Large capitals in general tend to indicate significant egos, but the smaller-the x-height ratio, in general, the more intelligent the person is. Trump's x-height is fairly large, meaning that he's a person of fairly average intelligence - not stupid, but not the genius he proclaims himself.
There's also very little indication of slant in his signature. Most right-handed writers have a right handed slant, with the tops of letters slanted about 5-10 degrees to the right relative to the bottom. When there is no slant, it's either a sign that someone learned to write on engineering diagrams or that the person tends to have trouble with empathy or is sociopathic.
The condensed overlap of letters and the lack of differentiation is also a sign of both haste and laziness.
It's also worth noting the fact that Trump prints rather than writes: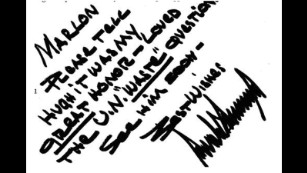 Here, you have no differentiation in size, and a tendency to obscure weakness by using big-blocky letters with little distinction between capital and lower case letters. It is very different from his signature, though notice again the lack of roundedness, as well as the lack of descenders. This is a person who does not like to show his inner-self, and tends to be very guarded.
This is the DU member formerly known as kurtcagle.
---
Response to Kitchari (Original post)
Wed Oct 28, 2020, 02:14 PM
Harker (6,857 posts)
6. When I first saw this creep's signature
it brought that of Heinrich Himmler to mind.

Jagged. Repetitive. Nothing soft or pleasant about it.
---
Response to Kitchari (Original post)
Wed Oct 28, 2020, 02:19 PM
DavidDvorkin (17,919 posts)
7. It's pseudoscience.
---
Response to DavidDvorkin (Reply #7)
Wed Oct 28, 2020, 03:47 PM
SCantiGOP (11,176 posts)
9. Right
If this write up was about Biden's signature everyone would be laughing at it and making fun of whomever was promoting it.
---
Response to Kitchari (Original post)
Wed Oct 28, 2020, 06:56 PM
Javaman (56,722 posts)
11. As I've been saying for years now; he's a psychopath
The dark triad
https://en.m.wikipedia.org/wiki/Dark_triad
In psychology, the dark triad comprises the personality traits of narcissism, Machiavellianism, and psychopathy.[1][2][3][4] They are called "dark" because of their malevolent qualities.[5][1][6][7]
The Dark Triad, three antisocial personality traits: narcissism, Machiavellianism, and psychopathy
Research on the dark triad is used in applied psychology, especially within the fields of law enforcement, clinical psychology, and business management. People scoring high on these traits are more likely to commit crimes, cause social distress and create severe problems for an organization, especially if they are in leadership positions (for more information, see psychopathy, narcissism, and Machiavellianism in the workplace). They also tend to be less compassionate, agreeable, empathetic, satisfied with their lives, and less likely to believe they and others are good.[8]
All three dark triad traits are conceptually distinct although empirical evidence shows them to be overlapping. They are associated with a callous-manipulative interpersonal style.[9]
Narcissism is characterized by grandiosity, pride, egotism, and a lack of empathy.[10]
Machiavellianism is characterized by manipulation and exploitation of others, an absence of morality, unemotional callousness, and a higher level of self interest.[11]
Psychopathy is characterized by continuous antisocial behavior, impulsivity, selfishness, callous and unemotional traits (CU),[12] and remorselessness.[13]
A factor analysis found that among the big five personality traits, low agreeableness is the strongest correlate of the dark triad, while neuroticism and a lack of conscientiousness were associated with some of the dark triad members.[11] Agreeableness and the dark triad show correlated change over development.[14]