Thu Oct 29, 2020, 09:50 PM
appalachiablue (30,172 posts)
Paris Traffic Jams Cumulative 430 Miles, People Leaving Before 9 PM Curfew, Midnite 2nd Lockdown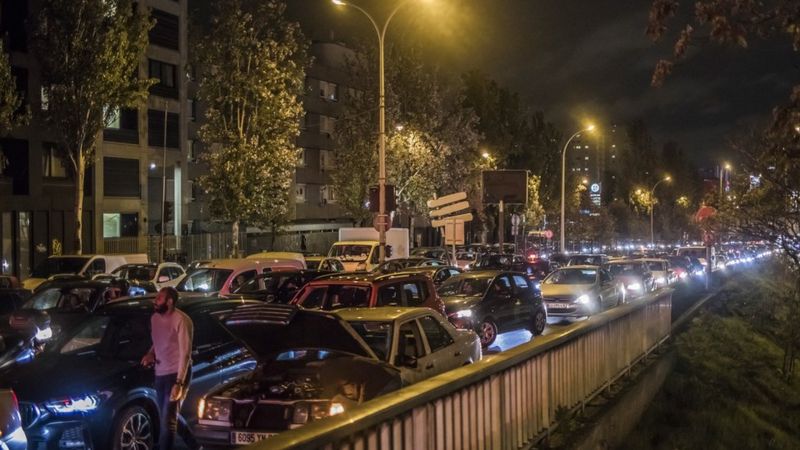 - Traffic stretched for a cumulative 435 miles, according to news media.
'Covid-19: Record traffic out of Paris as second French lockdown begins.' BBC News, Oct. 29, 2020, 1 hr ago.
Traffic around Paris hit record levels just hours before a new national lockdown came into force across France. Jams stretched to a cumulative 430 miles (700 km) in the Ile-de-France region early on Thursday evening, local media reported. Lockdown measures came into force at midnight on Friday (23:00 GMT) to tackle spiralling Covid infections.
People have been ordered to stay at home except for essential work or medical reasons. President Emmanuel Macron said the country risked being "overwhelmed by a second wave that no doubt will be harder than the first". Daily Covid-19 deaths in France are at the highest level since April. On Thursday, authorities reported 47,637 new cases and 250 new deaths.
French media report that many Parisians have left the city to spend lockdown in the countryside.
*WATCH*
Link to tweet
Anna, 24, told Le Figaro newspaper that she had left her family's Paris apartment for their second home in Bernay in northern France. She said spending the first lockdown in Paris was "psychologically hard" - but in Bernay, "the air is cleaner, we breathe, we feel free".
A similar exodus happened in March, when the first lockdown came into force. At the time some residents of French regions were hostile to Parisians who had fled the capital. "We're asking people to stay at home and Parisians to stay in Paris. You can well understand that if 4,000 people from Paris invade and one-third of them are infected without knowing, obviously it risks spreading rapidly," wrote one commentator in the local Sud Ouest (South-West) newspaper...
https://www.bbc.com/news/world-europe-54742795
3 replies, 1045 views
Replies to this discussion thread
| | | | |
| --- | --- | --- | --- |
| 3 replies | Author | Time | Post |
| Paris Traffic Jams Cumulative 430 Miles, People Leaving Before 9 PM Curfew, Midnite 2nd Lockdown (Original post) | appalachiablue | Oct 2020 | OP |
| | catbyte | Oct 2020 | #1 |
| | appalachiablue | Oct 2020 | #3 |
| | BigmanPigman | Oct 2020 | #2 |
---
Response to appalachiablue (Original post)
Thu Oct 29, 2020, 09:54 PM
catbyte (25,083 posts)
1. A good friend of mine spends 6 months here in Lansing & 6 months in France.
Today, she was speaking to a friend who is subleasing her place just outside of Paris until my friend returns in January. She said it was a madhouse. These pictures really bear that out. My friend is lucky she's got a long-term visa or they likely wouldn't let her & her husband back into the country.
---
Response to catbyte (Reply #1)
Thu Oct 29, 2020, 10:05 PM
appalachiablue (30,172 posts)
3. What a mess; your lucky friends have a great arrangement.
I'm glad I did a good deal of traveling before this pandemic, and also spent time in capitols and many great cities including Paris five times.

From news reports there are many younger white collar Americans who have left congested cities to live in suburbs with more home space for office work and kids remote learning. Whether it will be a significant or lasting trend we'll find out.
---
Response to appalachiablue (Original post)
Thu Oct 29, 2020, 09:59 PM
BigmanPigman (40,948 posts)
2. Wow!!!!!!!!!!