Fri Dec 25, 2020, 09:58 PM
teach1st (5,330 posts)
Trump's border wall was a complete waste of time and money
Trumpís border wall was a complete waste of time and money
Washington Post, Editorial Board, 12/25/2020
For much of his administration, the construction of hundreds of miles of steel-and-concrete barriers has symbolized futility and waste ó a massive, publicly funded undertaking whose payoff in deterring illegal border-crossing was unproven at best, ineffective at worst. Now, as crews dynamite, bulldoze and raze their way through pristine canyons, riverbeds, mountains, deserts and grasslands to gain access to construction sites, Mr. Trumpís wall has become a symbol of wanton environmental destruction.

President-elect Joe Biden has pledged to halt the wallís construction immediately upon taking office. That hasnít stopped or slowed what amounts to a full-court press to complete as much of the wall as possible before Mr. Trump leaves office Jan. 20. However, for every new mile of wall construction, far more damage and degradation is done to the landscape by a dozen or so contractors carving their way through wilderness and wildlife areas with access roads, retaining walls and other eyesores.

...

All but about 40 of the some 440 miles of newly built barriers have replaced or upgraded previously existing fencing and bollards, though in most cases the new structures are certainly imposing. Whether they stop or deter many migrants will be difficult to ascertain. Whatís indisputable, according to wildlife experts, is that by severing and damaging natural habitats, they will have devastating effects on various species, including jaguar, ocelot, javelinas and pronghorns. Some of those are endangered.

For taxpayers, to whom Mr. Trump promised that Mexico would foot the bill ó it hasnít paid a dime ó the wall has been a raw deal. The administration managed to devote some $15 billion to construction, an amount that was supposed to be sufficient to build more than 700 miles of barriers. As The Post reported, roughly $3.3 billion of those funds ó some diverted from building projects on U.S. military bases worldwide ó will remain unused when Mr. Biden takes office. However, of that amount, $700 million will be required to unwind existing construction contracts, leaving a savings ó if you can call it that ó of about $2.6 billion. What a waste.
More
11 replies, 1525 views
Replies to this discussion thread
| | | | |
| --- | --- | --- | --- |
| 11 replies | Author | Time | Post |
| Trump's border wall was a complete waste of time and money (Original post) | teach1st | Dec 2020 | OP |
| | Blue Owl | Dec 2020 | #1 |
| | kurtcagle | Dec 2020 | #4 |
| | Deuxcents | Dec 2020 | #2 |
| | Arne | Dec 2020 | #3 |
| | RainCaster | Dec 2020 | #5 |
| | Ptah | Dec 2020 | #6 |
| | teach1st | Dec 2020 | #7 |
| | InAbLuEsTaTe | Dec 2020 | #8 |
| | scarletwoman | Dec 2020 | #9 |
| | Gothmog | Dec 2020 | #10 |
| | Yo_Mama_Been_Loggin | Dec 2020 | #11 |
---
Response to teach1st (Original post)
Fri Dec 25, 2020, 10:14 PM
Blue Owl (33,769 posts)
1. Raise your hand if you think the stunt made him look all powerful and imperial
---
Response to Blue Owl (Reply #1)
Fri Dec 25, 2020, 10:45 PM
kurtcagle (1,084 posts)
4. Imperial, not empirical
Trump has never looked empirical.
---
Response to teach1st (Original post)
Fri Dec 25, 2020, 10:32 PM
Deuxcents (1,572 posts)
2. Not to mention
The eminent domain 💩 pulled on generations of landowners. The destruction of wildlife migration for so many..even endangered. The faulty craftsmanship with defective n cheap products. What a con. Many raised the red flags about this but..here we are. Another mess to clean up. More money wasted n in the end..his boisterous promise, broken. He makes me sick.
---
Response to Deuxcents (Reply #2)
Fri Dec 25, 2020, 10:41 PM
Arne (1,805 posts)
3. Where is the claw back from Steve Bannon and his legless partner?
---
Response to teach1st (Original post)
Fri Dec 25, 2020, 10:46 PM
RainCaster (7,306 posts)
5. So, the WaPo is just figuring that out?
Not very smart if it took them this long.
---
Response to teach1st (Original post)
Fri Dec 25, 2020, 10:48 PM
Ptah (30,552 posts)
6. Damage from border wall: blown-up mountains, toppled cactus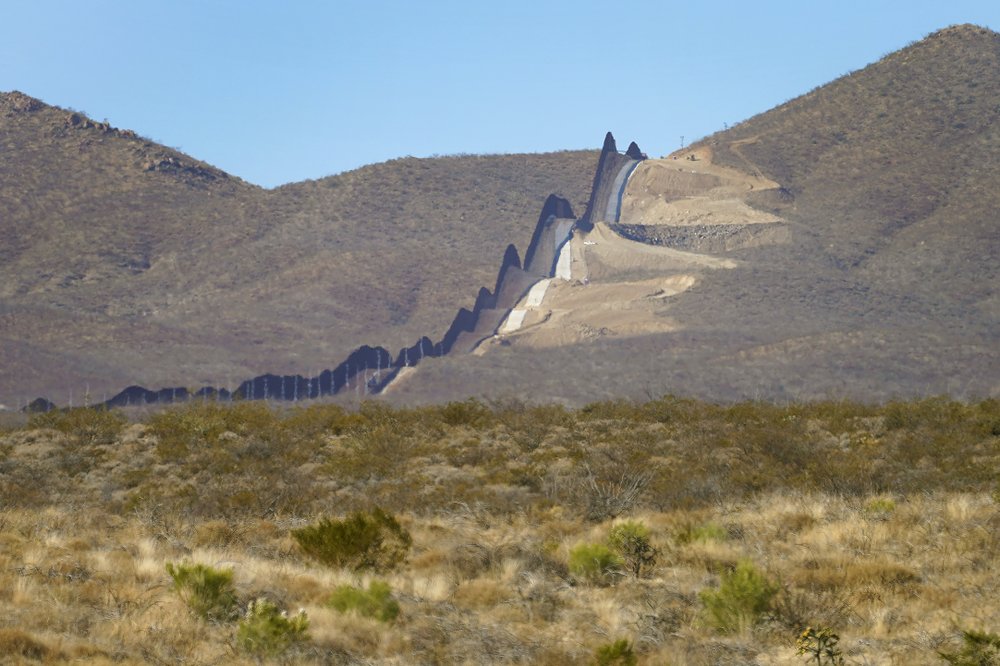 GUADALUPE CANYON, Ariz. (AP) ó Work crews ignite dynamite blasts in the remote and rugged southeast corner of Arizona, forever reshaping the landscape as they pulverize mountaintops in a rush to build more of President Donald Trumpís border wall before his term ends next month.

Each blast in Guadalupe Canyon releases puffs of dust as workers level land to make way for 30-foot-tall (9-meter-tall) steel columns near the New Mexico line. Heavy machines crawl over roads gouged into rocky slopes while one tap-tap-taps open holes for posts on U.S. Bureau of Land Management property.

Trump has expedited border wall construction in his last year, mostly in wildlife refuges and Indigenous territory the government owns in Arizona and New Mexico, avoiding the legal fights over private land in busier crossing areas of Texas. The work has caused environmental damage, preventing animals from moving freely and scarring unique mountain and desert landscapes that conservationists fear could be irreversible. The administration says itís protecting national security, citing it to waive environmental laws in its drive to fulfill a signature immigration policy.

Environmentalists hope President-elect Joe Biden will stop the work, but that could be difficult and expensive to do quickly and may still leave pillars towering over sensitive borderlands.

https://apnews.com/article/arizona-border-wall-damage-mountains-7986864266a6fc2764c671533957d958
---
Response to Ptah (Reply #6)
Fri Dec 25, 2020, 11:01 PM
teach1st (5,330 posts)
7. Thanks for posting this
---
Response to teach1st (Original post)
Fri Dec 25, 2020, 11:10 PM
InAbLuEsTaTe (23,146 posts)
8. Everything Donnie tiny hands touches turns to 💩
---
Response to teach1st (Original post)
Sat Dec 26, 2020, 12:55 AM
scarletwoman (31,893 posts)
9. It's maddening. I hope Biden's DOJ can investigate
how many kick-backs were involved in this bogus project.
I hope there will also be work done to repair some of the environmental damage. Of course, I think the damn thing ought to just be torn down...
---
Response to teach1st (Original post)
Sat Dec 26, 2020, 01:20 AM
Gothmog (93,553 posts)
10. The wall is a dud
---
Response to teach1st (Original post)
Sat Dec 26, 2020, 09:52 PM
Yo_Mama_Been_Loggin (64,075 posts)
11. K&R