Fri May 17, 2019, 09:12 AM
Celerity (25,498 posts)
Social Europe podcast #41 Will Marshall: Progress and populism in the US and Europe
https://www.socialeurope.eu/podcast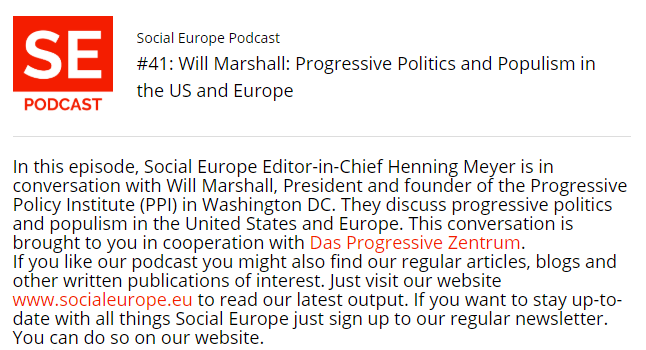 Download (right click
here
, save as)
https://www.progressives-zentrum.org/?lang=en
https://www.socialeurope.eu/
related:
Understanding the far-right populists: focus on their political message
Conventional wisdom is that the rise of the far-right populists is down to a popular cultural backlash. What's really happened is they have broadened their support through a civic-nationalist narrative.
https://www.socialeurope.eu/far-right-populists
One in four Europeans votes populist, according to
the Guardian
. Though we might have expected Europe's economic crisis—with its resulting mounting inequalities—to lead more plausibly to the rise of left-wing populist parties, pledging to cater for voters' material concerns, it has been far-right populists, with their promise to restore 'national sovereignty' in the name of 'the people', which have capitalised more effectively on social insecurities. The French Rassemblement National (RN) (formerly Front National), the Dutch Freedom Party (PVV), the Austrian Party for Freedom (FPÖ), the Alternative for Germany (AfD) and the Italian Lega have all mobilised voters across the political spectrum through their populist-nationalist platforms.
Far-right populists have fared particularly well in recent electoral contests within their domestic arenas and are projected to gain about a third of the seats in the new European Parliament. Depending on who joins, Matteo Salvini's initiative to create a successful far-right populist family, the European Alliance of People's and Nations, threatens to
make this one of the largest groupings
in the European Parliament, challenging the European project at its core.
Why is this happening? A consensus has been emerging behind some version of a '
backlash
' story, which sees far-right populism as the product of cultural grievances. Often this leads to rather fatalistic assessments of the populists, premised on the assumption that such 'demand' drives their 'supply', with the implication by extension that they should be passively accommodated into the mainstream—for example through the adoption of stricter immigration policies by centre-right and even centre-left parties.
On the contrary, to understand the rise of far-right populism we must recognise the importance of
supply
—the ways in which the populists themselves attempt to make their message more appealing to broader sectors of the population. The implications are of paramount importance: instead of co-opting or imitating far-right populists under the false assumption that their success simply mirrors the 'will of the people', we should understand how the parties themselves are shaping popular demand. At the same time, we must also recognise their weaknesses—their ideological diversity and constraining nationalism, which in many ways account for their fluctuating electoral support and difficulty in forging successful transnational alliances.
snip
0 replies, 233 views