Fri Mar 8, 2019, 11:39 AM
marble falls (25,193 posts)
Photos for the Day -
In honor of International Women's Day.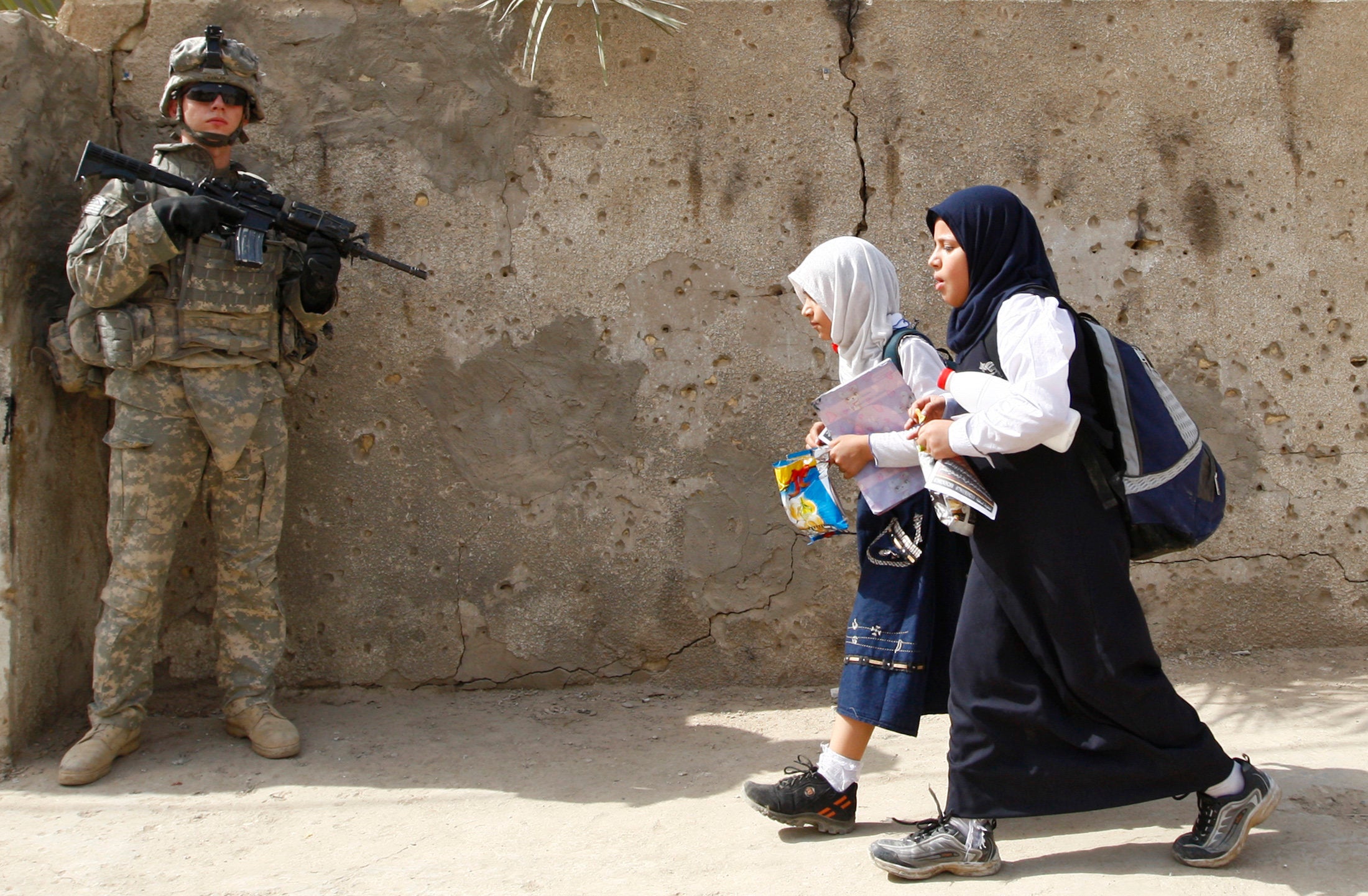 ?cache=vw7ktaokkv&ops=crop_0_45_2200_1260,scalefit_970_noupscale
Thaier Al-Sudani / Reuters
Students walk past a U.S. soldier in Baghdad's Ameen district on October 14, 2008.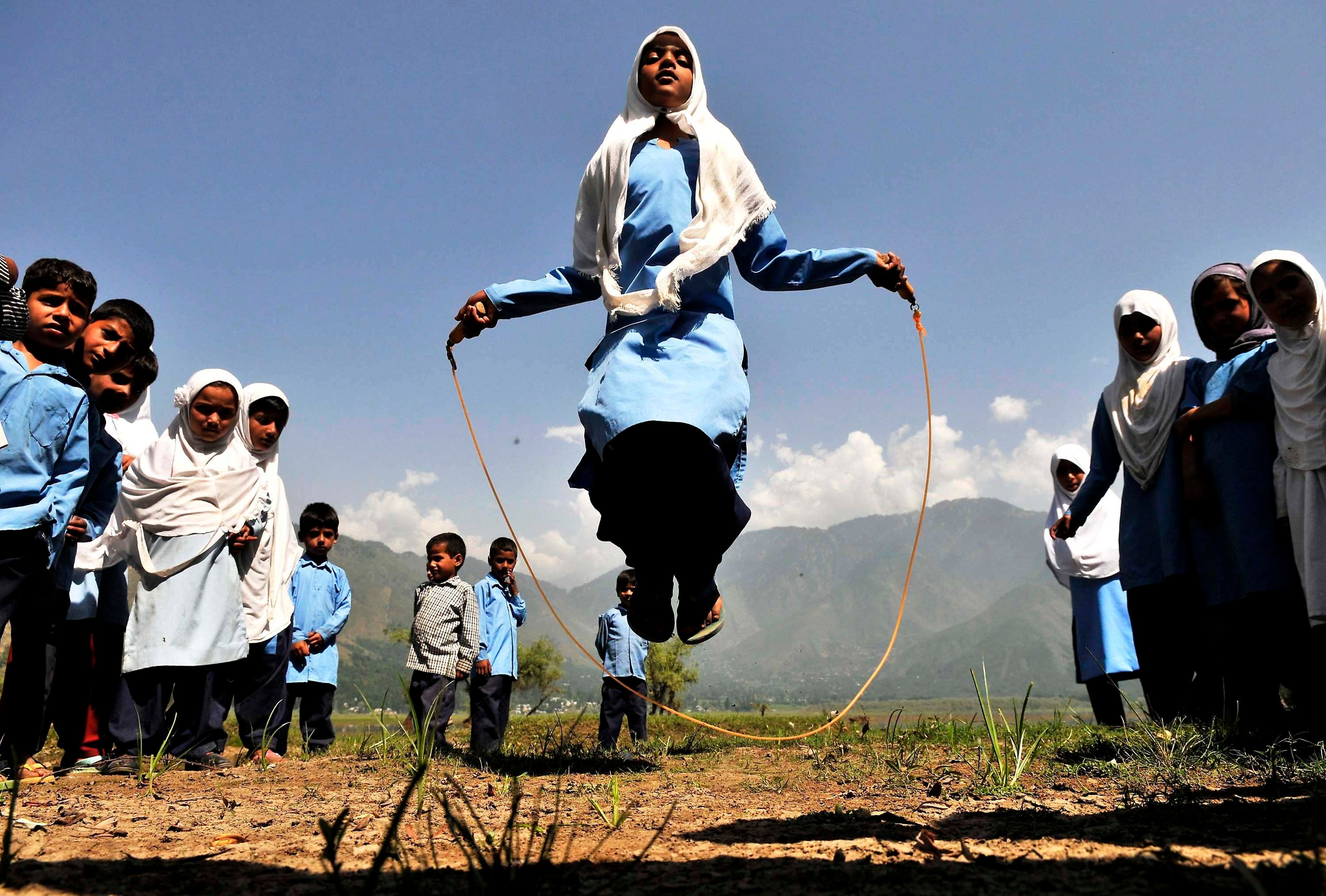 ?ops=scalefit_970_noupscale
Waseem Andrabi/Hindustan Times/Getty Images
Kashmiri school girls playing during recess in Kulhama district, Bandipora on August 11, 2015 in Srinagar, India.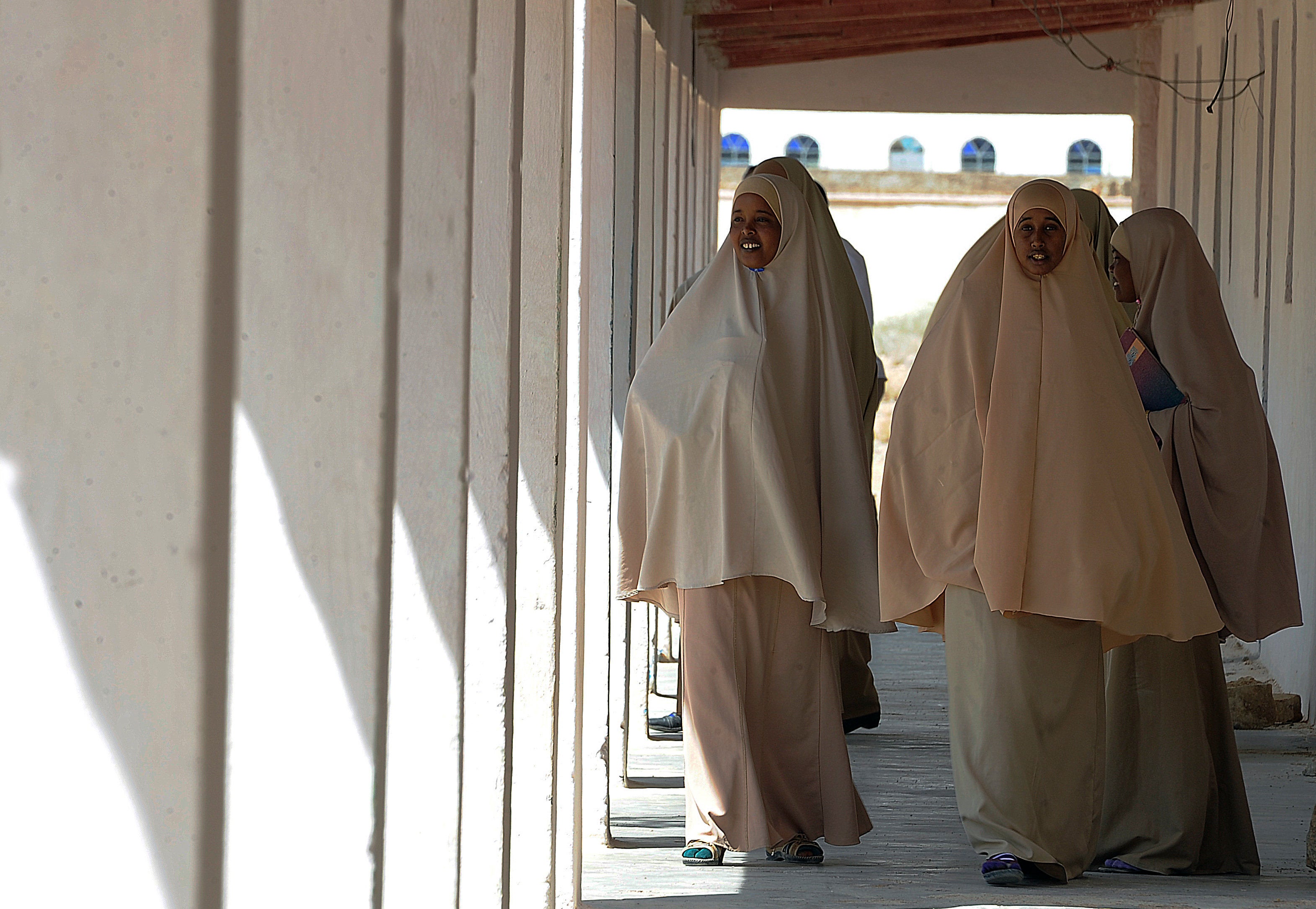 ?ops=scalefit_970_noupscale
SIMON MAINA via Getty Images
Pupils walk on September 10, 2013 inside the Gambool high school in the Garowe region, Somaliland. The school is a project funded by the European Commission and has the capacity for 1,750 pupils both boys and girls. As key partners, Somalia and the European Union (EU) will be co-hosting a High Level Conference on A New Deal for Somalia in Brussels on September 16, 2013.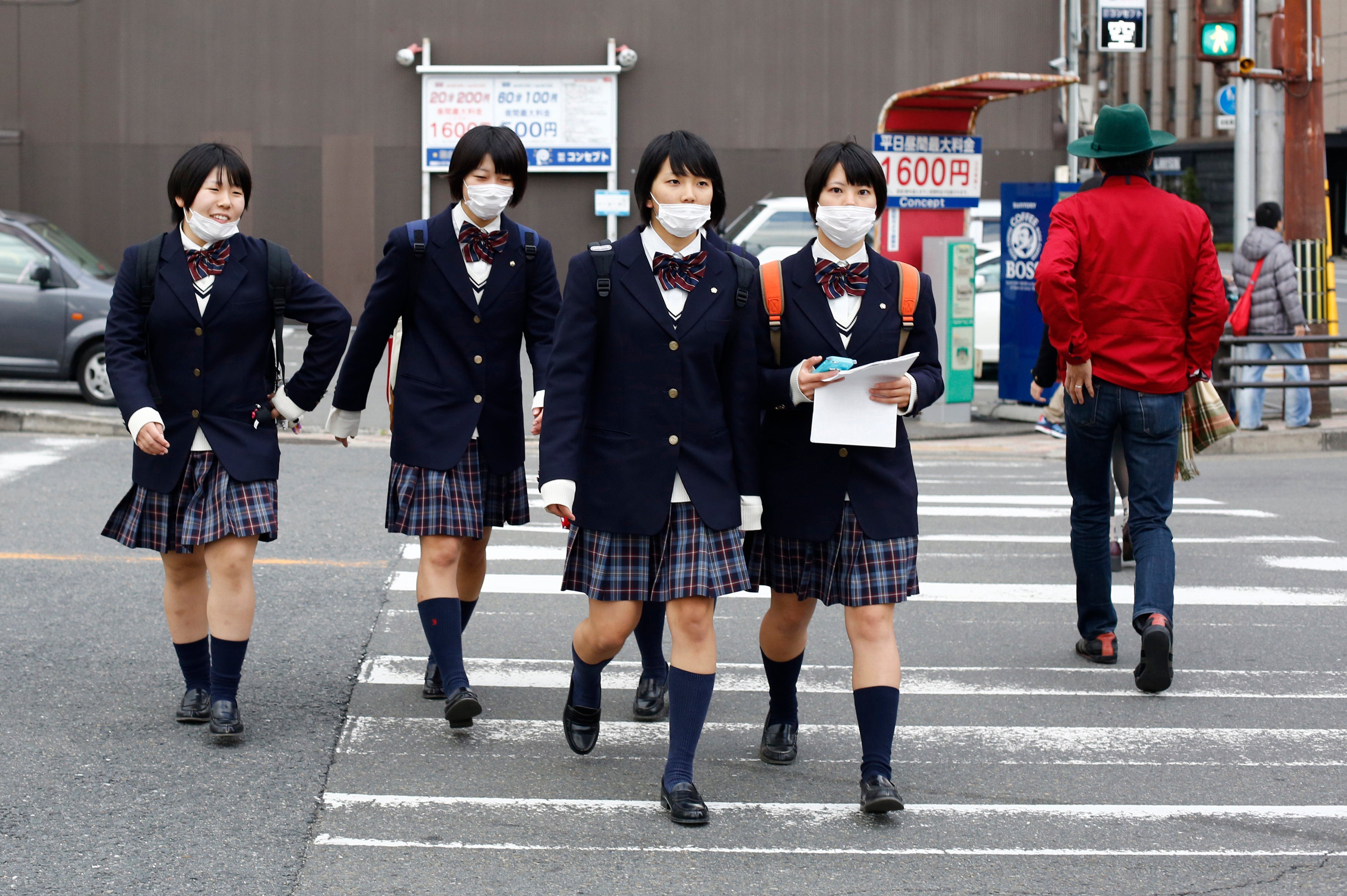 ?ops=scalefit_970_noupscale
Reuters
School girls, wearing surgical masks, cross a street at lunch time in Kyoto, western Japan November 19, 2014.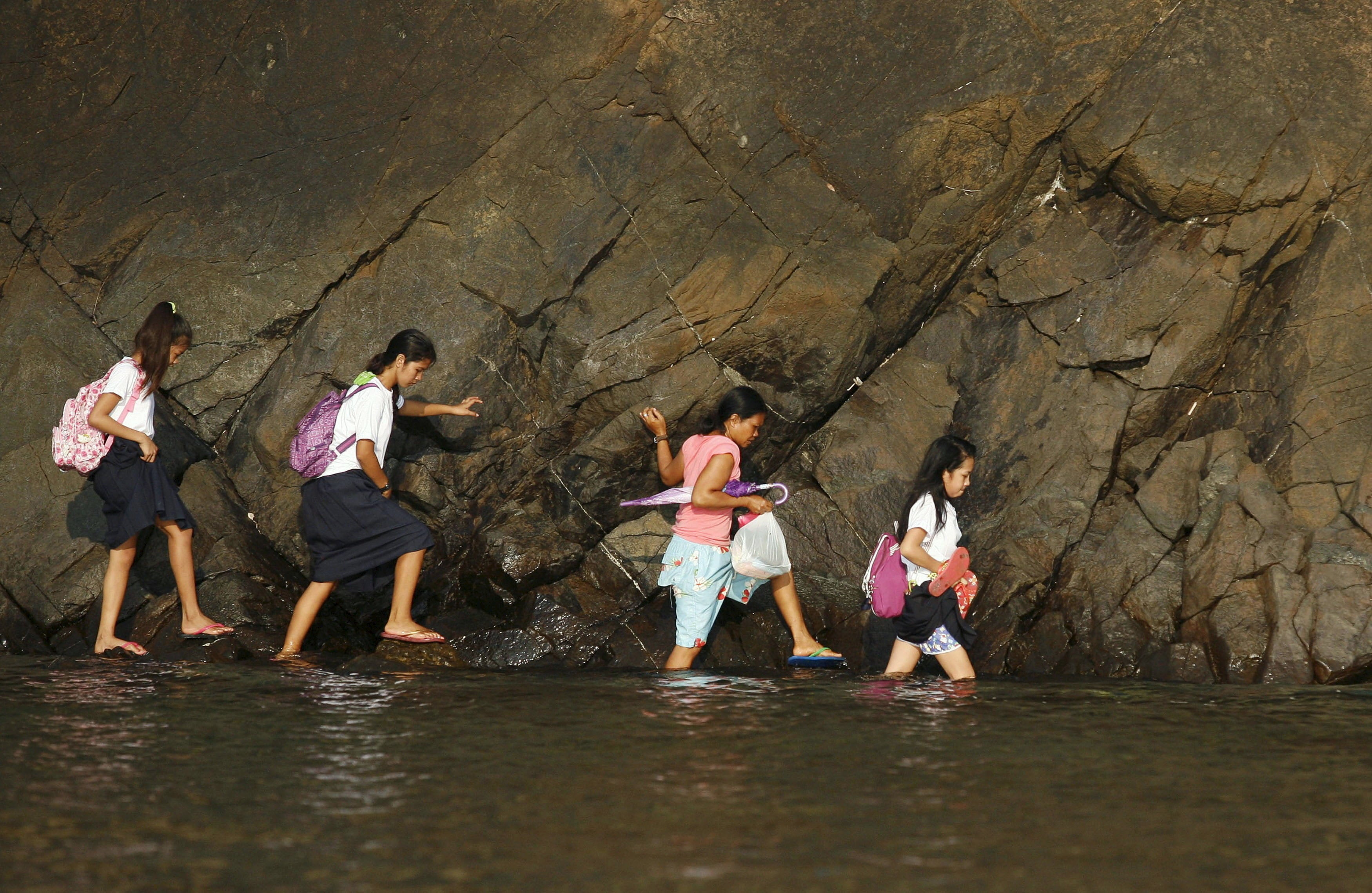 ?cache=72c7fq7wpe&ops=scalefit_970_noupscale
Lorgina Minguito / Reuters
A woman accompanies some students as they wade in the shallow part of a rocky beach to their school to attend the first day of classes in Sitio Kinabuksan, Kawag village, Subic, Zambales Province, north of Manila June 1, 2015.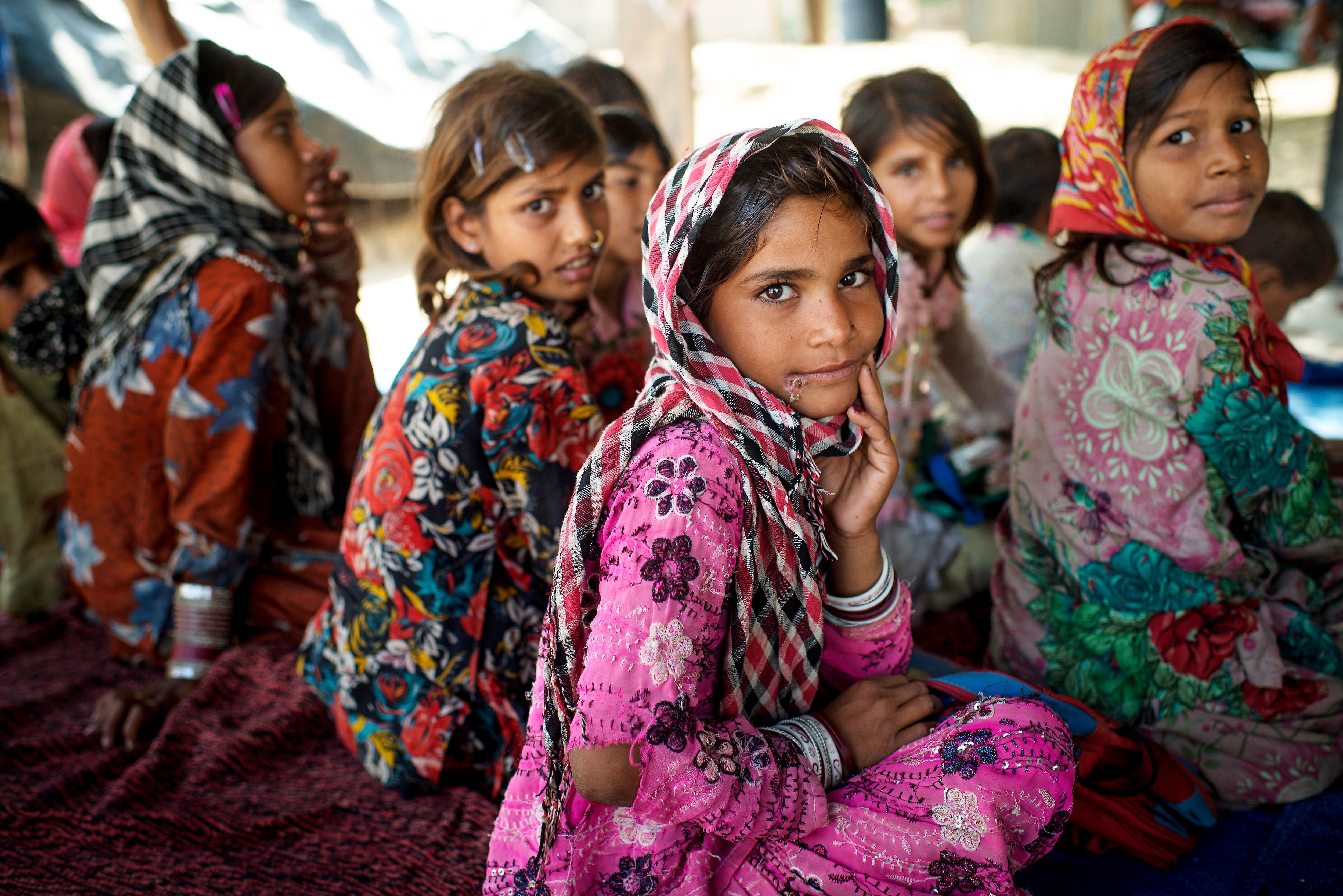 ?ops=scalefit_970_noupscale
Jonas Gratzer/LightRocket/Getty Images
Children sit on the ground with a temporary roof to protect them against the strong sun in a small village called Bilwadi in the state of Rajasthan. The children who come from nomadic families are 6-14 years olds who are taught mathematics as well as reading and writing in Hindi. This photo was taken on October 29, 2014.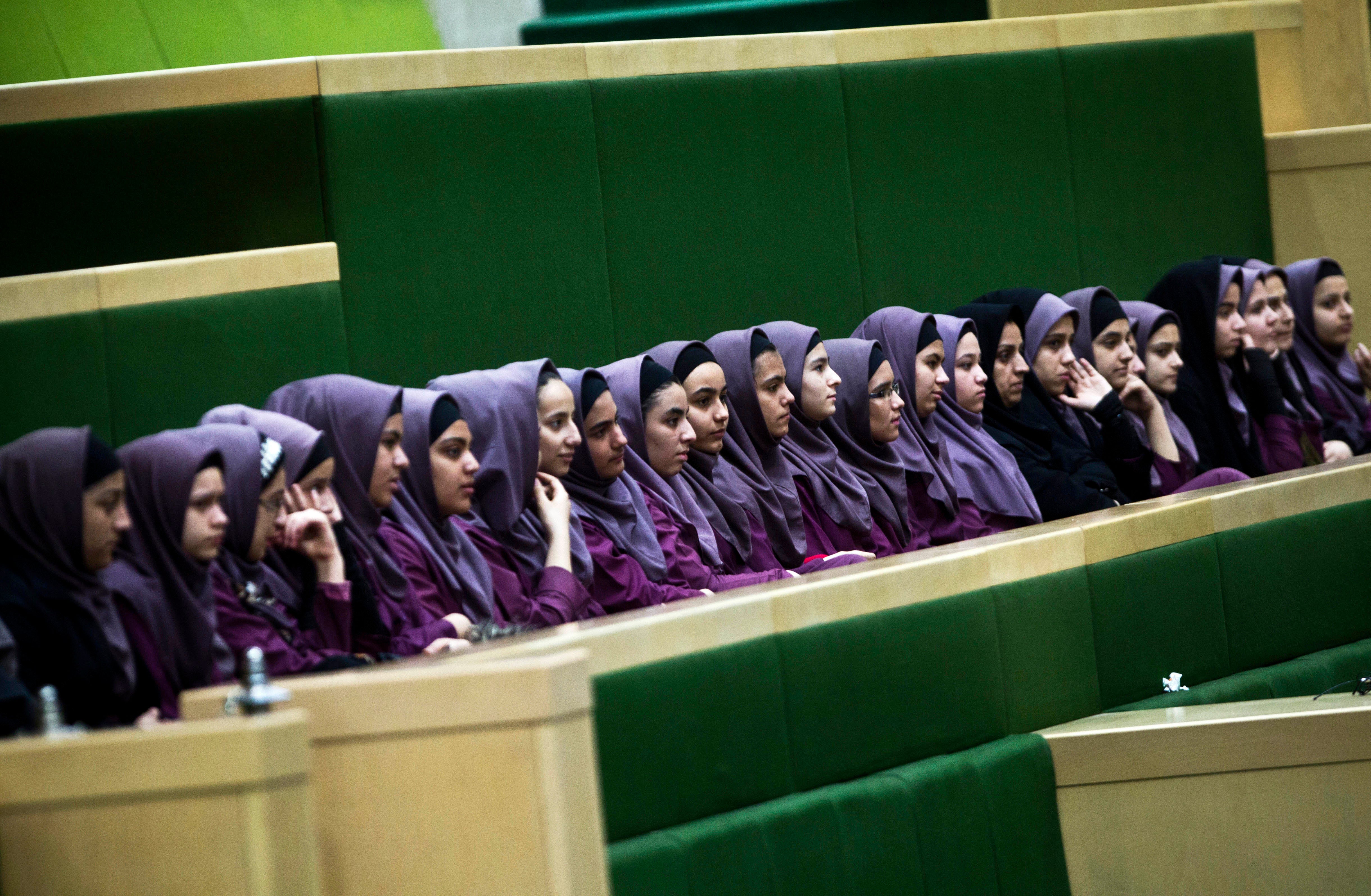 ?ops=scalefit_970_noupscale
Behrouz Mehri/AFP/Getty Images
Iranian school girls observe Members of Parliament discussing a draft to limit photographer's and cameramen's access to cover parliament's open sessions in Tehran on February 27, 2013.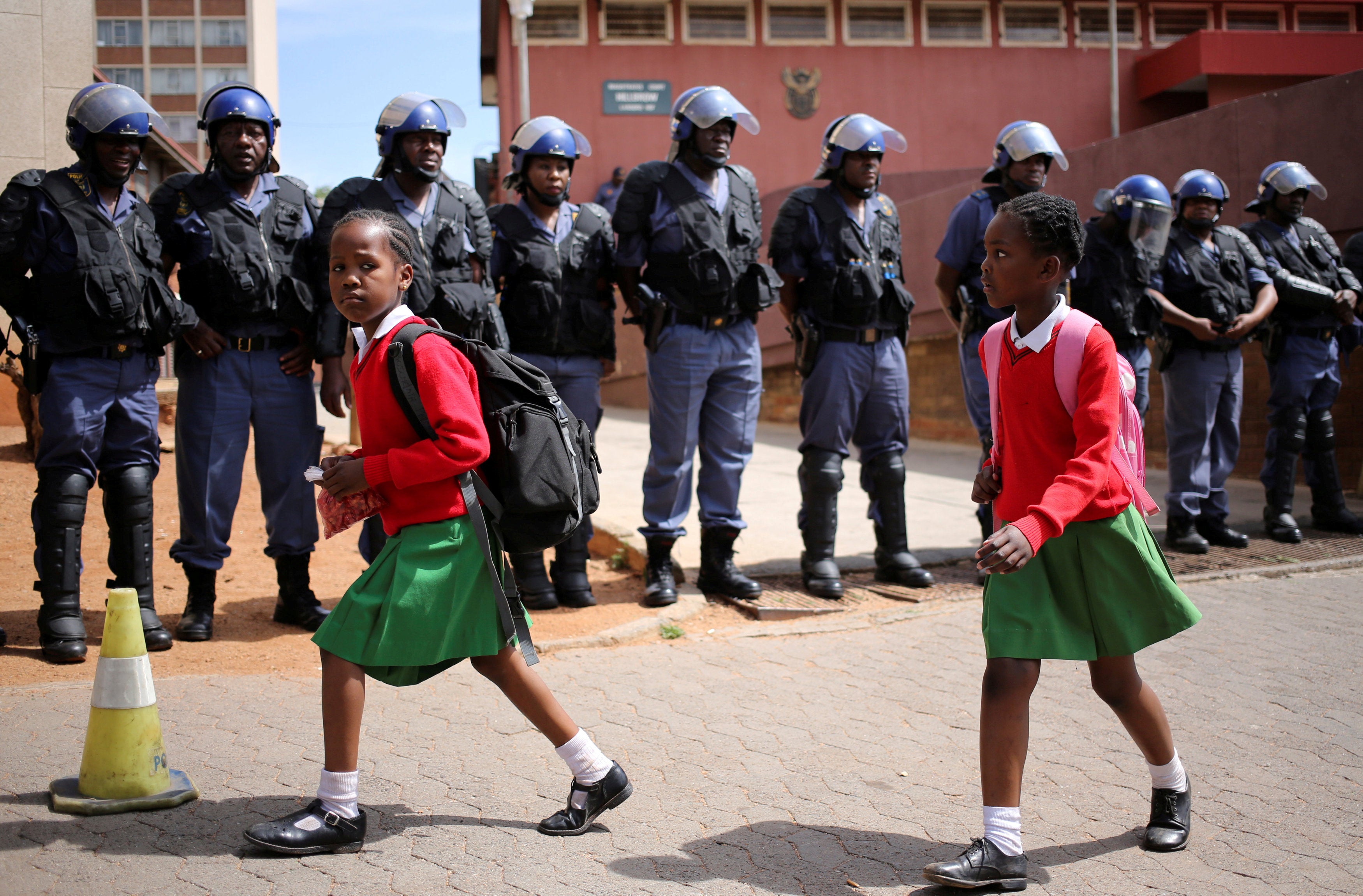 ?ops=scalefit_970_noupscale
Siphiwe Sibeko / Reuters
School girls walk past riot police standing guard outside Hillbrow magistrate court during an appearance of students who were arrested during a protest demanding free education at the Johannesburg's University of the Witwatersrand, South Africa, October 12, 2016.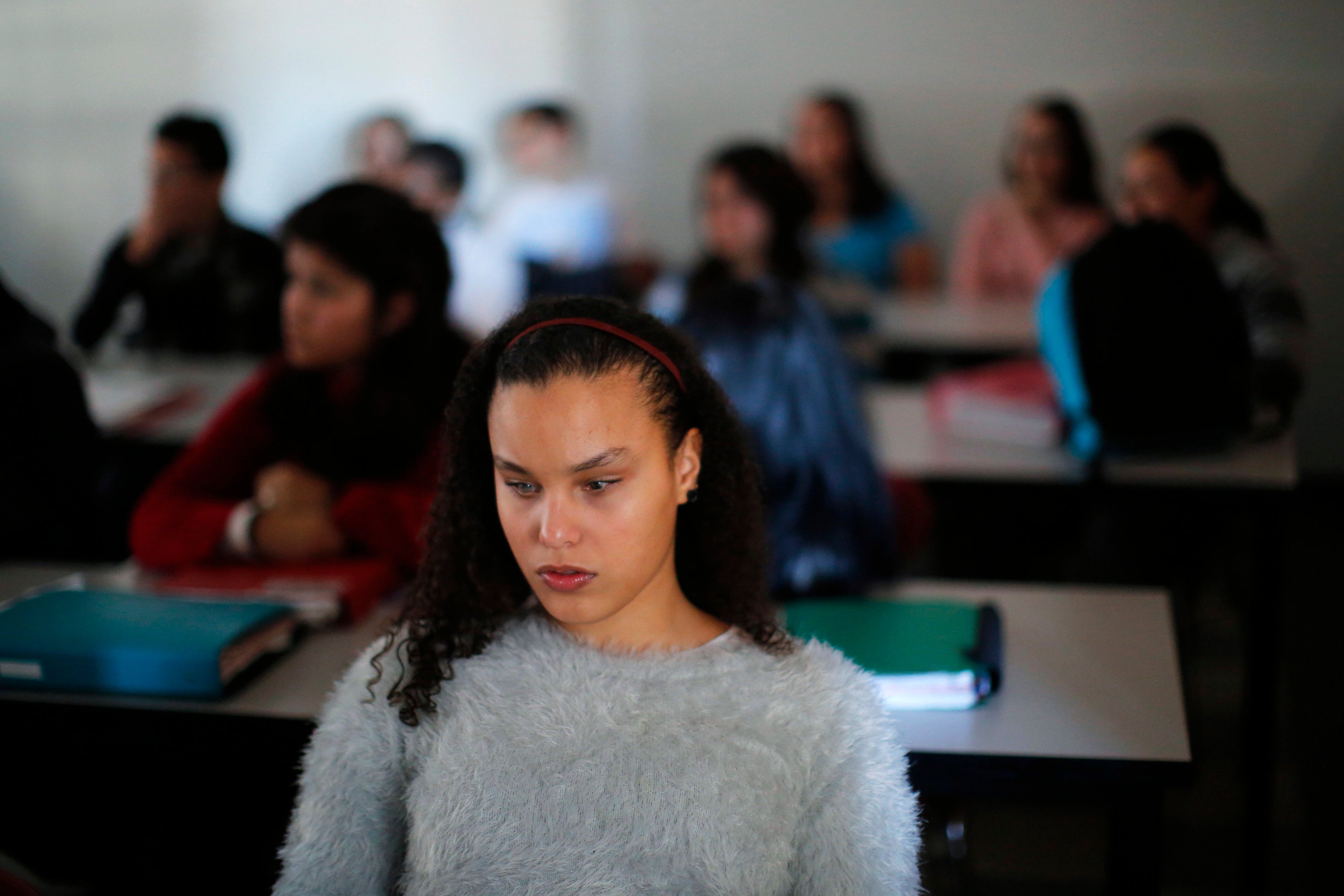 ?ops=scalefit_970_noupscale
Brian Snyder / Reuters
Precious Perez listens during a class on United States history at a high school in Chelsea, Massachusetts January 24, 2014. Sixteen-year-old Perez has been blind since birth. She lives in Chelsea, Massachusetts, a working-class city on the outskirts of Boston. Her life is both like and unlike that of many of her contemporaries, blind or sighted. She walks with a friend to their public high school in the morning, takes voice lessons, plays goalball, and spends her time on social media. Picture taken January 24, 2014.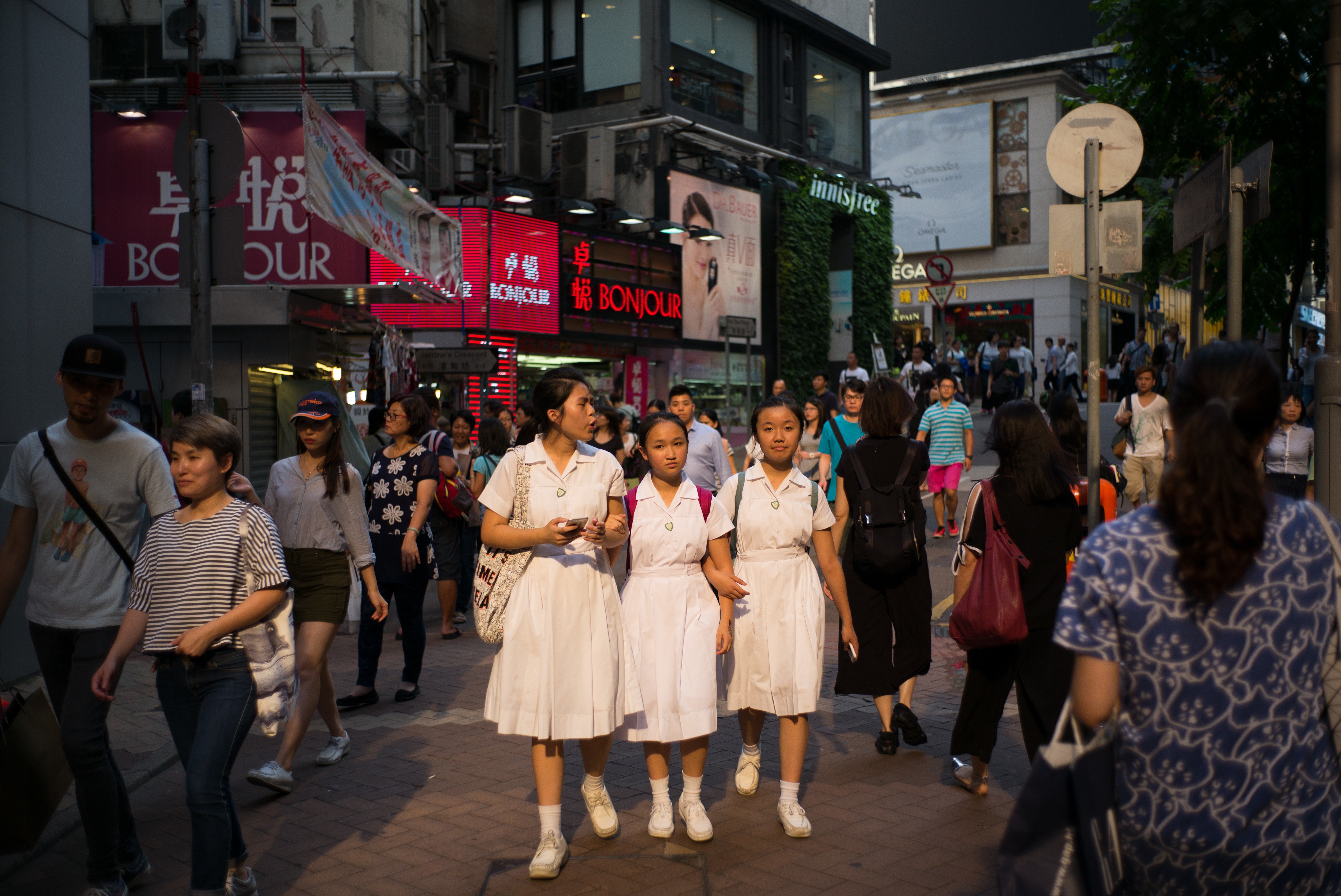 ?ops=scalefit_970_noupscale
ANTHONY WALLACE via Getty Images
School students walk down a street in Hong Kong on July 4, 2016.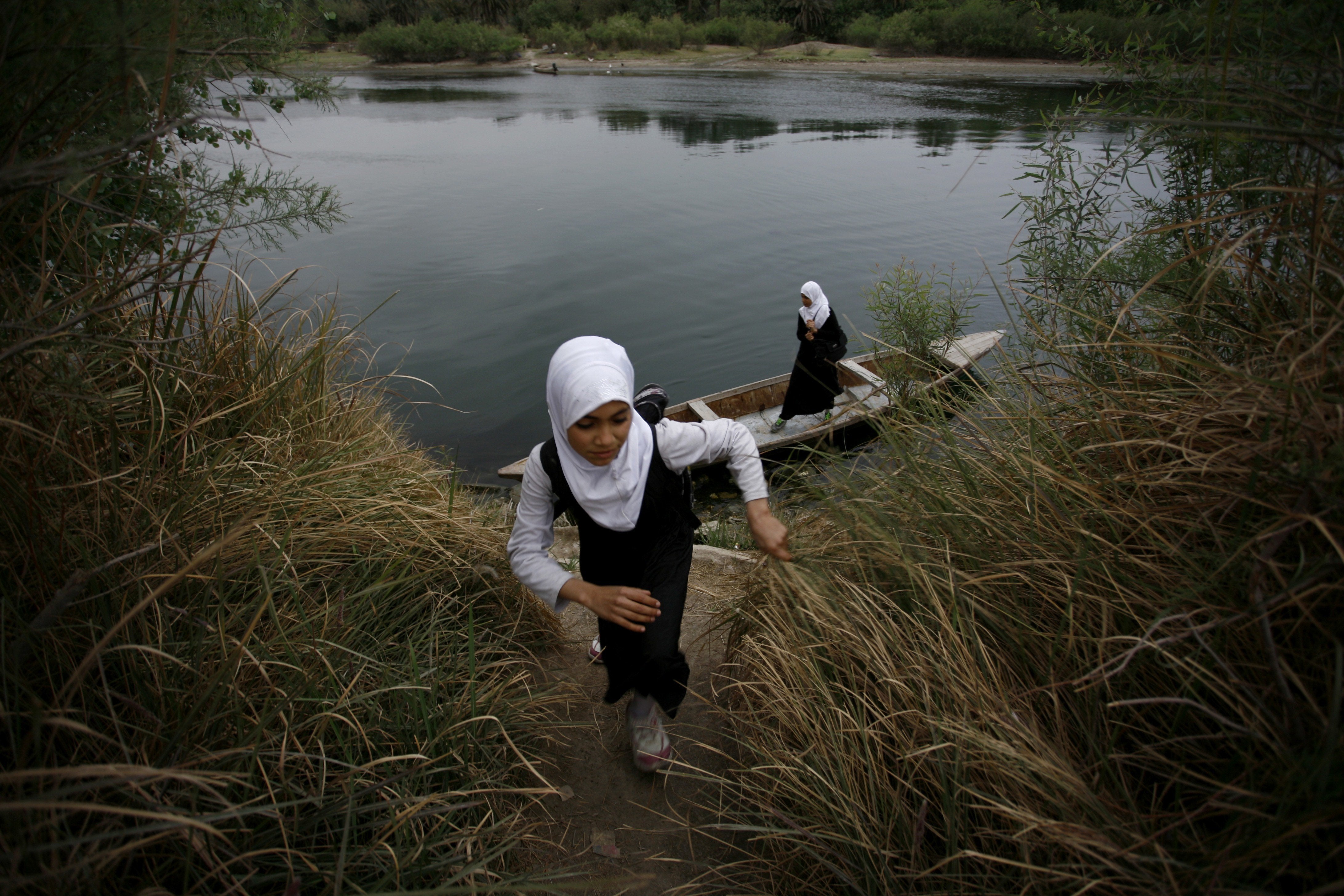 ?ops=scalefit_970_noupscale
HAIDAR HAMDANI via Getty Images
An Iraqi school girl walks up the bank of a river after crossing the waterway on a small wooden boat in the district of Al-Mishikhab, some 25 kilometers south of the holy city of Najaf, as they head to school on April 1, 2015. According to Iraqi women in this area boat is one of the only ways for them to travel.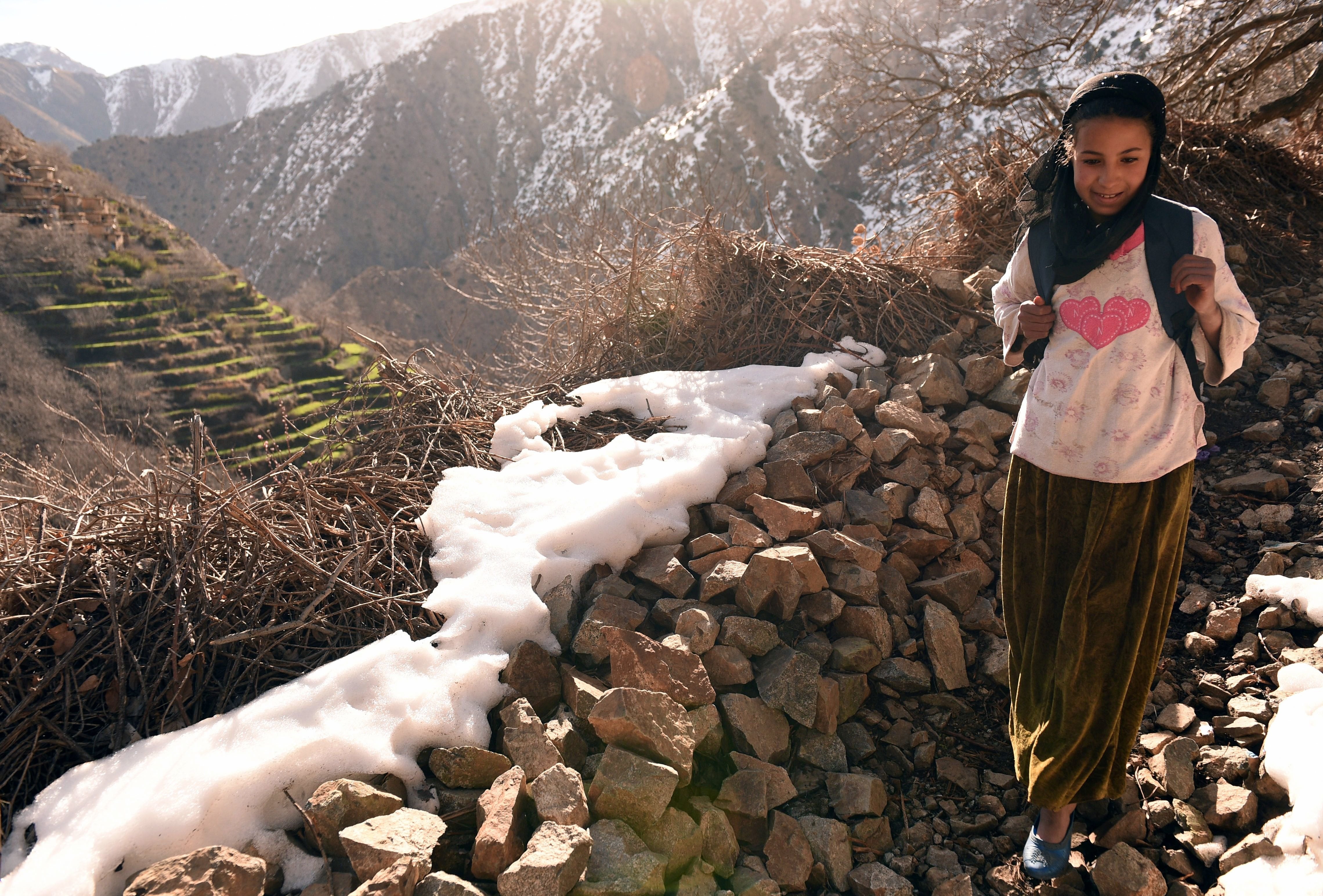 ?ops=scalefit_970_noupscale
FADEL SENNA via Getty Images
A Moroccan girl walks to the school in Taghzirt, an isolated village in the el-Haouz province in the High Atlas Mountains south of Marrakesh on March 4, 2016.
See the rest (60 total)
https://www.huffingtonpost.com/entry/60-stunning-photos-of-girls-going-to-school-around-the-globe_us_58b70fc8e4b019d36d0ffc42
I for one welcome all the classrooms of our future leaders.
3 replies, 420 views
Replies to this discussion thread
| | | | |
| --- | --- | --- | --- |
| 3 replies | Author | Time | Post |
| Photos for the Day - (Original post) | marble falls | Mar 2019 | OP |
| | Karadeniz | Mar 2019 | #1 |
| | Wounded Bear | Mar 2019 | #2 |
| | akraven | Mar 2019 | #3 |
---
Response to marble falls (Original post)
Fri Mar 8, 2019, 03:33 PM
Karadeniz (3,358 posts)
1. Thanks for posting...very inspiring.❤❤❤
---
Response to marble falls (Original post)
Fri Mar 8, 2019, 03:36 PM
Wounded Bear (30,984 posts)
2. K & R...for visibility...nt
---
Response to marble falls (Original post)
Fri Mar 8, 2019, 07:28 PM
akraven (1,975 posts)
3. And every single one of them deserves a chance to learn, grow and shine.
As a former teacher, I'd love to have any of them in my classroom. GO GIRLS!!