Mon Jun 11, 2012, 03:50 PM
Bertha Venation (21,467 posts)
My sister's TLC, my grandma's last days. (May be disturbing to some)
My paternal grandmother, Florence Elizabeth Janzen Harris, was born on Monday, February 19, 1917. She died on Friday, October 27, 2006.
I moved away from my native home in Southern California in 2000. I last saw Grandma two years before she died. I was not there to spend time with her as her dementia progressed. My sisters were, and did. Before she moved to "the home," they each visited her several times a week and helped her with everything imaginable, from cleaning her house to clipping her toenails. After she went to "the home," they each visited her at least once a week, although she didn't know them. She always seemed surprised to see any visitors, usually saying "Are you here for ME?" then smiling when the answer was "yes." She seemed to understand when my sisters explained that she was their grandmother. On every visit, she asked -- several times -- "Do you have a man? Do you have babies?"
I recently asked one of my sisters, Marie, with whom I correspond by email all day through the workday, to tell me about when Grandma died. I remembered only that she had asked them both, as she lay literally on her death bed, "Is it ok if I go now?" This was my sister's reply:
"We were both there, I don't remember who she asked. There was about half an hour where she was fully lucid and in the right time period, where she knew who we were and was able to carry on an actual conversation (not just "do you have babies?"). That was fantastic, and they say it happens often at the end. I think it was the next day, as they were preparing to take her to hospice, she was really sick and out of it. Feverish and delirious, she kept throwing off her covers and gown and pulling off her oxygen. I went in a little before Denise and found her fully exposed and asleep, so I covered her before Denise came in. Denise said she couldn't have handled that. Not sure why, maybe because she's so "proper"?
"I went to the hospice and saw her as soon as she'd been put in a room; she'd messed herself. Nurse cleaned her up and when I went back in, she was fully exposed again. As I began to cover her, nurse said it's really best not to. She's dying, at least she should feel comfortable and if she wants to be naked, we'll let her. So I let her. I stayed for a while, but she never came around enough to realize I was there. She died early the next morning."
I miss my grandma so much.
Grandma in 2004, sharing her cooky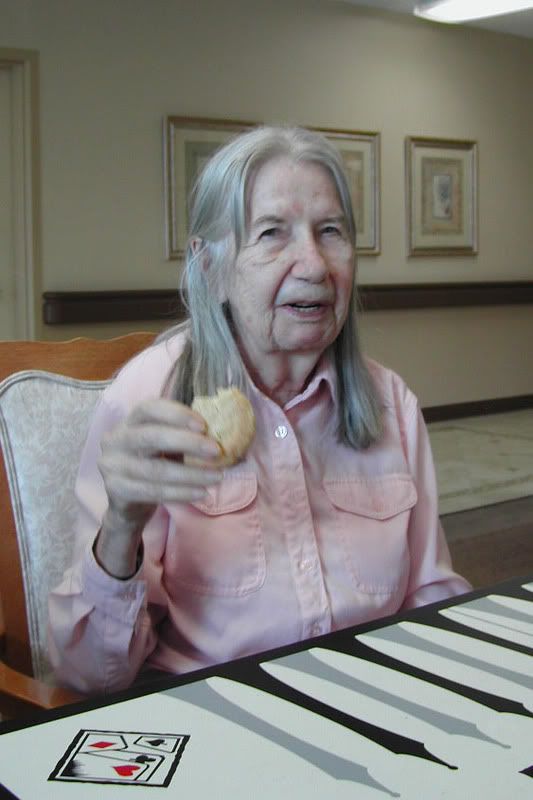 2 replies, 1858 views
Replies to this discussion thread
| | | | |
| --- | --- | --- | --- |
| 2 replies | Author | Time | Post |
| My sister's TLC, my grandma's last days. (May be disturbing to some) (Original post) | Bertha Venation | Jun 2012 | OP |
| | CaliforniaPeggy | Jun 2012 | #1 |
| | lunatica | Jun 2012 | #2 |
---
Response to Bertha Venation (Original post)
Mon Jun 11, 2012, 04:06 PM
CaliforniaPeggy (134,298 posts)
1. I can tell you, my dear Bertha, that I am not disturbed by this, not one little bit.
You have written something very beautiful. Something so evocative and precious...
And your sister's writing about your Grandma is also wonderful. She has captured the reality of your Grandma and of her death.
Thank you so much for sharing this incredibly poignant and personal memoir...
---
Response to Bertha Venation (Original post)
Mon Jun 11, 2012, 04:19 PM
lunatica (50,230 posts)
2. My mother died in her sleep too
She looked like a little doll with her hand nestling her cheek which was the way she slept. She was quite tiny and very thin when she passed. Her eyes were closed and she looked sweet and asleep. That was in January of 2010. We had her at home with home hospice. I'm very glad she didn't spend her last months in a hospital. She spent them quietly at home dying at her own speed.