Thu May 28, 2020, 06:18 PM
demmiblue (25,958 posts)
Two brothers in arms
Pupdate: Rick posted this photo with his dog Abel today. He is filling our paperwork needed before his homecoming. Abel is this close.@USMarineCorps let these two brothers in arms come home to Colorado together. Their service as soldiers has been with each other, for all of us.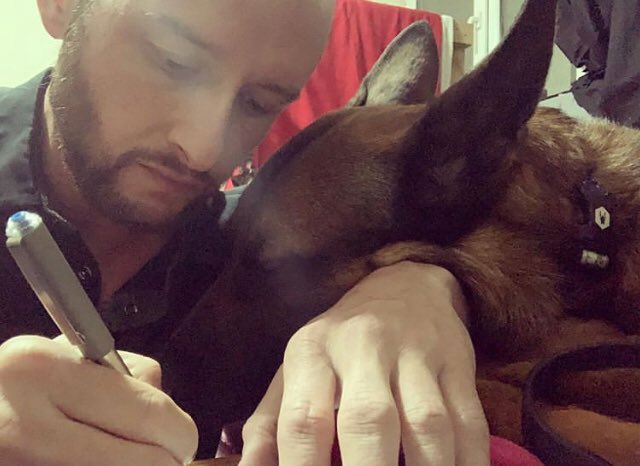 Link to tweet
And while I'm at it, a movie recommendation (tissue warning):
1 replies, 233 views
Replies to this discussion thread
| | | | |
| --- | --- | --- | --- |
| 1 replies | Author | Time | Post |
| Two brothers in arms (Original post) | demmiblue | May 28 | OP |
| | demmiblue | May 28 | #1 |
---
Response to demmiblue (Original post)
Thu May 28, 2020, 06:41 PM
demmiblue (25,958 posts)
1. Bring K9 Abel Home: From Combat to Diplomat.
Abel and I have served our country and now that we're no longer needed we're being sent back. I'll go home and make a new life for myself and Abel will go back to the kennel where he would normally wait for my return, but this time, I wont. I will never again get to see the excitement in his whole body when I walk through the kennel door after a disheartening month apart. Unless there's a change of heart...
I was assigned to Abel in October of 2018. He had been with the company for less than two months as indicated by his records and there was basically little more in the notes than that he knew how to sniff and pulled really hard. I was told by the trainer at one point that Abel pulled so hard that it injured the trainer and required a visit to medical. What I saw was that Abel had drive and I was going to make the most of it!
...
My concern now is that there's a seemingly incredible amount of disregard for the mental well being of canine and handler. Abel and I spent the last year living in an 85 sq/ft room sharing almost every second together. For those that truly care, the amount of connection and bonding that develops makes separation a truly painful one, even if its just for a period of leave. But to go to a combat zone where there were direct rocket attacks, suicide vest attacks, and vehicle borne explosive attacks to use a creature that I built and bonded with only to have a corporate entity say that this equipment isn't for retirement, adoption, or even for sale for any amount of money adds to the distress and feeling of disregard that combat veterans like myself deal with on a daily basis.
At this point I'm expected to hand over this
"contract furnished equipment"
without resistance, in the middle of the night, and get on a plane back home and not receive so much as a "thank you" for what I've done. All the while, knowing that I'll likely never interact with Abel again. If I do, it will be after Abel spends several more years of experience on some unknown contract, with some other handler, near the end of his
"serviceable" life
. I have learned a new word recently from some particularly supportive people that feels about right... Chattel.
With your support, it's my goal to petition that would be undeniable for a company to decline. With your help, I hope to purchase Abel from the company so that he may become my service dog for disabilities that I have developed during my time in the Middle East.
https://www.change.org/p/bring-k9-abel-home-from-combat-to-diplomat?recruiter=354027964&utm_source=share_petition&utm_medium=twitter&utm_campaign=psf_combo_share_abi&recruited_by_id=528a9b60-3876-11e5-b2f0-b7dc1c4f7f3d
They are bonded, FFS