Thu Dec 29, 2011, 10:30 AM
steve2470 (37,215 posts)
3 replies, 2013 views
Replies to this discussion thread
| | | | |
| --- | --- | --- | --- |
| 3 replies | Author | Time | Post |
| Anyone know anything about the smart fortwo car ? (Original post) | steve2470 | Dec 2011 | OP |
| | HopeHoops | Dec 2011 | #1 |
| | EnviroBat | Dec 2011 | #2 |
| | LeftinOH | Dec 2011 | #3 |
---
Response to steve2470 (Original post)
Thu Dec 29, 2011, 10:44 AM
HopeHoops (47,675 posts)
1. Yeah, don't take it on the highway. It's a golf cart and not safe on large roads.
That's mostly a visibility issue. Larger vehicles just can't see them. It's also a on-accident vehicle. If you get smashed, the car is totaled (if recognizable) and Smart Car is down one customer (if recognizable). It's a good city vehicle, but I hate when one of them moves into my blind zone on the highway. Ask Tobin how he feels about them.


---
Response to steve2470 (Original post)
Thu Dec 29, 2011, 02:46 PM
EnviroBat (5,290 posts)
2. Buy a shopping cart.
You can push it to you destination faster then the Smart will get you there at full throttle. If the smart Car was any slower, it would be going backwards. I was riding with a friend in her Smart Car when we were suddenly passed by an old woman on a rascal, on the freeway! My friend paid a kid on a skateboard to push her Smart Car down the street so she could reach the legal speed limit of 25 mph. My friend lives 6 miles from where she works. Ever since she bought the Smart Car she has to leave the house an hour early, just to get to work 1/2 hour late. You might want to look into this car: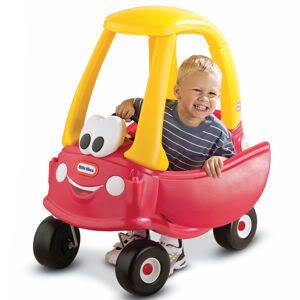 It twice as fast, and three times safer...
---
Response to steve2470 (Original post)
Thu Dec 29, 2011, 02:54 PM
LeftinOH (5,089 posts)
3. The new Fiat 500 is slightly larger- and gets pretty good mileage
and similarly priced. It also has a longer pedigree than the Smart Fourtwo