Tue Apr 28, 2015, 03:03 AM
Sherman A1 (26,718 posts)
Daily Holidays - April 28
National Blueberry Pie 
Day
What could be more enjoyable than a slice of, delicious, Blueberry pie? Blueberries, or star berries as the Native Americans called them, are one of nature's super foods. The humble blueberry is one of few blue foods, found in nature, and it is native to the Americas. The chemicals found in blueberries may contribute to fighting diseases and preventing against certain cancers. Rich in antioxidants and vitamins, it's only fitting that we should have a special day, in the form of Blueberry Pie Day, to celebrate them.
Americans have been enjoying blueberry pies for years and there is no shortage of scrumptious recipes on the internet. Why not have your own blueberry pie celebration by making a pie, or eating blueberry themed dishes? As well as using traditional blueberry pie recipes, why not experiment with some new ones? Adding ricotta cheese to the filling, will add a creamy twist to the pie or adding black pepper, combined with warm spices, will give your pie a real kick!
https://www.daysoftheyear.com/days/blueberry-pie-day/
Biological Clock Day
The words 'biological clock' may conjure up images of dancing babies, but there's much more to the biological clock than that last minute urge to make babies that supposedly kicks in at a certain point in a woman's life.
For a start, both men and women have a biological clock, as being celebrated by Biological Clock Day, and it affects their behaviour and mood on a daily basis. It maintains a sleep-wake pattern
that fits in with the light and dark of a day on Earth. More formally known as the circadian rhythm, it monitors light, temperature and other environmental factors to influence things like alertness, energy levels, hunger and motivation.
The technology of today's world can upset the balance of the biological clock,
so celebrate Biological Clock Day by setting aside some time to re-regulate it; create a regular bedtime routine, minimise naps and eat regularly.
https://www.daysoftheyear.com/days/biological-clock-day/
Workers Memorial Day
Workers' Memorial Day commemorates those who died at work and to try and make it safer for the living, and to promote safer working conditions.
This date was chosen because it is the anniversary of the Occupational Health and Safety Act in the USA and commemorates the day of a construction accident in Connecticut that claimed 28 lives.
https://www.daysoftheyear.com/days/workers-memorial-day/
World Day for Safety and Health at Work
The World Day for Safety and Health at Work is an annual international campaign to promote safe, healthy and decent work. It is held on 28 April and has been observed by the International Labour Organization (ILO) since 2003.
28 April has also long been associated with the world's trade union movement's commemoration of the victims of occupational accidents and diseases.
Every year some two million men and women lose their lives through accidents and diseases linked to their work. In addition, there are 270 million occupational accidents and 160 million occupational diseases each year, incurring US$ 2.8 trillion in costs for lost working time and expenses for treatment, compensation and rehabilitation. Fatalities, accidents and illness at work are highly preventable and we have an obligation to act.
A national occupational safety and health culture is one in which the right to a safe and healthy working environment is respected at all levels, where governments, employers and workers actively participate in securing a safe and healthy working environment through a system of defined rights, responsibilities and duties, and where the highest priority is accorded to the principle of prevention.
http://www.un.org/en/events/safeworkday/
http://www.famousbirthdays.com/april28.html
8 replies, 966 views
Replies to this discussion thread
| | | | |
| --- | --- | --- | --- |
| 8 replies | Author | Time | Post |
| Daily Holidays - April 28 (Original post) | Sherman A1 | Apr 2015 | OP |
| | Tobin S. | Apr 2015 | #1 |
| | Sherman A1 | Apr 2015 | #4 |
| | bigwillq | Apr 2015 | #2 |
| | Sherman A1 | Apr 2015 | #5 |
| | femmocrat | Apr 2015 | #3 |
| | Sherman A1 | Apr 2015 | #6 |
| | Dont call me Shirley | Apr 2015 | #7 |
| | Bad Dog | Apr 2016 | #8 |
---
Response to Sherman A1 (Original post)
Tue Apr 28, 2015, 04:34 AM
Tobin S. (10,414 posts)
1. Good morning, Sherman!
My schedule really messes with me as far as my biological clock goes. I feel best when I stay up until about 2AM and can sleep until I naturally wake up, usually about 10AM. It works really well with a second shift work schedule. However, I have to be in at work at 6AM so I'm up at 5AM. I have to go to bed at 9PM and usually end up tossing and turning for at least an hour before I get to sleep and I don't really sleep well. The result is that I'm usually dragging ass the first half of the day.
---
Response to Tobin S. (Reply #1)
Tue Apr 28, 2015, 03:32 PM
Sherman A1 (26,718 posts)
4. I understand.
My schedule used to bounce around a lot with a combination of first and second shifts. Leaving work at 10pm to be back at 5am was certainly "interesting". I am lucky I am on all early shifts now, getting up at 2:30am so that I can ease into my day before heading off to work. I like my quiet time in the morning with my coffee.
---
Response to Sherman A1 (Original post)
Tue Apr 28, 2015, 07:49 AM
bigwillq (72,790 posts)
2. I love blue berries but not a huge fan of blue berry pie
Most times it's too sweet for me.
---
Response to bigwillq (Reply #2)
Tue Apr 28, 2015, 03:33 PM
Sherman A1 (26,718 posts)
5. Yes,
some pies and alike can over do the sweetness, but once in awhile
---
Response to Sherman A1 (Original post)
Tue Apr 28, 2015, 09:05 AM
femmocrat (27,943 posts)
3. Stay safe everyone!
---
Response to femmocrat (Reply #3)
Tue Apr 28, 2015, 03:34 PM
Sherman A1 (26,718 posts)
6. Agreed
Safety is paramount, unfortunately it is not universally so.
---
Response to Sherman A1 (Original post)
Tue Apr 28, 2015, 03:59 PM
Dont call me Shirley (10,998 posts)
7. Workers...
---
Response to Sherman A1 (Original post)
Thu Apr 28, 2016, 11:07 AM
Bad Dog (2,025 posts)
8. In the UK we celebrate Ed Balls.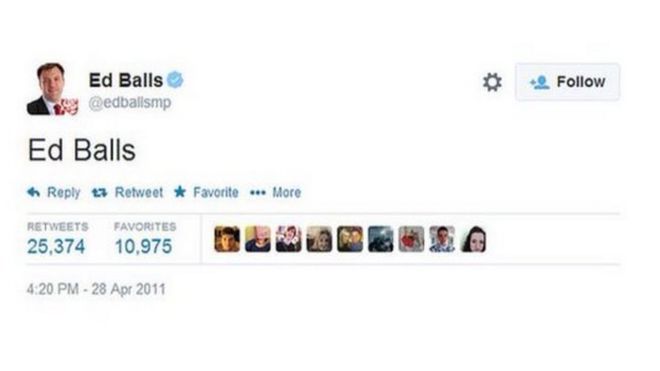 Happy Ed Balls Day! Who knew that five years ago, a Twitter fail would still be remembered. So what is it all about?
On 28 April 2011 Ed Balls, who was shadow chancellor at the time, was urged by his aide to search Twitter for articles mentioning his name, but instead of doing a search he tweeted his own name in error.
So on 28 April Twitter rejoices in the madness and celebrates Ed Balls.
At the time of writing, the hashtag #EdBallsDay has been the top trend in the UK and has been used over 10,000 times.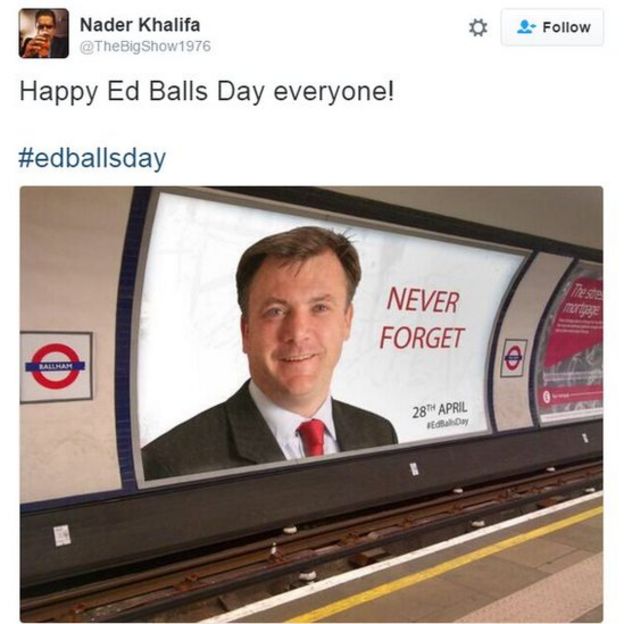 http://www.bbc.co.uk/news/uk-36158172