Fri Oct 14, 2016, 07:03 AM
Fantastic Anarchist (7,309 posts)
Ronald Reagan - A Rant
Ronald Reagan - A Rant
I saw Ronnie's mug on a video. Didn't even watch, but did inspire this rant:

Such a bullshit con-artist, though. Republicans and Democrats both tell us what we can do ... they just do it in different ways. Never have we been so terrified of our government. It's a mix of Huxley and Orwell. Black men are getting shot by the police, but that doesn't matter. "Did you hear about what the Kardashians were wearing? They're, like super awesome, yo!" As the government eaves-drop on our conversations, no-fly lists, free-speech zones, etc., etc.

We are free to do what the government tells we can do. And "We the People ..." have not been the government ever in the history of our nation. Biggest tub of bullshit propaganda ever. We started out taking land that didn't belong to us, used certain people to pull cotton and weren't even considered full persons, and women and poor white and black people (the few that were free) couldn't vote. Women couldn't vote until 1920. "If voting did anything, they'd make it illegal." - Emma Goldman (Feminist Anarchist). War of 1812 - our first war of aggression. Every war this country has been in has been to increase the wealthy of any proportion of the One Percent at that particular time. Freedom is freedom to work and receive the full share of the value of a product's value. Adam Smith talked about this, but capitalists have twisted his words about some invisible hand. What invisible hand? The one where one man can extract the surplus value of all who labor under him and call it profit? With whose resources did he build his product or provide his service? "We the People ..." fucking did, that's who. Somehow, the government's ear was bent by said capitalists, and we are told if we work hard, we'll be wealthy, too? Does a janitor at a high school work hard?

What happened to Economic Freedom? Workplace democracy? What happened to the millions without health care? I'm talking about universal health care? I'm talking about the health care that would cost around 3% overhead to cover EVERY SINGLE PERSON in the country? Eliminate the administration both on the provider and on the multitudes of insurance sides, CEO pay, Marketing, and improve proactive health care at fractions of the cost, instead of waiting until an Emergency room visit is needed in order to not die - which at this point, costs many times the cost of preventative care. France provides universal health care and doesn't pay nearly the cost that the US pays as a share of GDP. You are also allowed to rest and fully heal prior to returning to work.

Let me ask this, by the way. In this supposedly capitalist system, why is health care tied to employment, thus hindering operating costs of US companies vs. the rest of the world that have their government pay as a single-payer for the cost of health care? In their governments of The People, the sheer size of the population can leverage providers for lowered costs from hospitals to medicine. No, the costs are pushed on to us, The People, but hey, where the did profits go? That's right - in this fuckwad's wallet.

Ah, a face even a mother would hate:



Capitalism is supposed to promote competitiveness, right? So, how come he can jack the price of a drug from $13 to $700, an increase of 5,500%. How can he do such a thing, you may ask. He does it because he can. This particular guy that probably didn't get many dates while growing up, got caught and became a sacrificial lamb, but there are many more like him.

Our government fears us? Please ... give me a break. If you believe that, go talk to Dick Cheney; he'll shoot you in the face, and then make you apologize for it. In France, the government does fear the people. When Labor goes on strike in France, they kidnap the CEO! Now, that's how you strike. Why don't we strike, you ask? Because Republicans and Democrats have crushed actual unions. Those that do exist, except for a tiny minority like the IWW, act as agents of the managerial class. That is, they are surrogates for management to tell the workers what to do. Sure, they throw in a few crumbs here and there, but CEO pay still remains at around 500 times that of the AVERAGE worker. Not the lowest paid; the AVERAGE. Unions tell the workers to shut up and take $7 an hour as a LIVING WAGE. Yes, a living wage in a time where wages have stagnated since the 1970s while inflation and cost of living continue to rise. Thanks, Unions!!

Where is all this money going? Well, I can't remember the numbers right off the top of my head, but wealth disparity is real - to the tune that 700 people - THAT'S SEVEN HUNDRED, NOT THOUSAND, OR MILLION, but just hundred - 700 people make more than the half of the working population combined. That and we get to destroy democracies around the world with a lot of that dough. Why stay home and take care of the sick, including our veterans, when we can kill people half a world away!? Why aren't we adding zeros to that 700 ..? Again, no Unions. We do have our guns, though. You know, so we can kill bears or something.

Does that sound like freedom to you?

And that's not even talking about vacation time ... which is not even a requirement here in the United States. It's mandatory in the rest of the developed world, and those workers get a lot more of it.

Without Unions, we have no chance. Actual Unions. The greatest lie told to us Americans is that we are free. Yeah, we're not North Korea, which I shouldn't have to be thankful for, but ....I guess I am.

The greatest lie told to us is that we are free. Ze Germans would be so proud at how we can successfully say things like this with a straight face. It's a great testament to our marketing, err News bureaus.

Be realistic! Demand the impossible!!! ~ 1968 Anarchist Slogan

11 replies, 1968 views
Replies to this discussion thread
| | | | |
| --- | --- | --- | --- |
| 11 replies | Author | Time | Post |
| Ronald Reagan - A Rant (Original post) | Fantastic Anarchist | Oct 2016 | OP |
| | vlyons | Oct 2016 | #1 |
| | Fantastic Anarchist | Oct 2016 | #2 |
| | vlyons | Oct 2016 | #3 |
| | Fantastic Anarchist | Oct 2016 | #6 |
| | LWolf | Oct 2016 | #4 |
| | vlyons | Oct 2016 | #5 |
| | LWolf | Oct 2016 | #8 |
| | vlyons | Oct 2016 | #11 |
| | Fantastic Anarchist | Oct 2016 | #7 |
| | LWolf | Oct 2016 | #9 |
| | Buckeye_Democrat | Oct 2016 | #10 |
---
Response to Fantastic Anarchist (Original post)
Fri Oct 14, 2016, 07:14 AM
vlyons (7,829 posts)
1. What happened? We built a fabulous war machine.
We let Joseph McCarthy convince us that communists would come down our streets and take over our towns. We saw communists and pinkos on every school board and city council. We let war mongers sell us that we needed to be the policeman of the world, or else the domino theory would flip all those 3rd world counties over to the communists. We built stock piles and piles of nuclear weapons that have sat in underground silos for 50 years - "just in case." We taught little children to hide under their desks in atomic bomb drills. So now nearly 60% of the fed budget goes to "defense." But wow, do we have a great war machine.
---
Response to vlyons (Reply #1)
Fri Oct 14, 2016, 07:20 AM
Fantastic Anarchist (7,309 posts)
2. How's Viet Nam doing, by the way?
Hell of a communist country, eh?

Oh, and I wasn't around at the time, but I'm sure those desks were heavily fortified - like atomic bomb proof, right?

Defense, but don't forget Department of Energy so we can account for those nukes. They're not DoD.

Oh, and State, because spy-craft and stuff. CIA gets to play with their toys, too.
---
Response to Fantastic Anarchist (Reply #2)
Fri Oct 14, 2016, 09:18 AM
vlyons (7,829 posts)
3. I well remember crawling under my desk in grade school.
Then some genius decided that crouching in the hallway was better to get away from the windows. They taught us to place one arm underneath our head to cover our eyes, and one arm over the back of neck. I also remember my parents taking us kids out to this showcase of fallout shelters. There were pictures and displays of what the people, who survived Hiroshima looked like afterwards. My parents actually considered planting one in the back yard, bet decided they were too expensive. We kids thought they would make really cool club houses. Stocked with tins of food, water cans, sleeping bunks, etc. Only thing is, who would want to survive? Better to get vaporized.

But I understand how easy it is to fear-monger people. Hitler knew this too.
---
Response to vlyons (Reply #3)
Fri Oct 14, 2016, 01:34 PM
Fantastic Anarchist (7,309 posts)
6. I remember the hallway thing. Totally safe.
---
Response to vlyons (Reply #1)
Fri Oct 14, 2016, 11:18 AM
LWolf (46,178 posts)
4. Some large part of the human population
seems to crave fear and hate; they can't seem to, or simply don't want to, envision a world or do their part to create a world without them. If it's not the commies coming to get us, it's the terrorists, or the muslims, or the gays. It's always got to be somebody.

And, of course, those at the top who profit off of that fear and hate feed it skillfully.
---
Response to LWolf (Reply #4)
Fri Oct 14, 2016, 12:42 PM
vlyons (7,829 posts)
5. The 3 poisons in Buddhism are the negative emotions of
ignorance, greed, and anger/hatred. Hatred is especially pernicious and makes us stupid. Hatred and greed are bad habits, long nurtured in the mind. People don't even realize how detrimental they are to creating true happiness and contentment. But these poisons can be overcome, and overcome rather quickly with some mental discipline and mind training. But people have to want to overcome the mental poisons and seek guidance and training on how to do it. All the great religions of the world teach peace, tolerance, patience, generosity, forgiveness, compassion, respect for all sentient beings. It's not like it's some big secret.
---
Response to vlyons (Reply #5)
Fri Oct 14, 2016, 07:35 PM
LWolf (46,178 posts)
8. By great,
do you mean large, or is it a judgement call?

Those are things that are supposedly universal in most belief systems. Yet, ignorance, greed, anger, and hatred are also common in some of those same belief systems. This is an interesting thing to ponder. Christianity, of course, has a bloody history, and it's often that bloody history that Christians, pastors and flock, cling to. I don't know enough about Islam to comment, except that jihad is not peaceful.

I think I read somewhere, once upon a time, that the older a faith gets, the more metaphorical, less literal, more peaceful it gets, and that Christianity is a relatively "young" faith. I don't know about that, either; I'm just remembering reading it.

Your comments about Buddhism resonate with me, but then, they would. Those ideas are familiar; my mother is a Buddhist. It has worked very well for her. She turned to Buddhism in her 50s in a desperate effort to heal life-long wounds and manage her own fear and depression.

---
Response to LWolf (Reply #8)
Sat Oct 15, 2016, 02:10 AM
vlyons (7,829 posts)
11. Great as in major
All religions are subject to degeneration and corruption. Yes even Buddhism. Christianity, that is the established church, is less the teachings of Jesus than the invention of Constantine the Great to control an empire. Constantine called the First Council of Nicea n 326, which established three main things. The official date for easter (1st Sunday after the 1st full moon after the 21st of March), ideology of the Trinity, and canon law.
Gnosticism was deemed heretical, and anyone advocating it was exiled. Canon law was basically the old Roman pagan religious laws, property laws, criminal laws etc. Constantine saw Jesus as the son of Apollo, the sun god. So how weird is that. After Constantine, images of God/Christ sitting on a throne were throwbacks to the statue of Jupiter. There were also images of Jesus as a Roman Centurian. The "Pontiff" was the highest old Roman priest
Jupiter statue
Christ enthroned
Christ militant - as roman soldier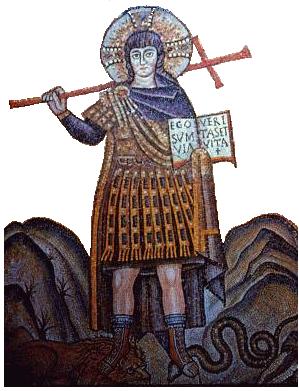 ---
Response to LWolf (Reply #4)
Fri Oct 14, 2016, 01:52 PM
Fantastic Anarchist (7,309 posts)
7. It's actually a phenomenon called Right-Wing Authoritarianism.
And it's not politically-oriented.
It's just those that have a tendency to be servile to authority, and to punish those that stray from conventional, traditional thinking.
Those devout authoritarian communists were considered RWAs.
Right-wing authoritarianism (RWA) is a personality and ideological variable studied in political, social, and personality psychology. Right-wing authoritarians are people who have a high degree of willingness to submit to authorities they perceive as established and legitimate, who adhere to societal conventions and norms, and who are hostile and punitive in their attitudes towards people who don't adhere to them. They value uniformity and are in favour of using group authority, including coercion, to achieve it.[1]
So, it's more like a cult than a political philosophy.
Right-wing authoritarians want society and social interactions structured in ways that increase uniformity and minimize diversity. In order to achieve that, they tend to be in favour of social control, coercion, and the use of group authority to place constraints on the behaviours of people such as political dissidents and ethnic minorities. These constraints might include restrictions on immigration, limits on free speech and association and laws regulating moral behaviour. It is the willingness to support or take action that leads to increased social uniformity that makes right-wing authoritarianism more than just a personal distaste for difference. Right-wing authoritarianism is characterized by obedience to authority, moral absolutism, racial and ethnic prejudice, and intolerance and punitiveness towards dissidents and deviants. In parenting, right-wing authoritarians value children's obedience, neatness, and good manners.[1]

Right-wing authoritarianism is defined by three attitudinal and behavioral clusters which correlate together:[14][15]

[*]Authoritarian submission — a high degree of submissiveness to the authorities who are perceived to be established and legitimate in the society in which one lives.[/*]

[*]Authoritarian aggression — a general aggressiveness directed against deviants, outgroups, and other people that are perceived to be targets according to established authorities.

[*]Conventionalism — a high degree of adherence to the traditions and social norms that are perceived to be endorsed by society and its established authorities, and a belief that others in one's society should also be required to adhere to these norms.[16]

The terminology of authoritarianism, right-wing authoritarianism, and authoritarian personality tend to be used interchangeably by psychologists, though inclusion of the term "personality" may indicate a psychodynamic interpretation consistent with the original formulation of the theory.
They will submit but also punish.
The phrase right wing in right-wing authoritarianism does not necessarily refer to someone's politics, but to psychological preferences and personality. It means that the person tends to follow the established conventions and authorities in society. In theory, the authorities could have either right-wing or left-wing political views.[17]
Milton Rokeach's dogmatism scale was an early attempt to measure pure authoritarianism, whether left or right. The scale was carefully designed to measure closed-mindedness without regard to ideology. Nevertheless, researchers found that it correlated with British political conservativism.[18] In a similar line of research, Philip Tetlock found that right wing beliefs are associated with less integrative complexity than left wing beliefs. People with moderate liberal attitudes had the highest integrative complexity in their cognitions.[19]

There have been a number of other attempts to identify "left-wing authoritarians" in the United States and Canada. These would be people who submit to leftist authorities, are highly conventional to liberal viewpoints, and are aggressive to people who oppose left-wing ideology. These attempts have failed because measures of authoritarianism always correlate at least slightly with the right. However, left-wing authoritarians were found in Eastern Europe [20] There are certainly extremists across the political spectrum, but most psychologists now believe that authoritarianism is a predominantly right-wing phenomenon.[21]

Although authoritarians in North America generally support conservative political parties, this finding must be considered in a historical and cultural context. For example, during the Cold War, authoritarians in the United States were usually anti-communist, whereas in the Soviet Union, authoritarians generally supported the Communist Party and were opposed to capitalism.[22] Thus, authoritarians generally favor the established ways and oppose social and political change. Hence, even politics usually labeled as right or left-wing is not descriptive. While Communism in the Soviet Union is seen as leftist, it still inspired the same responses. Furthermore, recent research indicates that political progressives can exhibit the qualities of authoritarianism when they are asked about conservative Christians.[23] This leaves questions over what makes various ideologies left or right open to interpretation.[citation needed]

So, not necessarily politically oriented, but is aligned with political groups that fall to the right side of the political spectrum when it comes to conventional and authoritarian ways of thinking.
---
Response to Fantastic Anarchist (Reply #7)
Fri Oct 14, 2016, 07:41 PM
LWolf (46,178 posts)
9. I haven't thought before
about authoritarianism being "right wing" or "left wing," although I've noticed, of course, that it's more prevalent on the right.

I do notice, all the time, that more people around me than not seem to need a black and white system to cling to in order to feel secure; that authoritarian systems seem to provide them with the security they crave, regardless of what that system is supposed to govern, or what its ideology.

I've wondered: is it that people need or crave that fear, hate, greed, and aggression, and the security that a simplistic, black and white authoritarian system provides them? Or are those who crave power over others creating that fear, hate, greed, and aggression in order to keep their flocks, political or religious or anything else, dependent?
---
Response to Fantastic Anarchist (Original post)
Fri Oct 14, 2016, 07:53 PM
Buckeye_Democrat (13,127 posts)
10. Capitalism and the "free market" gave us slavery too.
I told a co-worker that, and he laughed at me. He put all the blame on the government.
While government was indeed complicit in it, I reminded him that the Constitution wasn't written until slavery was already well-established here. It took government action, and a VERY bloody war to end it. Well, at least "end it" nominally and in spirit.
There's long existed money-grubby psychopaths willing to crush others underfoot, and "We The People" shouldn't overlook them for a second!
Here's a "liberal narrative" that I read a few years ago (which I liked):
http://www.saturdayeveningpost.com/2012/08/21/in-the-magazine/trends-and-opinions/americas-painful-divide.html
Once upon a time, the vast majority of human persons suffered in societies that were unjust, unhealthy, repressive, and oppressive. These traditional societies were reprehensible because of their deep-rooted inequality, exploitation, and irrational traditionalism. … But the noble human aspiration for autonomy, equality, and prosperity struggled mightily against the forces of misery and oppression, and eventually succeeded in establishing modern, liberal, democratic, capitalist, welfare societies. While modern social conditions hold the potential to maximize the individual freedom and pleasure of all, there is much work to be done to dismantle the powerful vestiges of inequality, exploitation, and repression. This struggle for the good society in which individuals are equal and free to pursue their self-defined happiness is the one mission truly worth dedicating one's life to achieving.