Wed Dec 17, 2014, 11:16 AM
marmar (73,475 posts)
From Occupy to Ferguson: The two movements are more connected than you think
from In These Times:
From Occupy to Ferguson
The two movements are more connected than you think
.
BY JESSICA STITES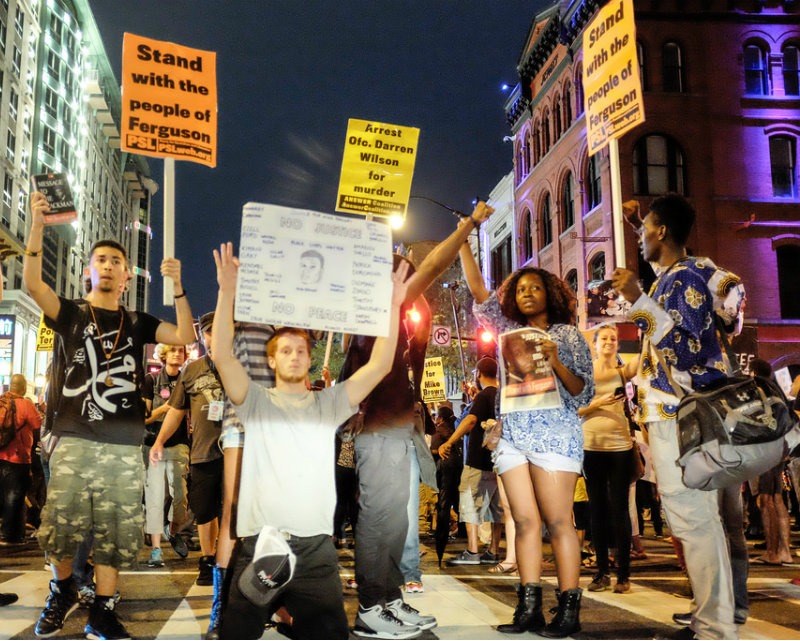 [font size="1"]
The shooting and death of Michael Brown, an unarmed teenager from Ferguson, Missouri, ignited protests, rallies and vigils from Washington D.C. (left) to New York City. The movement served as a platform to get justice for Brown, as well as to expose issues of police brutality and racism. (Ep_Jhu / Flickr)
[/font]
Early in the Occupy movement, Frances Fox Piven predicted, "We may be on the cusp, at the beginning of another period of social protest." Months later, in September 2012, long after the last tent had folded, Piven questioned the "ready conclusion that the protests have fizzled." As she and Richard Cloward noted 35 years earlier in their pivotal study,
Poor People's Movements: Why They Succeed, How They Fail
, the Civil Rights Movement of the 1950s and 1960s and the labor movement of the 1920s and 1930s took years to win substantial victories.
As the nation erupts in protests, her words ring prophetic. The killing of unarmed teenager Michael Brown by police officer Darren Wilson in Ferguson, Missouri, has put a match to years of simmering fury over police brutality. Ferguson may seem a far cry from Occupy. These protests aren't about inequality; they're about policing. Yet many of the 1960s civil rights riots were set off by police brutality. For people in poor communities, overpolicing is the most palpable manifestation of economic and political oppression.
Piven is heartened by the Ferguson protests. "Occupy was brilliant in getting a message across, but these protests are disruptive. They (are) specifically, deliberately, planfully setting out to disrupt the functioning of the city until attention is paid to the grievance they have," she tells In These Times. "Protesters have to bring things to a halt in order to have an impact."
Those in power seem nervous. In a speech following a grand jury's decision not to indict Wilson, Barack Obama sounded less like the man who, after the Trayvon Martin verdict, spoke candidly and movingly of his personal experiences of racial profiling by police, and more like the lord of the manor with the mob at the door. "First and foremost, we are a nation built on the rule of law," he stressed. ......................(more)
The complete piece is at:
http://inthesetimes.com/article/17421/from_occupy_to_ferguson
2 replies, 1156 views
Replies to this discussion thread
| | | | |
| --- | --- | --- | --- |
| 2 replies | Author | Time | Post |
| From Occupy to Ferguson: The two movements are more connected than you think (Original post) | marmar | Dec 2014 | OP |
| | socialist_n_TN | Dec 2014 | #1 |
| | SophieKoko | Dec 2014 | #2 |
---
Response to marmar (Original post)
Sat Dec 20, 2014, 11:36 AM
socialist_n_TN (11,481 posts)
1. "...but these protests are disruptive."........
I said all along when people were talking about the failures of both the Wisconsin protests AND the Occupy protests, that it wasn't over. I fully expected another one of these manifestations of the dialectic of oppression engendering it's resistance. I also predicted that any new movement after Occupy would be MORE militant than Occupy.

Furthermore, I will predict right now that the movement against police violence won't be the last of it. Although I don't expect it to fade out like Occupy, simply because police violence against people of color is a daily occurrence, I DO expect it to morph into something more encompassing. A "blend" if you will of the Occupy economic message with the systemic oppression and anti-violence against black folks message of the #BlackLivesMatter movement. The next step after that will be to bring in what's left of the organized working class supporting both of these VERY interconnected issues. At that point, we have the potential of REAL change happening.
---
Response to socialist_n_TN (Reply #1)
Mon Dec 22, 2014, 04:01 PM
SophieKoko (17 posts)
2. KEY POINT
I don't think "systematic oppression" was as commonplace a phrase before Occupy and Ferguson so that's something. People beginning to understand even the meaning of that is a positive step in the right direction!