Mon Feb 2, 2015, 03:52 PM
Omaha Steve (85,511 posts)
Many businesses say they arenít ready to deal with baby boomer retirements
X post in Labor & GD
http://www.omaha.com/money/many-businesses-say-they-aren-t-ready-to-deal-with/article_ab9927ef-fcff-5696-8263-79acee178b85.html
POSTED: MONDAY, FEBRUARY 2, 2015 1:00 AM
The Kansas City Star
KANSAS CITY, Mo. ó Every 10th worker in America is eligible to retire this year or next.
Depending on your work situation, that may not be a startling estimate. If youíre in an organization that cut staff more than that during the recession, or in a venture populated by young people, you might shrug off impending retirements.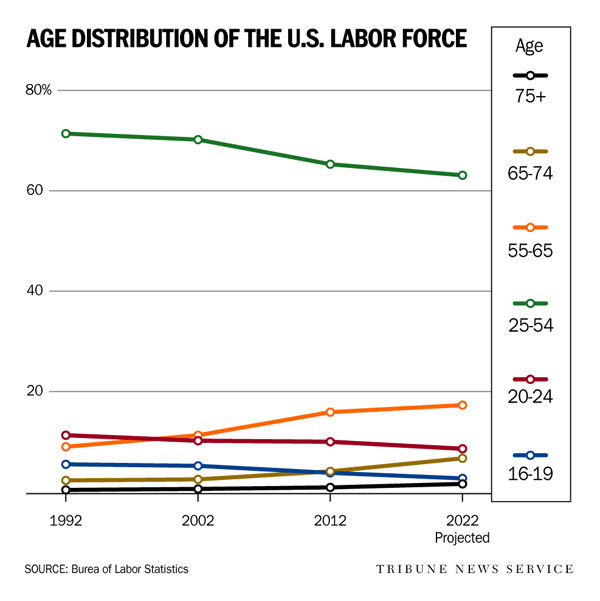 But in many organizations, the loss of experienced employees ó presumably workplace survivors because of their needed skills ó could pack a punch.
The U.S. Bureau of Labor Statistics forecasts that nearly 1 in 4 members of the U.S. labor force will soon be 55 years old or older. Thatís up from about 1 in 8 in 2002.
FULL story at link.
2 replies, 1152 views
Replies to this discussion thread
| | | | |
| --- | --- | --- | --- |
| 2 replies | Author | Time | Post |
| Many businesses say they arenít ready to deal with baby boomer retirements (Original post) | Omaha Steve | Feb 2015 | OP |
| | tech3149 | Feb 2015 | #1 |
| | Wellstone ruled | Feb 2015 | #2 |
---
Response to Omaha Steve (Original post)
Mon Feb 2, 2015, 04:15 PM
tech3149 (4,451 posts)
1. Shortsighted businesses not planning for the future
That's why i quit working in 2002.
---
Response to Omaha Steve (Original post)
Mon Feb 2, 2015, 04:47 PM
Wellstone ruled (34,661 posts)
2. Just another B.S. statement which will
come back to bit the 1%ers in their asses. Pulled the pin 2003 and never looked back,fifty two years was enough and we bailed. What is really troubling is Business's not upgraded their Employees Skill Sets,this and treating them as a liability rather than a asset. Our previous Employer is recruiting people with a pulse and nothing more,word is Sales are going South and customer retention sucks. But,hey the G.M.got one hell of a bonus and stock options. Our local Chamber of Commerce seems to think we have all these capable skilled workers out there,bullcrap,the people hear that need jobs have specialize trade skills or GED's with all kinds of personal baggage that prevents them form a decent paying job. The people are here needing jobs,that is why we need the old Community Colleges and Vocational Schools energized.