Sun Jun 16, 2019, 07:26 PM
TexasTowelie (67,676 posts)
Arizona Fully in Play for 2020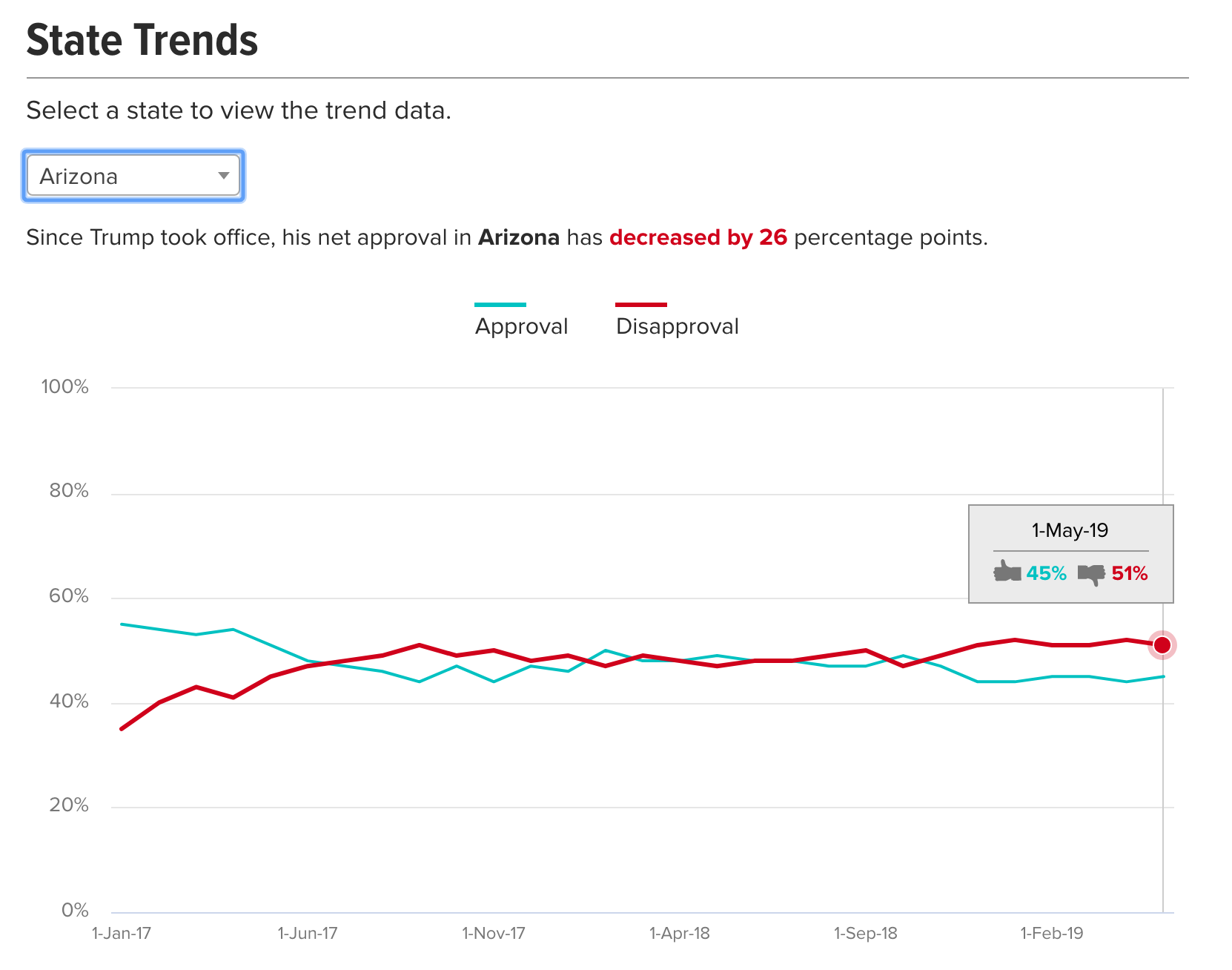 And it's not just Arizona. According to his own internal polling, Trump is underwater against nearly any Dem challenger in the very states that put him in office.
You might, in normal political times, argue that a flailing President won't necessarily bring down his party along with him.
But this is Trump: the one whom everything must be about. His black-hole like need for validation and constant agreement with his every whim is going to be a heavy anchor on the whole GOP team by election day 2020.
Consider McSally's dilemma here in Arizona:
"The extremist forces Trump has unleashed and caters to almost exclusively could pull him further to the right at the expense of voters who gave him a chance in 2016. In 2018, Democrats, fueled by both anti-Trump sentiment and swing voters, won two statewide races: a hotly contested U.S. Senate seat and the secretary of state post.

McSally was the GOP candidate who lost that Senate race and was later appointed to her current seat when the late Sen. John McCain passed away. In her reelection bid next year, she will potentially face off against former astronaut Mark Kelly to keep that seat, one several critical races that will determine which party controls the upper chamber.

Trump hasn't figured it out yet, but his divisive nativist policies aren't helping McSally one bit. As he will surely continue to woo the extremists and stoke their ire, McSally will be left to walk the line between nativism and pro-business policies backed by the Arizona Chamber of Commerce. It could potentially be a recipe for disaster for both her and Trump in 2020."
Read more:
https://blogforarizona.net/arizona-fully-in-play-for-2020/
4 replies, 342 views
Replies to this discussion thread
| | | | |
| --- | --- | --- | --- |
| 4 replies | Author | Time | Post |
| Arizona Fully in Play for 2020 (Original post) | TexasTowelie | Jun 16 | OP |
| | Wellstone ruled | Jun 16 | #1 |
| | MLAA | Jun 16 | #2 |
| | Wellstone ruled | Jun 16 | #3 |
| | JDC | Jun 16 | #4 |
---
Response to TexasTowelie (Original post)
Sun Jun 16, 2019, 08:45 PM
Wellstone ruled (25,600 posts)
1. Let's not forget a very important
issue,it is demographics. They ain't making anymore old angry white folks. The Tax Code has changed the minds of many of those Greedy Geezers,their White Party fav took a major bite out of their Pensions and Savings in April.
---
Response to Wellstone ruled (Reply #1)
Sun Jun 16, 2019, 09:17 PM
MLAA (3,880 posts)
2. It's about time! I am a Southern Arizonan and can't wait to see blue creep up to Northern AZ.
---
Response to MLAA (Reply #2)
Sun Jun 16, 2019, 09:31 PM
Wellstone ruled (25,600 posts)
3. Live next door to you.
The blaming Obama crap rules the day here with the Old hate filled white people,but,those old hate filled white people numbers are a dwindling daily. Palms Mortuary makes almost daily trips into our Community usually about 10am. Which is the prime passing away time of day.
---
Response to TexasTowelie (Original post)
Sun Jun 16, 2019, 09:32 PM
JDC (4,764 posts)
4. We felt AZ was in play in 2016 as I recall.