Tue Apr 16, 2019, 11:53 AM
mahatmakanejeeves (25,906 posts)
Tragedy At Notre Dame Might Accelerate Fire Safety Work Underway At National Cathedral
APR 15, 5:10 PM
Tragedy At Notre Dame Might Accelerate Fire Safety Work Underway At National Cathedral
Rachel Sadon
....
Like Notre Dame, scaffolding has also graced the National Cathedral for years, as stonemasons and construction workers continue to
repair major damage from the 2011 earthquake
. That work has included fixing cracks in dozens of flying buttresses, recreating finials, and reassembling pinnacles.
But unlike the Gothic cathedral, the National Cathedral is a building borne of modern materials. Rather than an underlying wood structure, the National Cathedral was constructed out of steel, concrete, brick, and limestone, according to Shepherd. And, coincidentally, it is in the midst of a project to put in place additional fire protections.
The Episcopal church is in the first phase of a three-part "fire and life safety plan" that will cost about $3.4 million. Shepherd said it is possible that the work will be accelerated as a result of the Notre Dame fire. ... "The public consciousness of this event will certainly help us to expedite and move forward with the remaining priorities," he said on a call with media on Monday.
Construction on the National Cathedral began in 1907 and was only completed in 1990—an 83-year period that saw significant changes in building codes. For example, the areas of the structure that see the highest occupancy were built more recently and have modern sprinkler systems, but 20 percent of the building still needs them. ... "While we are more secure because of the nature of our construction materials, we are putting in place things like fire alarm systems, emergency lighting, and modern safety code systems," Shepherd said. He also noted that the scaffolding in place right now is only being used to stabilize masonry rather than active construction work.
The D.C fire department inspects the National Cathedral every two years. During the last one, inspectors found only minor issues that were corrected on site, according to Shepherd.
....
2 replies, 723 views
Replies to this discussion thread
| | | | |
| --- | --- | --- | --- |
| 2 replies | Author | Time | Post |
| Tragedy At Notre Dame Might Accelerate Fire Safety Work Underway At National Cathedral (Original post) | mahatmakanejeeves | Apr 2019 | OP |
| | appalachiablue | Apr 2019 | #1 |
| | mahatmakanejeeves | Apr 2019 | #2 |
---
Response to mahatmakanejeeves (Original post)
Tue Apr 16, 2019, 12:50 PM
appalachiablue (22,325 posts)
1. Notre Dame's fire definitely will assist with safety issues in other buildings.
People should see the magnificent Washington National Cathedral, a spectacular site to explore for both locals and visitors. Learn about Gothic architecture's flying buttresses, stained-glass windows, gargoyle waterspouts and much more. The Tower view overlooking the capital city is also fantastic.
"In the exterior, you can search out the 112 gargoyles (decorative rain spouts) and grotesques (carved stone creatures) with the help of a map (available at the entrance) or via guided tours conducted during summer months. Be on the lookout for the grotesque of Darth Vader and the hippie gargoyle.
The grounds: You'll find 59 acres of grounds designed by Frederick Law Olmsted Jr. around the National Cathedral. Enclosed by stone walls, the medieval-style Bishop's Garden includes herb plantings, roses and a 13th-century Norman arch. Stone paths wind through Olmstead Woods, one of the only old-growth forests in DC. There's also a cafe serving coffee, desserts, brunch and lunch located on the grounds in the 1904 Old Baptistry." ...
More,
https://washington.org/visit-dc/washington-national-cathedral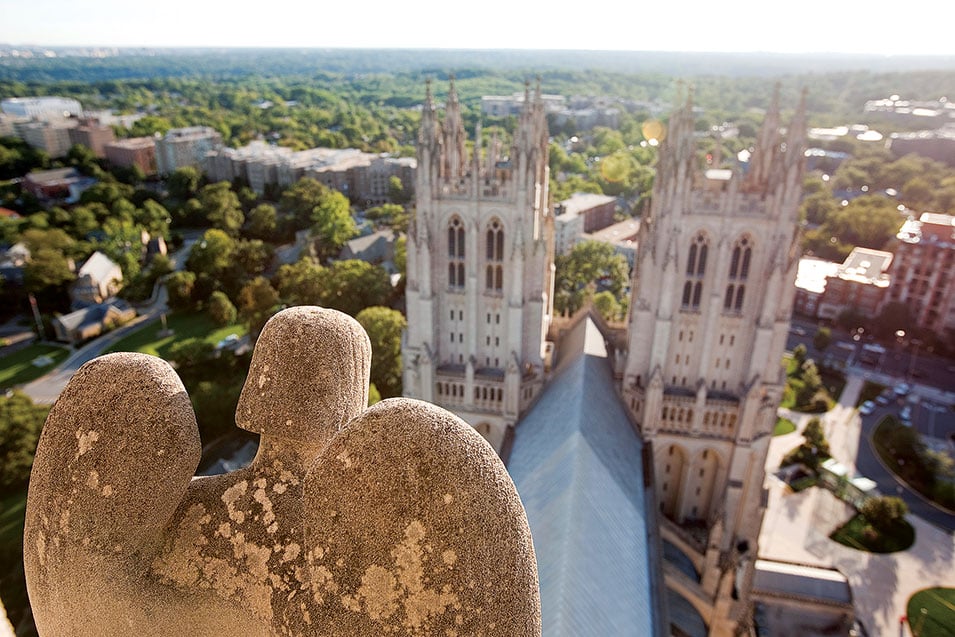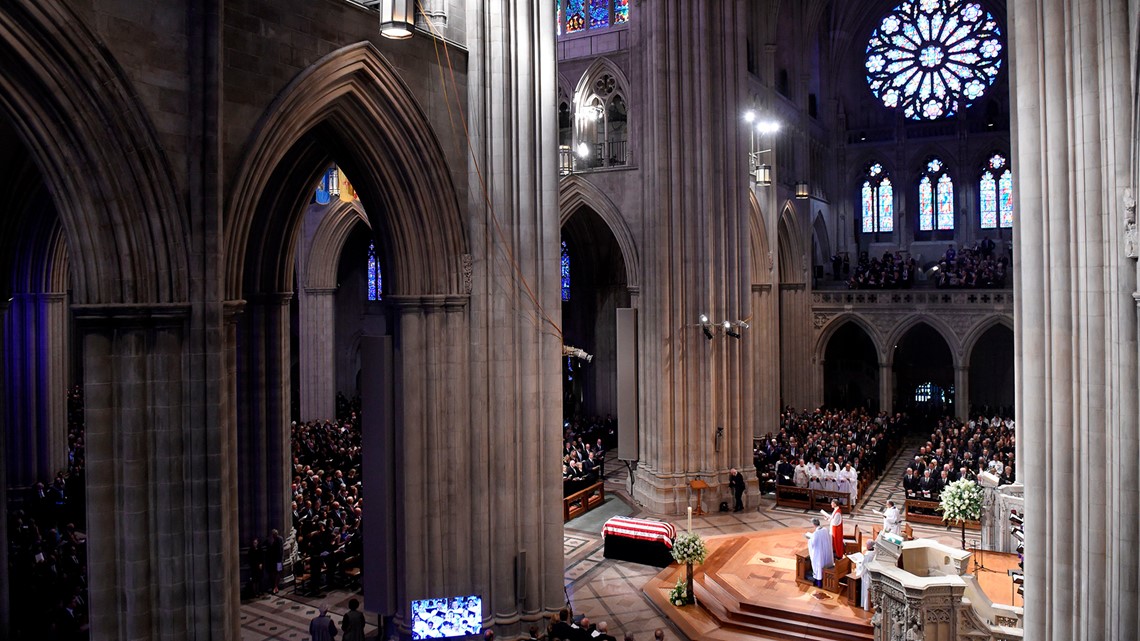 ---
Response to mahatmakanejeeves (Original post)
Tue Apr 16, 2019, 01:23 PM
mahatmakanejeeves (25,906 posts)
2. Why cathedrals are vulnerable to burning quickly and take a long time to rebuild
WorldViews
Why cathedrals are vulnerable to burning quickly and take a long time to rebuild
By Adam Taylor, Foreign reporter who writes about a variety of subjects, and Email Emily Tamkin
April 16 at 2:05 PM
If you were to design a building that would be particularly vulnerable to a spectacular fire, look no further than Notre Dame cathedral in Paris. ... The iconic building, initially constructed in the 12th and 13th centuries, was built with heavy stone exterior walls, a wooden roof made of old oak and below that, a cavernous exterior, full of oxygen that feeds flames. ... Indeed, Notre Dame was intentionally designed this way. The roof was built of wood so that it could burn off if it caught fire but the walls and other structures made of stone wouldn't burn down. One big advantage of this architectural feature: The fire would be contained by the stone exterior and not put the rest of the city at risk. ... That appears to be what happened Monday, as the world watched in horror as flames shot through the 800-year-old structure. While seriously damaged — the roof collapsed, its 300-foot spire crumbled, and parts of the wooden interior were charred — the fire appears to have done no harm to other buildings in the tightly packed Paris neighborhood.
"I think what people should understand is the ingenious approach by medieval builders," said Kevin D. Murphy, a professor of art history at Vanderbilt University. ... But some experts say that cathedrals and other places of worship built centuries ago are — at the least — hazardous to themselves, even if they were built with what passed in medieval times as cutting-edge, fire-containing safety measures. ... "Obviously, modern code was not written with cathedrals in mind," said James W. Shepherd, director of preservation and facilities at Washington National Cathedral.
A big question will now linger over any plans to rebuild Notre Dame: Should it be rebuilt exactly as before, even if it includes replicating the flammable oak roof? Or will government officials force modern fire regulations onto an iconic building? ... "The technology of the building is not, of course, technology that we use anymore," Murphy said. "In some cases, the actual technology has been under debate for centuries. Trying to understand how it was built is not straightforward."
It'll be a process watched closely around the world. Throughout history, there have been a large number of fires at cathedrals and other buildings, from the Old St. Paul's in London that burned during the Great Fire of 1666, to St. Mel's Cathedral in Longford, Ireland, that was destroyed in a fire on Christmas Day 2009. ... Kevin Fay, construction director at Gem Construction, which helped rebuild St. Mel's, said that some aspects of that blaze were similar to the Notre Dame fire this week.
....
One thing isn't up for debate: Any restoration or repair will take plenty of money and a lot of time. The restoration of St. Mel's took $33 million and five years. Even with the vast sums of money already raised for Notre Dame, it's a far larger building at the heart of one of Europe's largest and most expensive cities. ... "Put it this way," said Fay. "If you're walking back into Notre Dame Cathedral in 10 year's time, that's a major achievement."
Adam Taylor writes about foreign affairs for The Washington Post. Originally from London, he studied at the University of Manchester and Columbia University. Follow
https://twitter.com/mradamtaylor
Emily Tamkin reports and writes on foreign affairs for the WorldViews team. Follow
https://twitter.com/emilyctamkin