Wed May 25, 2016, 01:40 PM
mahatmakanejeeves (25,950 posts)
Jeepers, Toto.
A "Hokie" is a student at Virginia Tech.
Epic day for Hokie Storm Chasers; tropical trouble for Memorial Day weekend?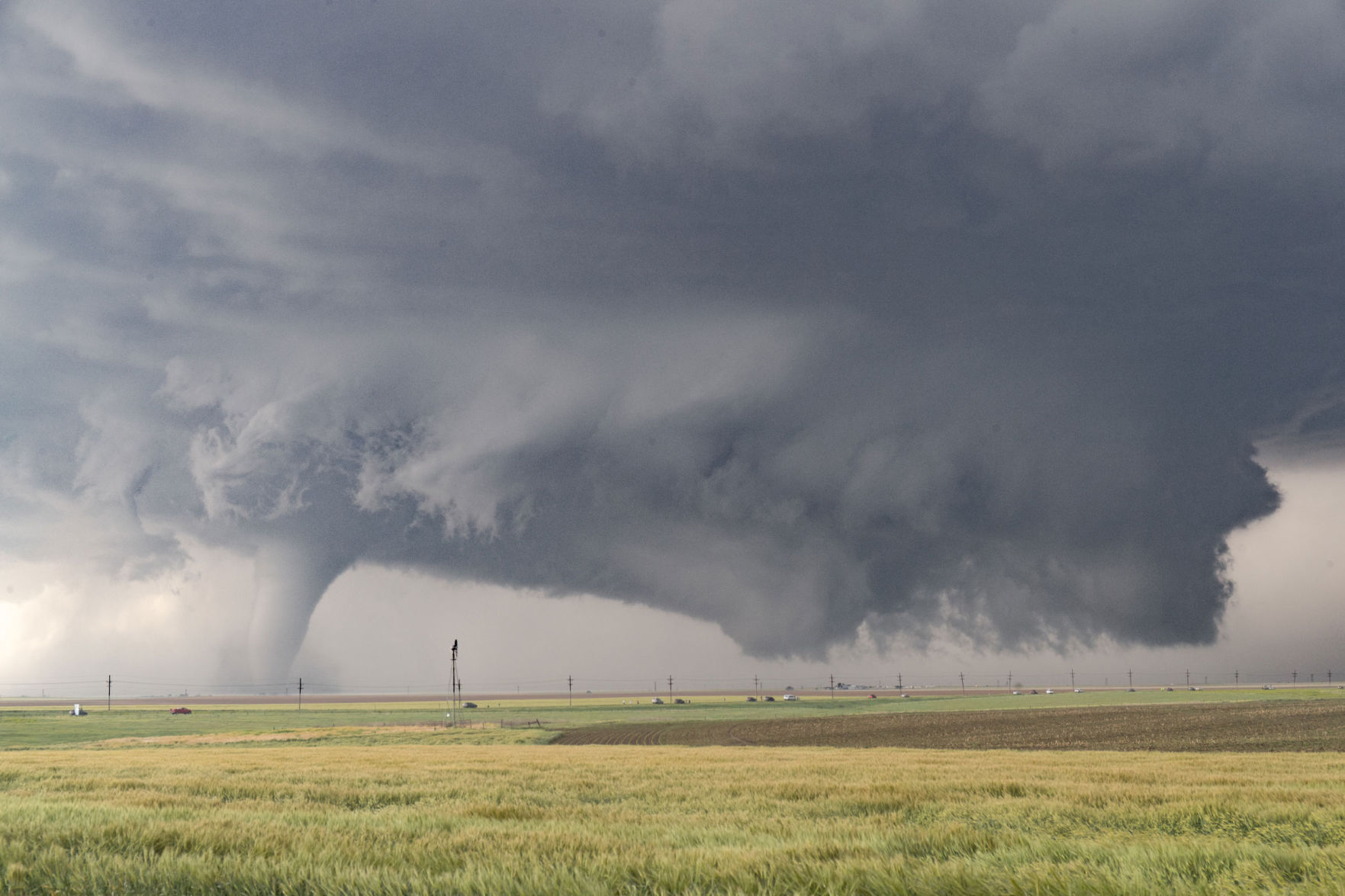 Trevor White
Virginia Tech graduate student Trevor White captured this photo of 1 of the (at least) 17 tornadoes the Hokie Storm Chasers observed south of Dodge City, Kansas, on Tuesday afternoon.
Posted: Wednesday, May 25, 2016 10:30 am
By Kevin Myatt | The Roanoke Times
Virginia Tech's Hokie Storm Chasers hit the jackpot near Dodge City, Kansas, on Tuesday.
The first of two teams of meteorology students seeking severe storms in the Plains saw no fewer than 17 tornadoes from a single ballistic supercell thunderstorm. Tech meteorology professor Dave Carroll, who has been chasing storms since before storm chasing was cool, said he had never seen such extreme tornado production from a supercell.
Some very good news is that the tornadoes missed Dodge City itself and hit mostly open Plains -- though that of course means some farmers and ranchers are dealing with a mess today.
About 4 of every 5 of Tech's storm chase trips see at least one tornado, but they're usually brief, at a distance or partly obscured. About 1 in 5 of our trips has what we would consider an extreme tornado intercept, either a large number of tornadoes, a relatively close look at a well-structured funnel or a long time viewing a tornado that stays on the ground for many miles.
This certainly qualifies on multiple levels, and may in fact have been a Hokie Storm Chase record for number of tornadoes seen on a single day, certainly from a single storm. I've included one photo from graduate student Trevor White, and
encourage you to visit his blog linked here not just for Tuesday's epic tornado day but all the other photos he has shot from this trip and others before
.
3 replies, 1244 views
Replies to this discussion thread
| | | | |
| --- | --- | --- | --- |
| 3 replies | Author | Time | Post |
| Jeepers, Toto. (Original post) | mahatmakanejeeves | May 2016 | OP |
| | underpants | May 2016 | #1 |
| | longship | May 2016 | #2 |
| | SheilaT | May 2016 | #3 |
---
Response to mahatmakanejeeves (Original post)
Wed May 25, 2016, 01:53 PM
underpants (145,471 posts)
1. Hokie Hokie Hokie high! We're the boys from VPI!
It comes from a cheer when it was an all male agriculture/ military school.

Between Flint and these storm chasers Techn is really doing a great job. It's a good school, several people from my high school went there.
---
Response to mahatmakanejeeves (Original post)
Wed May 25, 2016, 02:46 PM
longship (40,416 posts)
2. Just look at that damned wall cloud.
I lived in Wichita, KS for 18 years and saw many of them. A few times a year the sirens would wail, and everybody in town would take cover. Sometimes some people didn't stand a chance.
Tornado season in Kansas isn't to be trifled with. This is why.
Thanks for the look.
R&K
---
Response to mahatmakanejeeves (Original post)
Thu May 26, 2016, 07:06 PM
SheilaT (23,156 posts)
3. Whoa! That's some storm!
I lived in Overland Park for 18 years, and I have NEVER experienced such violent weather anywhere else. I sort of miss it.