Mon Jul 29, 2019, 08:42 PM
question everything (41,537 posts)
Retrace the Apollo 11 moonwalks - without leaving Minnesota
For the next couple of weekends, at a park west of the Twin Cities, you can take your own "giant leap for mankind."
Volunteers from the Minnesota Astronomical Society have created a nearly life-size mock-up of the Apollo 11 lunar module and placed it in a field near the society's Eagle Lake Observatory. That's in Baylor Regional Park, in western Carver County.
They've also mapped out, spread across the field, the exact paths taken by Neil Armstong and Buzz Aldrin on their moonwalks 50 years ago. It's Apollo 11, rec-created in a Minnesota field a couple miles north of Norwood-Young America. (And about 40 miles southeast of Cosmos.)
"People can walk around this field — it's a simulated lunar landing area, essentially," said Eagle Lake Observatory program director Lilah Blinkman. "The lunar module is the big thing, and it's the main attraction. But there are other things — like the science experiments they did on the moon, the flag, and there's a replica boot print. We just kind of wanted to give people this experience, as much as they could, of being up there."
Blinkman said the idea originated with the observatory's facility director Merle Hiltner, who was inspired by a trip to Wright Brothers National Memorial in North Carolina. The park included markers showing where the first flights of the brothers' aircraft landed.
With the 50th anniversary of Apollo 11 taking place this year, Hiltner thought something similar could be done to celebrate the first lunar landing. He drew up the plans for the module mock-up, and then a crew volunteered more than 400 hours over 12 days to build it using wood, Mylar foil, paper and paint, among other materials. It's not a replica — but it does give visitors a good perspective of the module's size.
About 250 people visited the observatory last weekend, for the exact 50th anniversary of Apollo 11. The society decided to continue the display for two more weekends.
There will be a public star party at the observatory starting at 4 p.m. Saturday, July 27, and continuing into the evening. The lunar landing mock-up also will be on display during the society's "Camping With The Stars" weekend Aug. 2-4. There's a fee for vehicles entering the park, but no extra fee to see the display.
Blinkman said the volunteers were out working in the peak of the heat wave earlier this month, to get the module ready for last weekend's debut.
https://www.mprnews.org/story/2019/07/27/retrace-apollo-11-moonwalks-minnesota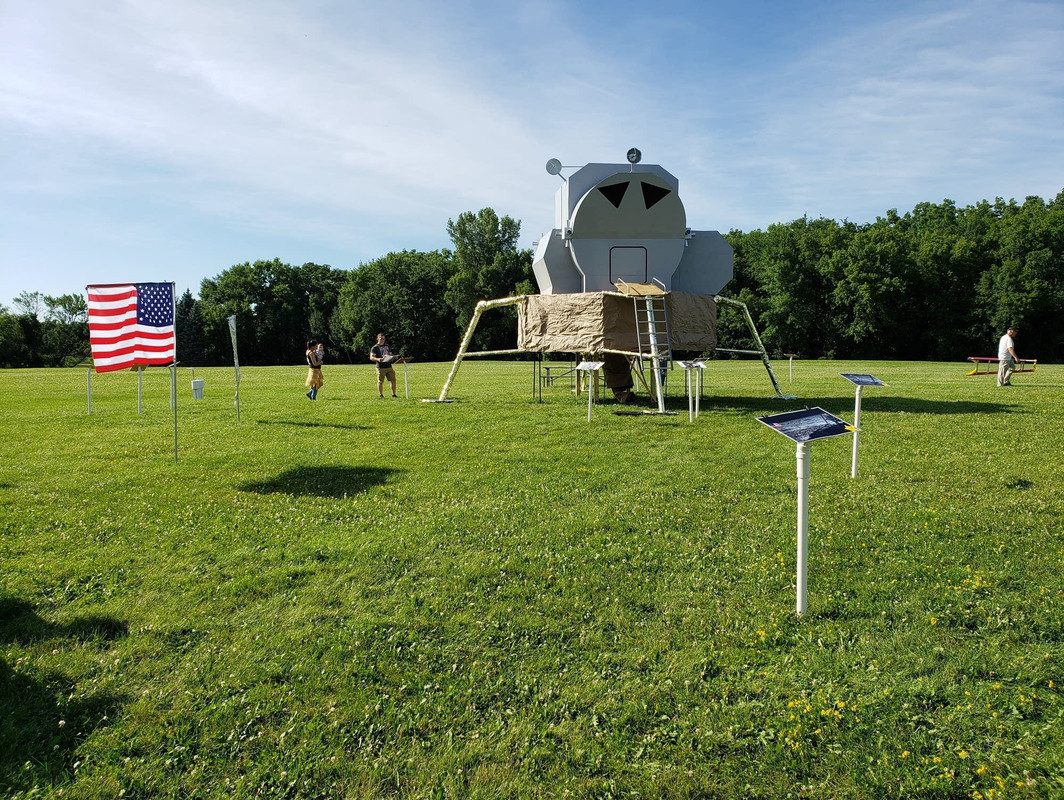 ====
Visited there Saturday, really impressive they were just fixing what the rain of previous days disturbed. No doubt, have to repeat it, but worth visiting.
0 replies, 753 views