Sat Sep 4, 2021, 09:06 AM
TexasTowelie (87,932 posts)
Republican lawmakers force LGBTQ exhibit display out of Missouri Capitol
JEFFERSON CITY, Mo. – A display curated by students from the University of Missouri at Kansas City celebrating LGBTQ history was removed from the Missouri State Museum on the first floor of the state capitol building, after complaints from a legislative staffer to a state Republican lawmaker.
The exhibit, titled "Making History: Kansas City and the Rise of Gay Rights" apparently offended Uriah Stark, a Legislator Assistant for Republican Representative Mitch Boggs (District 157) in the Missouri House of Representatives, who in addition to complaining to his boss, Tuesday night he complained in a Facebook post on his personal page:
Update: To clarify, the Missouri State Museum, which is under the Department of Natural Resources, is responsible for allowing this. Original: So is there any good reason that our taxpayer funded museum is pushing the LGBT agenda in our state capitol? These are literally in-your-face banners that you can't walk through the museum without seeing… and they're scheduled to be there through December.
On Wednesday Stark triumphantly announced that the museum had removed the exhibit, which had only been publicly displayed for 4 days at the point it was removed. The exhibit was scheduled to run for 12 weeks:
Update on pro LGBT "history" exhibit. Thanks to the efforts of several of our great elected officials, the exhibit has been removed from the Missouri State Museum! To God be the glory! Shoutout to Rep. Ann Kelley and Rep. Brian Seitz for taking the bull by the horns! I also spoke with multiple other elected officials who were ready and willing to take action, thank you all for standing for traditional family values!
Read more:
https://www.washingtonblade.com/2021/09/02/republican-lawmakers-force-lgbtq-exhibit-display-out-of-missouri-capitol/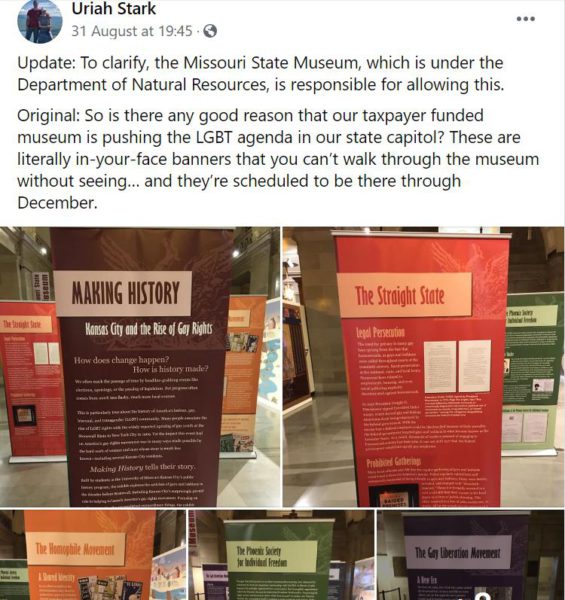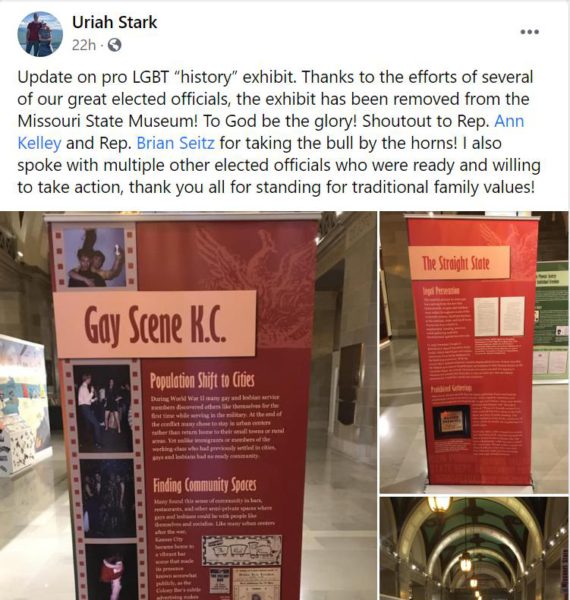 4 replies, 592 views
Replies to this discussion thread
| | | | |
| --- | --- | --- | --- |
| 4 replies | Author | Time | Post |
| Republican lawmakers force LGBTQ exhibit display out of Missouri Capitol (Original post) | TexasTowelie | Sep 4 | OP |
| | CurtEastPoint | Sep 4 | #1 |
| | SWBTATTReg | Sep 4 | #2 |
| | cbabe | Sep 4 | #3 |
| | Pas-de-Calais | Sep 4 | #4 |
---
Response to TexasTowelie (Original post)
Sat Sep 4, 2021, 09:19 AM
CurtEastPoint (15,037 posts)
1. Behold Urinah.
---
Response to TexasTowelie (Original post)
Sat Sep 4, 2021, 12:55 PM
SWBTATTReg (16,494 posts)
2. F**king bigots...there are no nice words to describe these POS...
---
Response to TexasTowelie (Original post)
Sat Sep 4, 2021, 01:11 PM
cbabe (178 posts)
3. This is not what democracy looks like.
One boy baby stomps his feet and whines, pitches trantrum, gets his way.


---
Response to TexasTowelie (Original post)
Sat Sep 4, 2021, 02:19 PM
Pas-de-Calais (9,410 posts)
4. That's Misery for ya