Sat May 23, 2020, 12:16 PM
left-of-center2012 (30,700 posts)
(N.M.) Man carrying swastika flag at Farmington protest sparks outrage
A protest in Farmington, N.M., organized to support local businesses has sparked outrage after a protester turned a New Mexico flag into swastika, a symbol that represents hate (along with a sign that said: "what's next, concentration camps?").
One of the organizers (Shannon Carter) says this was all put on to support the small businesses in their area, as San Juan County remains on tight restrictions because of the high number of Covid cases in the county.
"I heard that it was against our governor that she's acting like a Nazi, or turning our state into a Nazi state. It wasn't a white supremacist move" Carter said.
The Governor's press secretary responded saying it's a disgusting use of Nazi imagery and rhetoric discussing the essential actions that have been taken by the Governor to slow the spread of the virus and save lives. It goes on to say in part, "I encourage those making comparisons to a genocidal dictatorship to stay home in order to keep slowing the spread of COVID-19 and read a history book."
https://www.krqe.com/health/coronavirus-new-mexico/man-carrying-swastika-flag-at-farmington-protest-sparks-outrage/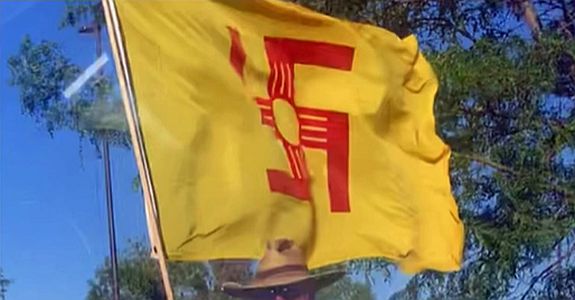 3 replies, 1436 views
Replies to this discussion thread
| | | | |
| --- | --- | --- | --- |
| 3 replies | Author | Time | Post |
| (N.M.) Man carrying swastika flag at Farmington protest sparks outrage (Original post) | left-of-center2012 | May 2020 | OP |
| | jimfields33 | May 2020 | #1 |
| | agingdem | May 2020 | #2 |
| | Karadeniz | May 2020 | #3 |
---
Response to left-of-center2012 (Original post)
Sat May 23, 2020, 12:21 PM
jimfields33 (7,569 posts)
1. I idiot out of an entire state.
He did it for wanting to be noticed. It worked. Attention seekers Love this.
---
Response to jimfields33 (Reply #1)
Sat May 23, 2020, 01:14 PM
agingdem (3,786 posts)
2. my parents were Holocaust survivors...
I know exactly what the swastika means but to most people this is something that happened a very long time ago..last chapters in a history book...but to the uneducated white underclass the swastika represents power..power over people of color, muslims, jews, gays, disabled... that's why trump is their guy..and that's why they can wave a nazi flag without fear of reprisal..he took their fomenting hate for "the other" out of the shadows and into the White House...
---
Response to left-of-center2012 (Original post)
Sat May 23, 2020, 06:01 PM
Karadeniz (13,989 posts)
3. Illogical.