Tue Jul 13, 2021, 06:27 AM
TexasTowelie (89,074 posts)
Tennessee Contends With Low Vaccination Rates and Republican Demagoguery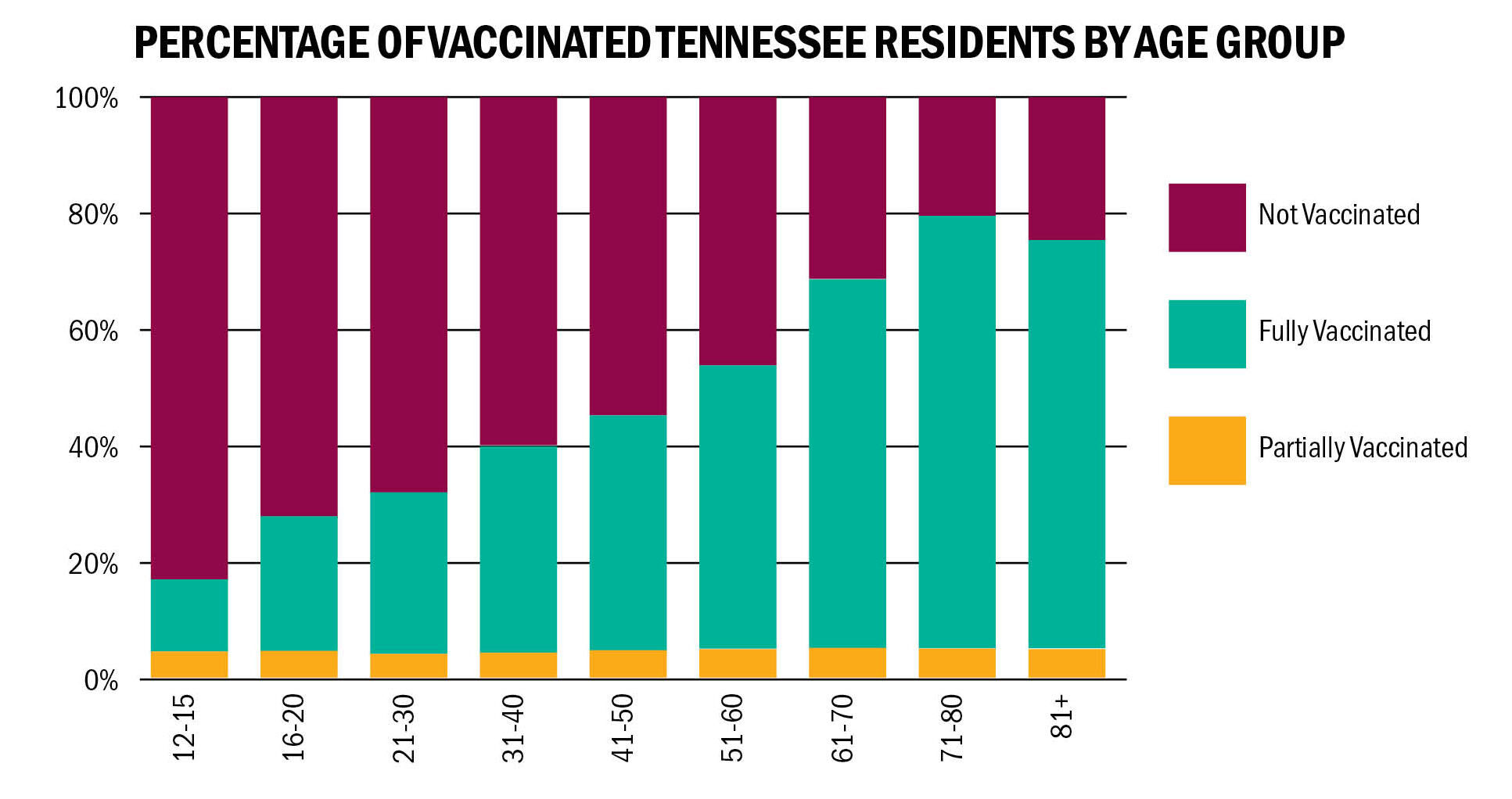 Source: data.tn.gov; retrieved July 11, 2021
Seven months after the first COVID-19 vaccination in Tennessee, only 42.4 percent of the state's residents have received at least one dose. Only 38 percent are fully jabbed up, according to the state's latest data. Tennessee's vaccination rates are among the lowest in the country.
Tennesseans who are skeptical about the effectiveness of the vaccine can look at the data and see the remarkable impact that even this state's meager vaccination campaign has had. Cases, hospitalizations and deaths from the virus have all plummeted since the end of 2020. No doubt that's due in part to the fact that vaccination rates have been highest among older residents who are most vulnerable to serious illness from the virus.
But more recent trends have public health officials warning against complacency. On July 9, the Metro Public Health Department tweeted that "over the past week, our team has observed a 25.7% increase in active cases of COVID-19." The health department also noted an increase in the test positivity rate and reiterated that the so-called Delta variant of the virus has been identified in Nashville. At the state level, the seven-day average of new cases also began trending upward in the first week of July.
As many pandemic-related restrictions have been relaxed if not lifted altogether, state and local health officials say the best protection against the virus and the variants that have been circulating in recent months is vaccination. But getting Tennesseans to trust that fact and act on it at the scale needed to truly snuff out the virus has proven difficult.
Read more:
https://www.nashvillescene.com/news/citylimits/tennessee-contends-with-low-vaccination-rates-and-republican-demagoguery/article_397dd7b0-e354-11eb-9012-e3251d722cb6.html
2 replies, 490 views
Replies to this discussion thread
| | | | |
| --- | --- | --- | --- |
| 2 replies | Author | Time | Post |
| Tennessee Contends With Low Vaccination Rates and Republican Demagoguery (Original post) | TexasTowelie | Jul 2021 | OP |
| | brewens | Jul 2021 | #1 |
| | SheltieLover | Jul 2021 | #2 |
---
Response to TexasTowelie (Original post)
Tue Jul 13, 2021, 06:32 AM
brewens (10,774 posts)
1. We should maybe "flood the zone" with vax horror stories knowing most of our
people will ignore it, but fan the flames for the anti-vaxer's. At this point we're past being able to reason with them. Might as well bury as many as we can.
---
Response to TexasTowelie (Original post)
Tue Jul 13, 2021, 06:36 AM
SheltieLover (31,470 posts)
2. And TN just fired head of vaccine outreach
She is not happy & spoke quite openly about their reasons for her termination. Hint: they dared to target teens in pro vax ads.
This state is just a mess.