Thu Apr 25, 2019, 02:23 PM
mahatmakanejeeves (25,852 posts)
Female faculty at U.Va. earned $33,939 less than male faculty in 2018-2019, on average
Before you get too upset, this is a comparison of overall averages. I do not think this study goes down into pay position by position, for men and women of equal experience and background.
Female faculty at U.Va. earned $33,939 less than male faculty in 2018-2019, on average
Six female faculty members are among the top 20 earners at the University
By Eliza Wilson | 04/24/2019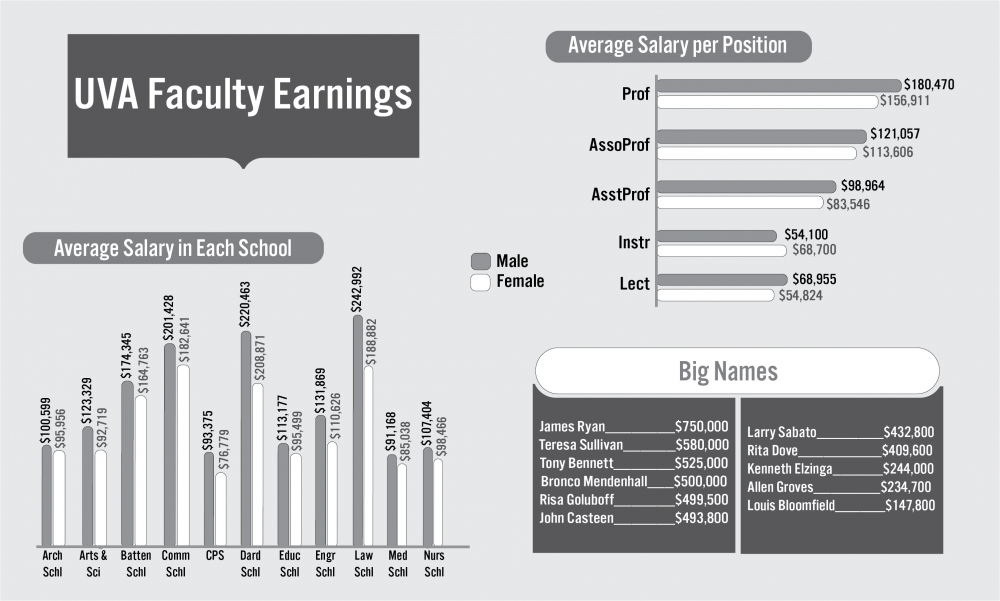 Faculty and administration salaries for the 2018-2019 academic year show that the number of women across all divisions in the top 20 earners at the University has increased from two in the
2015-2016 academic year
to six women this year. Data obtained by The Cavalier Daily through a Freedom of Information Act request regarding the gender breakdown of average faculty salary for the Oct. 25, 2018 census file showed that women faculty members across all schools at the University earned $33,939 less than men.
Among the six women in the top 20 earners are Martha Zeiger, chair of the department of surgery at the School of Medicine; Teresa Sullivan, former University president and sociology professor; Carla Williams, director of intercollegiate athletic programs; Jennifer "J.J." Wagner, executive vice president and chief operating officer; Risa Goluboff, first female dean of the Law School; and Katherine Peck, chief operating officer of the School of Medicine.
Zeiger — whose salary is $629,000 — is the third highest paid faculty or administration member at the University, after Richard P. Shannon, the executive vice president for Health Affairs of the the Medical School, and President Jim Ryan — who make $795,500 and $750,000, respectively.
The Law School saw the largest discrepancy in faculty salary, with men on average earning $54,100 more than women. By school, male faculty in the College earns an average of $30,610 more than female faculty, $21,243 for Engineering, $18,787 for Commerce, $17,678 for Curry, $16,596 for Continuing & Professional Studies, $11,592 for Darden, $9,582 for Batten, $8,938 for Nursing, $6,130 for Medicine and $4,643 for Architecture
The data also revealed that male professors at the University are paid an average of $23,559 more than female professors, earning $180,470 and $156,911, respectively. By academic rank, male associate professors earn $7,451 more than female associate professors, male assistant professors earn $15,418 more than female assistant professors and male lecturers earn $14,131 more than female lecturers, who deliver instruction primarily to a class or group.
....
Simpson's paradox
2 replies, 774 views
Replies to this discussion thread
| | | | |
| --- | --- | --- | --- |
| 2 replies | Author | Time | Post |
| Female faculty at U.Va. earned $33,939 less than male faculty in 2018-2019, on average (Original post) | mahatmakanejeeves | Apr 2019 | OP |
| | bobbieinok | Apr 2019 | #1 |
| | mahatmakanejeeves | Apr 2019 | #2 |
---
Response to mahatmakanejeeves (Original post)
Thu Apr 25, 2019, 03:12 PM
bobbieinok (11,240 posts)
1. STEM faculty pay usually higher than in humanities, social sciences
I believe more women faculty are in non-STEM fields.

Also I believe at many schools faculty pay partly comes from the grants they are able to bring in. Grants in STEM fields are significanty larger than in non-STEM fields.

Note: all ths was true 20 or so yrs ago. I presume the imbalance is even greater today
---
Response to bobbieinok (Reply #1)
Thu Apr 25, 2019, 03:20 PM
mahatmakanejeeves (25,852 posts)
2. The three highest average salaries are in
the law school; the Darden School, which is graduate business; and the commerce school, which is undergraduate business. There must be a lot of low-paid researchers in the medical school, as average salaries there are not even as high as salaries in the College of Arts and Sciences.