Wed May 29, 2013, 01:48 AM
Joe Shlabotnik (5,604 posts)
Oh FFS! The Cartoon the Bank of Canada Doesn't Want You to See
Remember that little hole in the country where we send all those democratically elected officials (and mysteriously and uselessly appointed ones)? Well, some craziness has been brewing in the moral purgatory called Ottawa.

In honour of Mike Duffy's accepting of the Prime Minister's now-former Chief of Staff Nigel Wright's cheque, cartoonist Dan Murphy proposes that the Bank of Canada introduce this new $90,000 Duffybuck.
But there's a snag: Artizans, the syndicate that distributes creator Daniel Murphy's cartoons (and pretty much every political cartoon in North America) received this letter from the Bank of Canada ordering he remove his images from his website because it would tarnish and diminish the "importance of the currency to Canadians." As opposed to, say, the importance of the actual $90,000 Canadians paid for Mike Duffy's morning Starbucks and evening DQ runs.

If you're like us and you think that freedom of expression and frigging DEMOCRACY outweigh the Bank of Canada's concerns, why not send them a friendly note to express your concerns.
http://riotwire.com/cartoon/the-cartoon-the-bank-of-canada-doesnt-want-you-to-see/
[URL=
.html][IMG]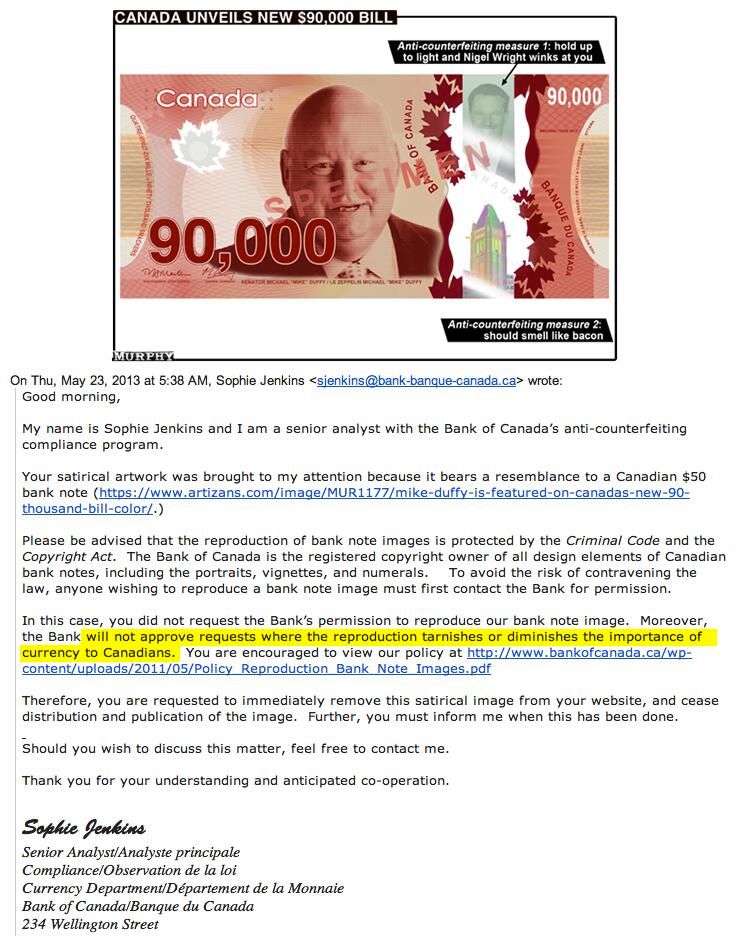 [/IMG][/URL]
https://twitter.com/dnmr1/status/339141730450423809/photo/1
4 replies, 2192 views
Replies to this discussion thread
| | | | |
| --- | --- | --- | --- |
| 4 replies | Author | Time | Post |
| Oh FFS! The Cartoon the Bank of Canada Doesn't Want You to See (Original post) | Joe Shlabotnik | May 2013 | OP |
| | MADem | May 2013 | #1 |
| | dballance | May 2013 | #2 |
| | JBoy | May 2013 | #3 |
| | Ken Burch | May 2013 | #4 |
---
Response to Joe Shlabotnik (Original post)
Wed May 29, 2013, 02:19 AM
MADem (135,425 posts)
1. They just HAVE to call that guy some serious names up there, don't they?
Starting with d-head!

I think this should be fought in court, and if it can't be won--easily--then Canada has a problem. Anyone who seriously thinks that bit-o-humor looks like a real banknote needs to put the crack pipe down.

This charge is like something that should be--ha ha ha literally--laughed out of court.
---
Response to Joe Shlabotnik (Original post)
Wed May 29, 2013, 03:50 AM
dballance (5,756 posts)
2. When will these idiots learn? Trying to ban/censor stuff only makes it more popular.
I truly do not understand some of these people. Now that they've made it a news story by trying to censor it it will likely be seen by far more people than it would have otherwise. Just like when Rick Perry ranted about the editorial cartoon in the Sacramento Bee. More people saw that cartoon because of his rant than ever would have if he'd kept his stupid yap shut. Same will happen with this.
---
Response to Joe Shlabotnik (Original post)
Wed May 29, 2013, 08:50 PM
JBoy (8,020 posts)
3. LOL. "Bears a resemblance to a Canadian $50 bank note"
Except:

It says 90,000
It has Mike Duffy's picture on it
It has a hologram of Nigel Wright
It smells like pork (instead of, as is rumoured, maple syrup).

I'd like to see them try to take this one to court. Harper would put a stop to that! And of course deny any knowledge or involvement...
---
Response to Joe Shlabotnik (Original post)
Fri May 31, 2013, 07:08 PM
Ken Burch (50,254 posts)
4. They should put this out online in a format that can be computer-printed on t-shirts.
If there were, say, 20,000 people wearing those shirts by the end of the week, it would be pretty damned hard for the BoC to avoid backing down on this.