Fri Apr 28, 2017, 09:41 AM
Denzil_DC (5,642 posts)
1 In 3 Leave Voters Think It's Best For Britain If Marine Le Pen Becomes President Of France
Last edited Fri Apr 28, 2017, 05:31 PM - Edit history (1)
More than one in three people who voted Leave in the Brexit referendum think it would be best for the UK if Marine Le Pen – the candidate from the far-right Front National party – won the French presidential election, a
YouGov poll has revealed
.
...
Asked by YouGov which would be best for Britain if they won – given France's central role in Brexit negotiations – 21% of voters said Le Pen would be best, while 23% said Macron would be the better candidate from a UK perspective. Another 13% said the two candidates would be about the same, while the rest didn't know.
However, these figures showed dramatic splits when broken down by political party or by referendum vote. Conservative voters favoured Le Pen over Macron by 29-18, while UKIP voters overwhelmingly supported Le Pen, by 49-3.
By contrast, Labour, Liberal Democrat and SNP voters all preferred Macron over Le Pen – Labour voters most strongly, by a margin of 38% to 12%.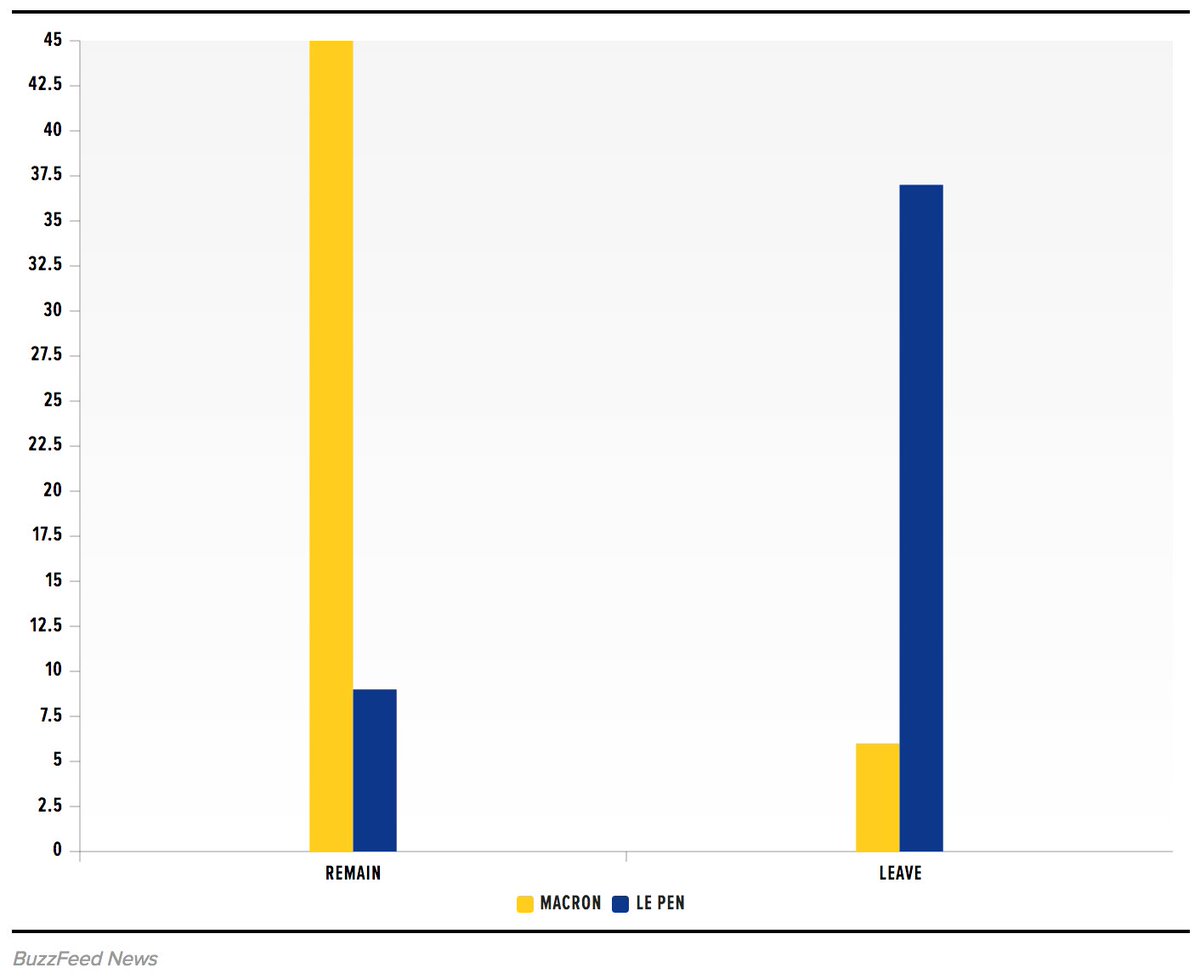 https://www.buzzfeed.com/jamesball/1-in-3-leave-voters-think-its-best-for-britain-if-marine-le
It's a YouGov poll - a firm I have some reservations about - but for what they're worth, these results illustrate the blinkered, single-minded misplaced selfishness that seems to typify too many in the Leave camp, to the extent that an unashamed racist fascist taking the presidency of a close neighbouring country can be seen as a "good thing".
Luckily - fingers crossed, touch wood, etc. - it would take a seismic shift in polling for them to get their wish.
4 replies, 3760 views
Replies to this discussion thread
| | | | |
| --- | --- | --- | --- |
| 4 replies | Author | Time | Post |
| 1 In 3 Leave Voters Think It's Best For Britain If Marine Le Pen Becomes President Of France (Original post) | Denzil_DC | Apr 2017 | OP |
| | LeftishBrit | Apr 2017 | #1 |
| | muriel_volestrangler | Apr 2017 | #2 |
| | LeftishBrit | Apr 2017 | #4 |
| | T_i_B | Apr 2017 | #3 |
---
Response to Denzil_DC (Original post)
Fri Apr 28, 2017, 11:48 AM
LeftishBrit (39,660 posts)
1. What worries me most is that more Tories prefer LePen than Macron
Last edited Sun Apr 30, 2017, 10:47 AM - Edit history (1)
I am not surprised that most UKIP voters do, given that on the rare occasions when Farage isn't kissing American Psycho's rump, he's kissing LePen's; but I wouldn't have expected of Tories, especially given that Macron is not a socialist.
---
Response to Denzil_DC (Original post)
Fri Apr 28, 2017, 05:16 PM
muriel_volestrangler (95,712 posts)
2. Also a significant preference among men for Le Pen, and for Macron among women
---
Response to muriel_volestrangler (Reply #2)
Sat Apr 29, 2017, 02:25 PM
LeftishBrit (39,660 posts)
4. Interesting; not unlike the gender differences for Republicans vs Democrats in the USA
Interesting that you get something similar even when the 'Trump' figure is female with a male opponent.
---
Response to Denzil_DC (Original post)
Sat Apr 29, 2017, 04:56 AM
T_i_B (14,542 posts)
3. Not surprised by this at all from what I see of the people who support leaving the EU
But then again, this is what happens when politics is turned into a contest to see who can kick immigrants the hardest. You end up with a culture of fascism, spitefulness and lies.