Mon Mar 4, 2019, 10:25 AM
Denzil_DC (5,099 posts)
European Commission warns Britain over dividend tax avoidance
Brussels has accused Britain of enabling tax avoidance by big business in a move that may foreshadow a post-Brexit battleground.
In its annual report on the UK, the European Commission drew particular attention to dividend tax arrangements, which it claimed made Britain attractive for "treaty shopping" and "aggressive tax planning".
The UK has incurred the EU's ire on tax avoidance before but Brussels has never used the annual report to voice its concern. The accusation puts Britain in a small group of countries to be named and shamed that includes Luxembourg, Cyprus, Ireland and the Netherlands.
https://www.thetimes.co.uk/article/european-commission-warns-britain-over-dividend-tax-avoidance-xck2dt5hq
(paywalled, but reading the rest of the article only requires registration)
One of the deep suspicions among Remainers (me included) has been that May's rush to trigger Article 50 was at least partly an attempt to avoid having to comply with the EU's new
anti-tax avoidance and money laundering directives
, likewise the enthusiasm for a no-deal brexit among the more monied of the Tories.
The government did state last July that
it would comply with the new legislation
at least during the originally projected transition period up to December 2020. The UK's archipelago of affiliated tax havens won't be bound by the new rules unless they decide to apply them (which they probably will if they want to continue to have access to EU financial markets).
Unless there's a no-deal Brexit and complete breakdown in UK-EU relations, which some are evidently angling for, these issues are likely to be a continuing source of friction during the transition period and beyond.
1 replies, 794 views
Replies to this discussion thread
| | | | |
| --- | --- | --- | --- |
| 1 replies | Author | Time | Post |
| European Commission warns Britain over dividend tax avoidance (Original post) | Denzil_DC | Mar 2019 | OP |
| | Denzil_DC | Mar 2019 | #1 |
---
Response to Denzil_DC (Original post)
Tue Mar 5, 2019, 12:12 AM
Denzil_DC (5,099 posts)
1. It's all not going too well at the moment:
Ministers postpone bill debate to avoid likely defeat over tax havens
Ministers have pulled a financial services bill from the House of Commons, fearing the government was almost certain to be defeated on an amendment requiring Jersey, Guernsey and the Isle of Man to clamp down on money laundering.
The Conservative MP Andrew Mitchell and Labour's Margaret Hodge want the crown dependencies to introduce public share ownership records by December 2020, which the three territories resist.
Mitchell said the government had pulled the bill "in face of certain defeat" because it was backed by a group of rebel Tories as well as Labour and the other opposition parties. The former cabinet minister added, however, that the amendment would be put to a vote whenever the bill was resubmitted.
...
Hodge and Mitchell succeeded in getting a similar amendment through the Commons against the government's will in May 2018, forcing British overseas territories such as the Cayman Islands and the British Virgin Islands to introduce public registers of share ownership by 2020.
The government has sought to delay that to 2023, to give the territories more time to comply, but the amendment reasserts the original deadline of 31 December 2020. It is not clear when the bill will now be timetabled for debate.
https://www.theguardian.com/politics/2019/mar/04/house-of-commons-financial-services-bill-debate-pulled-crown-dependencies
Here's the cross-party alliance that scared May off: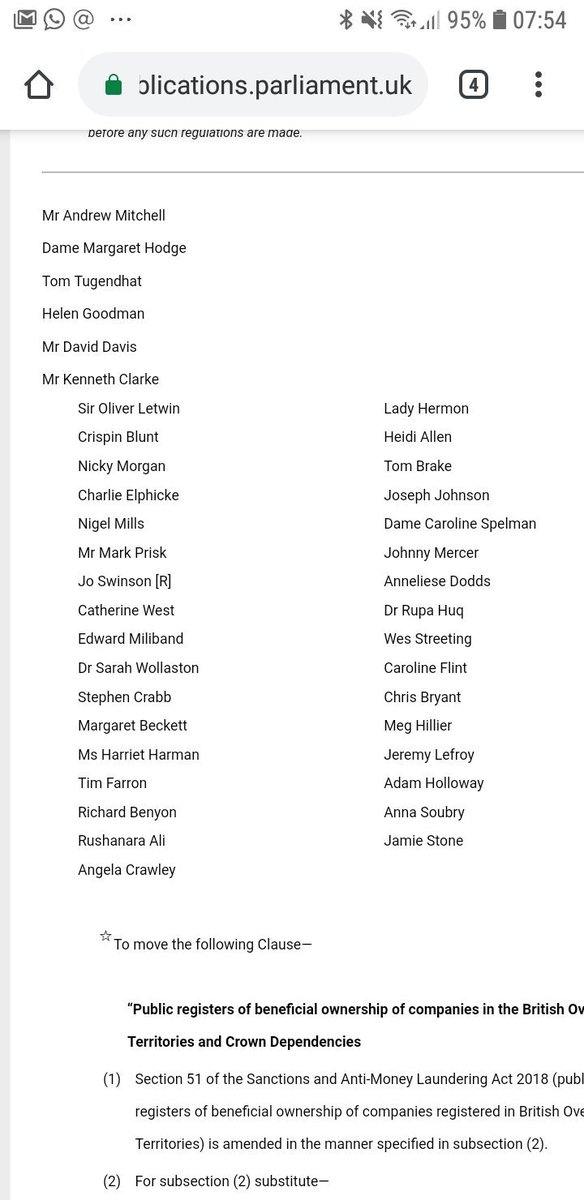 Meanwhile ...
Banking leak exposes Russian network with link to Prince Charles
A charity run by Prince Charles received donations from an offshore company that was used to funnel vast amounts of cash from Russia in a scheme that is under investigation by prosecutors, the Guardian can reveal.
Money flowing through the network included cash that can be linked to some of the most notorious frauds committed during Vladimir Putin's presidency.
In all, it is estimated that $4.6bn (£3.5bn) was sent to Europe and the US from a Russian-operated network of 70 offshore companies with accounts in Lithuania.
...
There is no suggestion that end recipients of funds were aware of the original source of the money, which arrived via a disguised route. However, the documents indicate that criminal and legitimate money may have been mixed together, making it impossible to trace the original source, before passing through screen companies into the global banking system.
https://www.theguardian.com/world/2019/mar/04/banking-leak-exposes-russian-network-link-to-prince-charles-troika-laundromat