Sat Oct 26, 2019, 08:09 AM
Denzil_DC (5,162 posts)
Boris Johnson's snap-election bid could backfire and make Jeremy Corbyn prime minister
...
Johnson is in a weaker position than Theresa May was in 2017
When Prime Minister Theresa May called a general election in 2017, she already held a small majority over Corbyn's Labour Party, and polls put her as much as 25 points ahead.
However, by the end of that election campaign, Corbyn's party was neck and neck with May's Conservatives, meaning she lost her majority in Parliament.
Johnson, by contrast, would enter this campaign with no majority and with much smaller leads, of as little as 4 points, some recent polls have found. Some other polls have found significantly bigger leads for Johnson, of up to 15 points.
However, there remain significant doubts about whether Johnson's polling leads are large enough to withstand a general-election campaign, in which his party's almost 10 years in power would again be under the spotlight.
https://www.businessinsider.com/boris-johnson-brexit-election-bid-could-make-jeremy-corbyn-pm-2019-10
The other headings in the article:
Johnson's election message could fail

The 'remain' vote is now much more efficiently distributed

Johnson will have to gain lots of ground just to stand still

The Labour voters Johnson needs could prove too difficult to budge

Johnson's campaign could be wrecked by scandal
A tentatively cheery, if not uncontroversial, counterpoint to doom for a Saturday afternoon. I'm not sure I buy in to the prospect of a Corbyn premiership. Another hung parliament of some complexion is probably more likely.
4 replies, 900 views
Replies to this discussion thread
| | | | |
| --- | --- | --- | --- |
| 4 replies | Author | Time | Post |
| Boris Johnson's snap-election bid could backfire and make Jeremy Corbyn prime minister (Original post) | Denzil_DC | Oct 2019 | OP |
| | Denzil_DC | Oct 2019 | #1 |
| | muriel_volestrangler | Oct 2019 | #4 |
| | BooScout | Oct 2019 | #2 |
| | Loki Liesmith | Oct 2019 | #3 |
---
Response to Denzil_DC (Original post)
Sat Oct 26, 2019, 08:30 AM
Denzil_DC (5,162 posts)
1. A back-up analysis by some guy on Twitter:
Link to tweet
Spar4
@Mckendrick36
Seeing as everyone is excited about #GeneralElection again I'm going in for the prediction game and why I think this might not be the slam dunk majority the Conservatives expect. Thread.
1. Firstly look at the map for 2017. Strongly leave voting areas are already Conservative territory. Piling up a larger majority in those areas doesn't help in a FPTP system. They need to reach into metropolitan areas, areas more likely to be remain.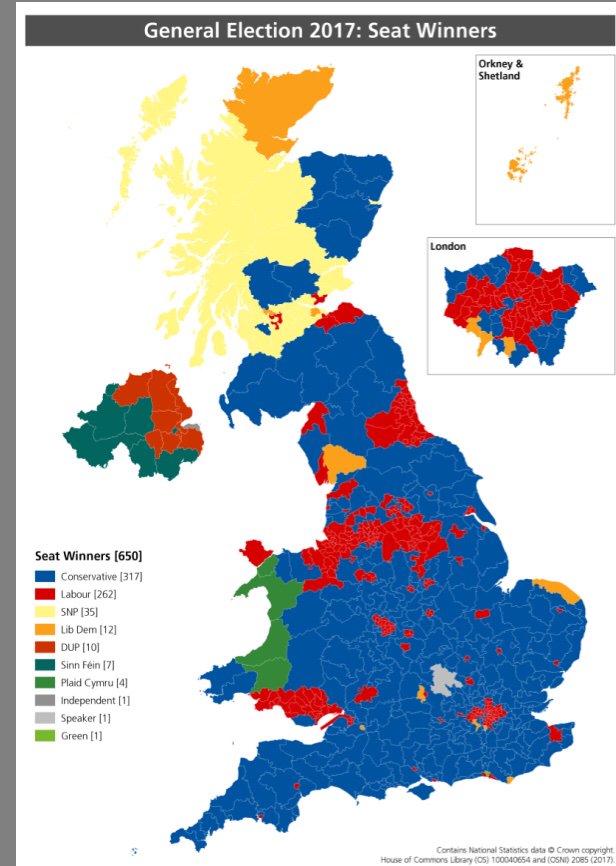 2. Adding to the uphill battle the Conservatives can expect to lose those seats in Scotland and looking previous voting patterns in the South-West some of those seats could also swing back to the Lib Dems. Places like St. Ives where they only had a 0.6% majority in 2017.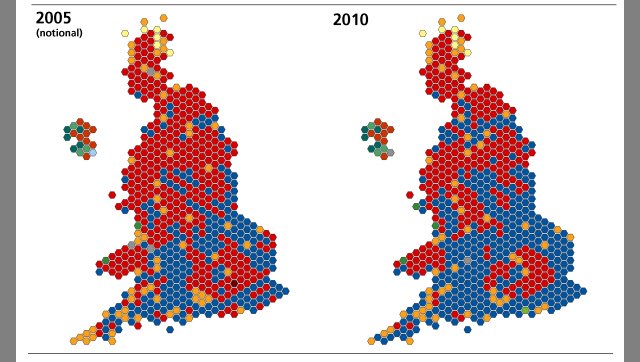 3. Then there's places like Richmond Park where Zac Goldsmith has a majority of 0.1% or 45 votes. The Tories would have to win over new seats to make up for these losses just to stay where they are.
4. Next there is the issue with the expelled Conservatives. Will voters in those constituencies go for a new candidate knowing how their last choices were treated? If the expelled candidates still stand as independents it could further divide their vote.
5. There is the issue of putting all their eggs in the brexit basket and not having a broad manifesto or well defined policies. Plus there is a danger in relying on the turnout from leave voters.


6. Finally there is the assumption all leave voters will flock to the Conservatives, but the hardcore leave vote that is motivated are as livid as they were with May's deal.
To sum up I expect another hung parliament except the DUP won't be willing to prop up the government and no-one else will join them. Basically we'll be in the same position as now.
Caveat: this depends on increasing turnout in under 30's. So register to vote.
---
Response to Denzil_DC (Reply #1)
Sat Oct 26, 2019, 10:00 AM
muriel_volestrangler (94,491 posts)
4. There's also the question of whether voters will 'punish' for Brexit stance, or vote for other stuff
if Brexit has happened (eg a Labour voter who wanted Brexit to happen, voted Tory or UKIP last time, but if the "UK out of the EU" stage has happened, they might say "domestically, I'll now back Labour" - analogous to Churchill losing to Attlee in 1945). Whether they'd think that way with future negotiation on trade deals coming up, I don't know, but it's one more complication. That could, of course, apply as well to Tory Remainers who went Lib Dem in 2017.
---
Response to Denzil_DC (Original post)
Sat Oct 26, 2019, 08:31 AM
BooScout (10,399 posts)
2. We can always hope...
I think the biggest problem is Corbyn. I do wish Labour would find another leader. Corbyn has never impressed me...and from my discussions around a few pints in the pub, he's impressing fewer and fewer people these days. Some of his most fervent supporters in the past are not nearly so enamoured of him these days.....especially in regards to having a second referendum.
---
Response to Denzil_DC (Original post)
Sat Oct 26, 2019, 08:41 AM
Loki Liesmith (4,161 posts)
3. Wish Labour would just dump Corbyn
They'd win in a landslide.