Mon Nov 4, 2019, 11:46 PM
Denzil_DC (5,153 posts)
Remember: it's austerity, not Europe, that broke Britain
It is hard to credit Johnson's appeal to 'left-behind' voters when it was his party that chose to leave them behind
In 1970 the prime minister, Harold Wilson, called a general election he expected to win and lost. In the 1974 "who governs Britain?" election, called by prime minister Edward Heath, opposition leader Wilson expected to lose – and won.
Heath had successfully negotiated the UK's entry to the European Economic Community in 1973, in which venture premiers Harold Macmillan (in 1963) and Wilson (in 1967) had failed. In 1974 Wilson was faced with a Labour party divided on the European question – plus ça change – and successfully went over the heads of his party to win a referendum in 1975, with a majority of two to one in favour of what we would now call Remain.
The politicians of those days were a different breed. Wilson was a skilled strategist and tactician. Whether or not David Cameron – less serious, and essentially a public relations man – was consciously trying to emulate Wilson (in going over the heads of his Eurosceptical wing, John Major's "bastards") I have no idea. But he made a real mess of it, and we are where we are: not to put too fine a point on it, we are the laughing stock of the world, and the British polity is up the creek.
As that great
New York Times
commentator Roger Cohen
put it recently
: "Britain is stuck … The fantasy voted for in 2016 is not the reality of 2019 … Democracies are exercises in constant reassessment. The core reason nobody has been able to deliver Brexit is it makes no sense."
https://www.theguardian.com/business/2019/nov/03/austerity-not-europe-broke-britain-left-behind-voters
1 replies, 594 views
Replies to this discussion thread
| | | | |
| --- | --- | --- | --- |
| 1 replies | Author | Time | Post |
| Remember: it's austerity, not Europe, that broke Britain (Original post) | Denzil_DC | Nov 2019 | OP |
| | Celerity | Nov 2019 | #1 |
---
Response to Denzil_DC (Original post)
Tue Nov 5, 2019, 07:46 AM
Celerity (14,424 posts)
1. The Lib Dems are deeply stained by austerity. Don't trust them
With a new leader the party is enjoying a resurgence, but its support for the Tories in coalition can't be forgotten so easily
https://www.theguardian.com/commentisfree/2019/jul/23/lib-dems-stained-austerity-trust-tories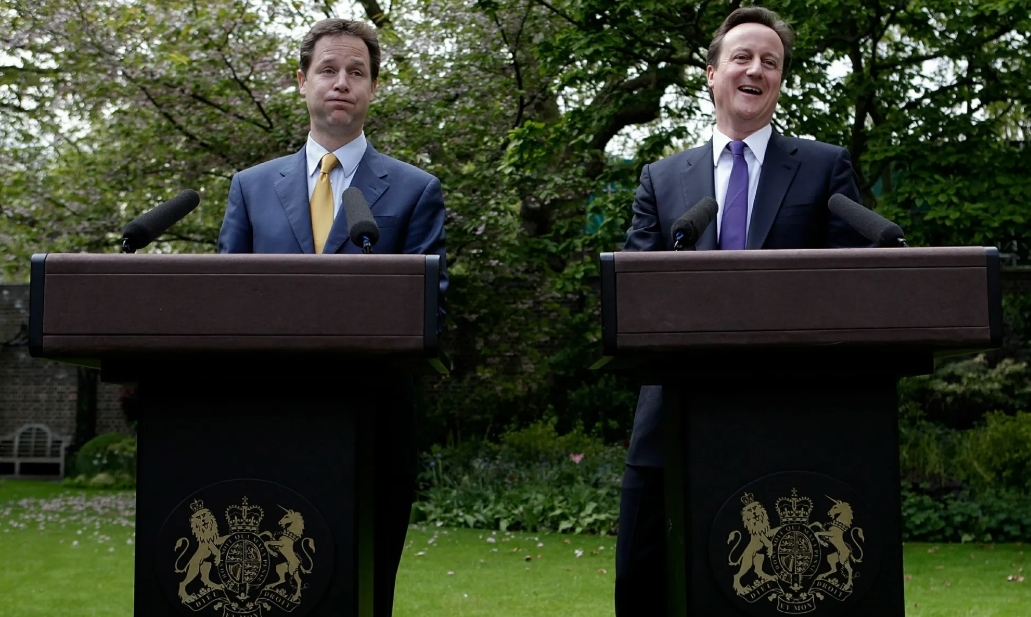 The Liberal Democrats are back, or so we're told, with
Jo Swinson's leadership victory
being pitched as the rebirth of the party. The unique conditions of Brexit have given the Lib Dems not only a reason to exist but the opportunity to detoxify their brand after their fatal coalition with the Conservatives, and to cast themselves as a reforming, progressive party in troubled times.
And yet remarkably little has changed since the days when
Nick Clegg stood laughing in the Downing Street rose garden next to David Cameron as he signed Britain up to years of sweeping public spending cuts
. When asked throughout this summer's leadership campaign, Swinson (and her opponent, Ed Davey) consistently defended her party's role in austerity measures. In an interview with Channel 4 News, Swinson said she had no regrets about the coalition,
stating it was the right move "to get our country back on track
". This is despite the fact it has been shown that
austerity shrunk the British economy by £100bn
, and has even been
linked to 130,000 preventable deaths
. Swinson acknowledged "there were policies we let through [in coalition] that we shouldn't have done",
naming the bedroom tax
, but remained unrepentant on a whole host of others.
Instead, Swinson repeatedly claims credit for the Lib Dems being a moderating influence on the Tories. They may well have helped to rein in the Conservatives on some things (the party is said to have forced George Osborne to temporarily shelve child tax credit cuts) but this fundamentally misses the point:
the Lib Dems weren't coerced into the partnership, they voluntarily chose it, and as such were a reason every Tory cut that was passed was possible
.
This isn't about holding grudges or some sort of ideological purity. Political parties naturally evolve depending on the political times, and progress in policy positions should be credited. It was four years ago this week that the Labour party adopted its abysmal
abstention strategy for key "welfare reform"
, but the party has since wrestled internally to have the strong anti-austerity message it holds today, winning back support in the process.
The same cannot be said for the Lib Dems. This is a party that as recently as last year spoke of sacrificing some of the poorest people in society to benefit sanctions in exchange for a
5p tax on plastic bags
while in coalition.
Nor are their MPs against forming a pact with the Tories again
, with
Swinson simply ruling out joining forces with Boris Johnson or any Brexiteer
.
snip
The constituency I grew up in and vote in is Kensington (West London for my non Brit friends).

Here is the Lib Dem standing there's (ex Tory Sam Gyimah) voting record in Parliament

Vote for Lib Dems, you get more of this rot in many cases:
https://www.theyworkforyou.com/mp/24789/sam_gyimah/east_surrey
Generally voted against UK membership of the EU
5 votes for, 17 votes against, 2 absences, between 2016–2019
Almost always voted for fewer MPs in the House of Commons
6 votes for, 1 vote against, 1 absence, between 2010–2016
Voted for raising England's undergraduate tuition fee cap to £9,000 per year
1 vote for, 0 votes against, in 2010
Almost always voted against paying higher benefits over longer periods for those unable to work due to illness or disability
0 votes for, 11 votes against, 4 absences, between 2011–2016
https://www.theyworkforyou.com/mp/24789/sam_gyimah/east_surrey/votes
Consistently voted for use of UK military forces in combat operations overseas
6 votes for, 1 vote against, between 2013–2015
Voted against investigations into the Iraq war
0 votes for, 1 vote against, in 2016
Consistently voted for replacing Trident with a new nuclear weapons system
5 votes for, 0 votes against, in 2016
Generally voted against more EU integration
33 votes for, 58 votes against, 8 absences, between 2011–2019
Consistently voted against strengthening the Military Covenant
0 votes for, 3 votes against, between 2011–2012
Almost always voted against a right to remain for EU nationals already in living in the UK
0 votes for, 15 votes against, 3 absences, between 2016–2019
Consistently voted for military action against ISIL (Daesh)
3 votes for, 0 votes against, between 2014–2015
Generally voted for reducing housing benefit for social tenants deemed to have excess bedrooms (which Labour describe as the "bedroom tax"n)
12 votes for, 0 votes against, 6 absences, between 2011–2018
Consistently voted against raising welfare benefits at least in line with prices
0 votes for, 5 votes against, in 2013
Almost always voted against paying higher benefits over longer periods for those unable to work due to illness or disability
0 votes for, 11 votes against, 4 absences, between 2011–2016
Consistently voted for making local councils responsible for helping those in financial need afford their council tax and reducing the amount spent on such support
4 votes for, 0 votes against, in 2012
Almost always voted for a reduction in spending on welfare benefits
47 votes for, 0 votes against, 7 absences, between 2012–2016
Almost always voted against spending public money to create guaranteed jobs for young people who have spent a long time unemployed
0 votes for, 8 votes against, 1 absence, between 2011–2014
Generally voted for lower taxes on fuel for motor vehicles
6 votes for, 8 votes against, 2 absences, between 2010–2013
Consistently voted against increasing the tax rate applied to income over £150,000
0 votes for, 12 votes against, between 2012–2015
Generally voted against a banker's bonus tax
1 vote for, 13 votes against, 4 absences, between 2011–2015
Voted a mixture of for and against higher taxes on banks
6 votes for, 9 votes against, between 2011–2018
Almost always voted against an annual tax on the value of expensive homes (popularly known as a mansion tax)
0 votes for, 3 votes against, 1 absence, in 2013
Consistently voted for allowing employees to exchange some employment rights for shares in the company they work for
5 votes for, 0 votes against, between 2012–2013
Almost always voted for more restrictive regulation of trade union activity
9 votes for, 0 votes against, 2 absences, between 2010–2017
Almost always voted for reducing capital gains tax
8 votes for, 1 vote against, between 2010–2016
Consistently voted for reducing the rate of corporation tax
25 votes for, 1 vote against, between 2010–2016

Consistently voted against restricting the provision of services to private patients by the NHS
0 votes for, 7 votes against, between 2011–2012
Almost always voted for reforming the NHS so GPs buy services on behalf of their patients
7 votes for, 0 votes against, 1 absence, between 2011–2019
Consistently voted for ending financial support for some 16-19 year olds in training and further education
2 votes for, 0 votes against, in 2011
Consistently voted for university tuition fees
5 votes for, 0 votes against, between 2010–2017
Consistently voted for a stricter asylum system
8 votes for, 0 votes against, between 2015–2016
Consistently voted for stronger enforcement of immigration rules
9 votes for, 0 votes against, between 2015–2016
Consistently voted for mass surveillance of people's communications and activities
3 votes for, 0 votes against, in 2016

Generally voted against measures to prevent climate change
3 votes for, 16 votes against, 1 absence, between 2011–2019
Generally voted for lower taxes on fuel for motor vehicles
6 votes for, 8 votes against, 2 absences, between 2010–2013
Consistently voted for selling England's state owned forests
2 votes for, 0 votes against, in 2011

Generally voted against greater regulation of hydraulic fracturing (fracking) to extract shale gas
1 vote for, 2 votes against, 1 absence, in 2015

Consistently voted for the privatisation of Royal Mail
3 votes for, 0 votes against, between 2010–2011
Consistently voted against restrictions on fees charged to tenants by letting agents
0 votes for, 5 votes against, between 2014–2018
Almost always voted for the policies included in the 2010 Conservative - Liberal Democrat Coalition Agreement
61 votes for, 8 votes against, 12 absences, between 2010–2015
As for Jo Swinson and the Lib Dems in General
hard pass