Sat Nov 6, 2021, 06:26 PM
Emrys (5,897 posts)
A day's a long time in politics
At least it has been over last few days for our shiftless shambles of a prime minister and his sordid bunch of fellow travellers.
It's been one of those inflection points that happens so rarely in our politics, with the resulting flak coming from some surprising quarters.
I'm talking about Tory MP Owen Paterson, a grifter of ther first water who seemed only last night to have grossly flouted the law and parliamentary regulations and got away with it.
Paterson had been the subject of a parliamentary standards investigation resulting from his extensive well-paid links to lobbyists.
A couple of days ago:
Link to tweet
Adam Bienkov
@AdamBienkov
The investigation found Owen Paterson had:
- Taken nearly 3 times his MPs' salary for "paid advocacy".
- Broken official lobbying rules
- Smeared the commissioner investigating him
So now the government is trying to overturn the unanimous decision to suspend him.
Henry Zeffman @hzeffman
• Nov 2
NEW: Am told an amendment is set to be tabled to the Owen Paterson motion tomorrow by his supporters which would pause his case pending a review of the standards system led by John Whittingdale.

Government whips currently canvassing MPs on whether they would consider backing it
Link to tweet
Adam Bienkov @AdamBienkov Nov 2, 2021

If successful, not only will Owen Paterson be let off the hook, but most likely so will any MP who chooses to act in the same way in the future.

Adam Bienkov
@AdamBienkov
59 Conservative MPs have put their name to an amendment that would overturn Owen Paterson's suspension and set up a new committee with a Tory veto designed to rip up the existing Standards system that found him guilty of breaching anti-corruption rules.

Link to tweet
Adam Bienkov @AdamBienkov Nov 3, 2021

Among the list of Conservative MPs backing the plan to overturn Owen Paterson's suspension and rip up the current Standards regime is Karl McCartney, who was recently found to have broken the rules three times.

https://www.businessinsider.com/conservative-mp-karl-mccartney-broke-rules-watchdog-2021-10

Adam Bienkov
@AdamBienkov
Boris Johnson's spokesman confirms the government will back the plan to overturn Owen Paterson's suspension and rip up the system that found he had broken lobbying rules.
Pippa Crerar
@PippaCrerar
NEW: No 10 confirms it wants MPs to rip up House of Commons standards procedures in wake of Owen Paterson case.

Even among the incumbent shameless shower of overprivileged chancers, Paterson seems to have been a doozy:
Link to tweet
Mr Ethical
@nw_nicholas
I'll spell it out as simply as I can. About 2 weeks before the Paterson brokered government contract to Randox was announced, Randox moved their operation into a tax haven.
Why isn't this news?

Well, Mr Ethical, ho hum, another day, another scandal. The public is long bored with this constant drip-drip of sleaze among our richer and betters and has become inured to it.
Or has it?
Before the vote in the House yesterday, immense pressure was put on Tory MPs to fall in line and vote with the government, with a three-line whip being imposed and blatantly unveiled threats being made:
Link to tweet
Nick🇬🇧🇪🇺
@nicktolhurst
+UPDATE+

Several MPs have told media contacts that "levelling up funding for their constituencies was threatened" if they didn't vote to back the corrupt MP Owen Paterson yesterday.

This is why so many Tory MPs voted for Paterson while simultaneously briefing against Johnson.
Meanwhile, the Tories mounted a concerted media push to paint Paterson as a hard-done-by victim. His wife committed suicide not long ago, and this fact was exploited (even by him) to try to appeal for sympathy - sympathy that in any sane and equitable universe would be judged as misplaced:
Link to tweet
Brexit Buster
@BrexitBuster
Reminder: this is what greedy Tory swine Owen Paterson really thinks about British pensioners - while he fills his own boots breaking the rules on behalf of his paymasters. Disgusting and despicable - yet exactly the sort of creature Liar Johnson likes around him. #ToryCorruption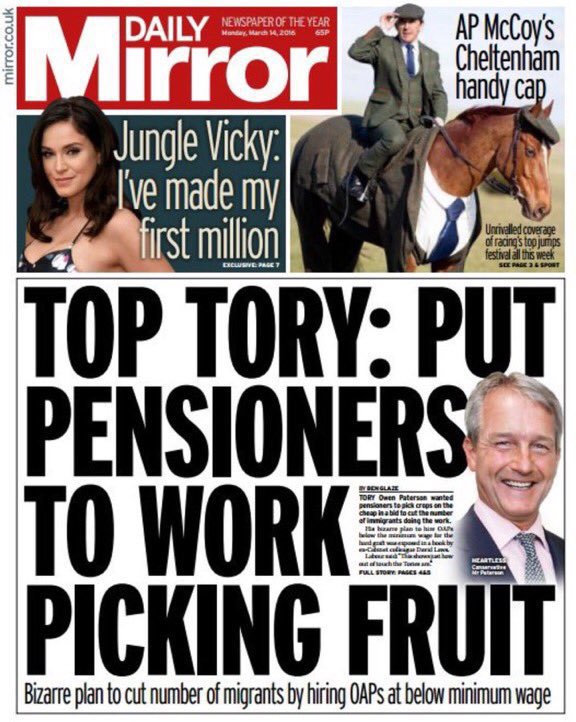 NOTE: The forum currently won't let me post all this text as one OP (otherwise I'd have posted it a couple of days ago), so it continues in the comments below.
6 replies, 1063 views
Replies to this discussion thread
| | | | |
| --- | --- | --- | --- |
| 6 replies | Author | Time | Post |
| A day's a long time in politics (Original post) | Emrys | Nov 2021 | OP |
| | Emrys | Nov 2021 | #1 |
| | Emrys | Nov 2021 | #2 |
| | Emrys | Nov 2021 | #3 |
| | Emrys | Nov 2021 | #4 |
| | Soph0571 | Nov 2021 | #5 |
| | abqtommy | Nov 2021 | #6 |
---
Response to Emrys (Original post)
Sat Nov 6, 2021, 06:29 PM
Emrys (5,897 posts)
1. OP continued 1:
Last night, Andrea Leadsom put up the most shameless performance in a Channel 4 News interview that it's ever been my misfortune to witness since the Iraq invasion and/or Brexit, defending Paterson to the hilt, and she wasn't alone among prominent Tories, just arguably the most infuriating.
Johnson himself was full of his usual blustering froth when cornered:
Link to tweet
Paul Johnson
@paul__johnson
Owen Paterson

What Standards Committee said:

'No previous case of paid advocacy has seen so many breaches or such a clear pattern of behaviour in failing to separate private and public interests'

What Boris Johnson said to @AngelaRayner

'You're playing politics'

#PMQs
And so, yesterday, it came to pass:
Link to tweet
Adam Bienkov
@AdamBienkov
BREAKING: The House of Commons votes by 250 to 232 to overturn Conservative MP Owen Paterson's suspension and rip up the Standards regime that found him guilty of breaking anti-corruption rules.
Cue Kwasi Kwarteng, who kept up the government's momentum after the vote by suggesting it was the Standards Commissioner who should resign, not Paterson:
Link to tweet
Sky News
@SkyNews
Business Secretary Kwasi Kwarteng tells #KayBurley it is "difficult" to see a future for Kathryn Stone, the independent parliamentary commissioner for standards, after her recommendation to suspend Owen Paterson was blocked by Conservative MPs.
Read more:
https://trib.al/ZJkztTy
[Twitter video]
What could have driven the government to this egregious example of mass special pleading?
Link to tweet
Nick🇬🇧🇪🇺
@nicktolhurst
+UPDATE+

Rumours in Westminster that UK govt far more keen on a showdown over Owen Paterson than even some of Paterson's friends were.

Assumption being that Johnson wants to destroy standards committees infrastructure before his own expenses & behaviour are examined.
---
Response to Emrys (Original post)
Sat Nov 6, 2021, 06:32 PM
Emrys (5,897 posts)
2. OP continued 2:
Emily Maitlis was on the case on BBC's
Newsnight
:
Link to tweet
Peter Kay
@theonlypeterkay

@maitlis quotes Dominic Grieve "it cannot escape notice that the P.M. is currently the subject of an investigation for failure to declare his interest by that same Commissioner."
EM "Was this Boris Johnson getting in early because he could see where this trail was going?"
Well, yes. And there's all those incredibly generous COVID contracts that were handed out to ministers' pals and cronies that have yet to be justified, along with the other assorted and plentiful shady donations and favours. Paterson's transgressions are the tip of an iceberg that, unusually nowadays, shows no sign of melting.
Link to tweet
Marina Purkiss
@MarinaPurkiss

Here's a picture of the corruption we're dealing with: - Paterson paid £500ph to advise for Randox - Randox wins £133m contract for Covid testing without any other firms getting chance to bid - Govt makes Randox tests mandatory for travel - Randox reports £218m revenue (+85%)
Link to tweet
#SocialistSunday
@socialistsunday
Tory MP Owen Paterson was paid £112k a year to lobby on behalf of Randox. Randox were awarded a £133m contract in March to produce testing kits without any other tenders. By July the Government were issuing safety advice to the public not to use Randox testing kits. #TorySleaze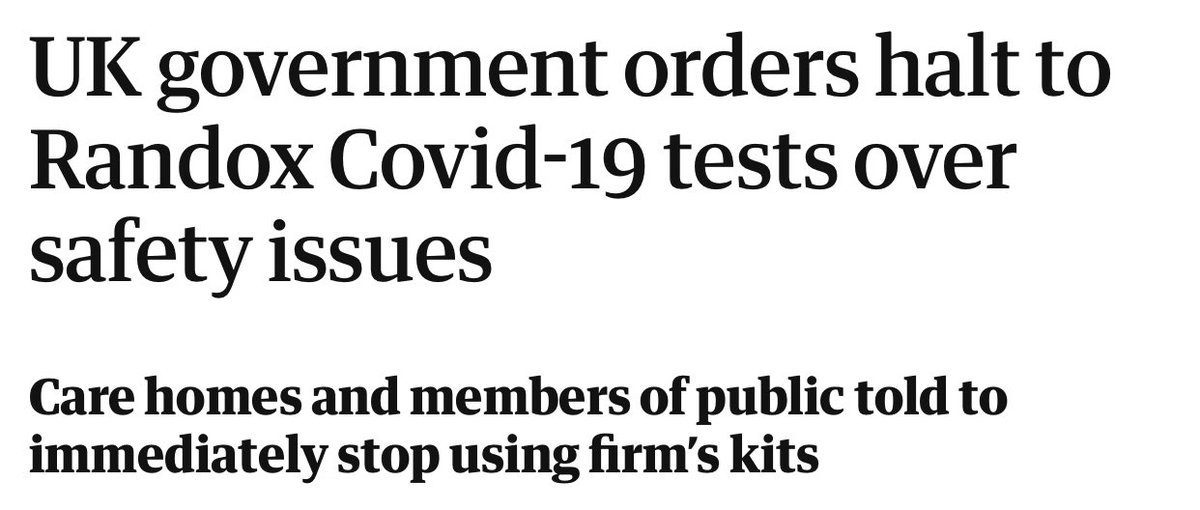 Chris Bryant MP, who delivered the inquiry's findings to the house before the vote, was understandably livid:
Link to tweet
---
Response to Emrys (Original post)
Sat Nov 6, 2021, 06:34 PM
Emrys (5,897 posts)
3. OP continued 3:
It's rare and welcome to see a Labour MP seem to channel the zeitgeist. I'm not sure if it's a good thing when the
Mail
agrees with you, though, but at this point, I'll take it: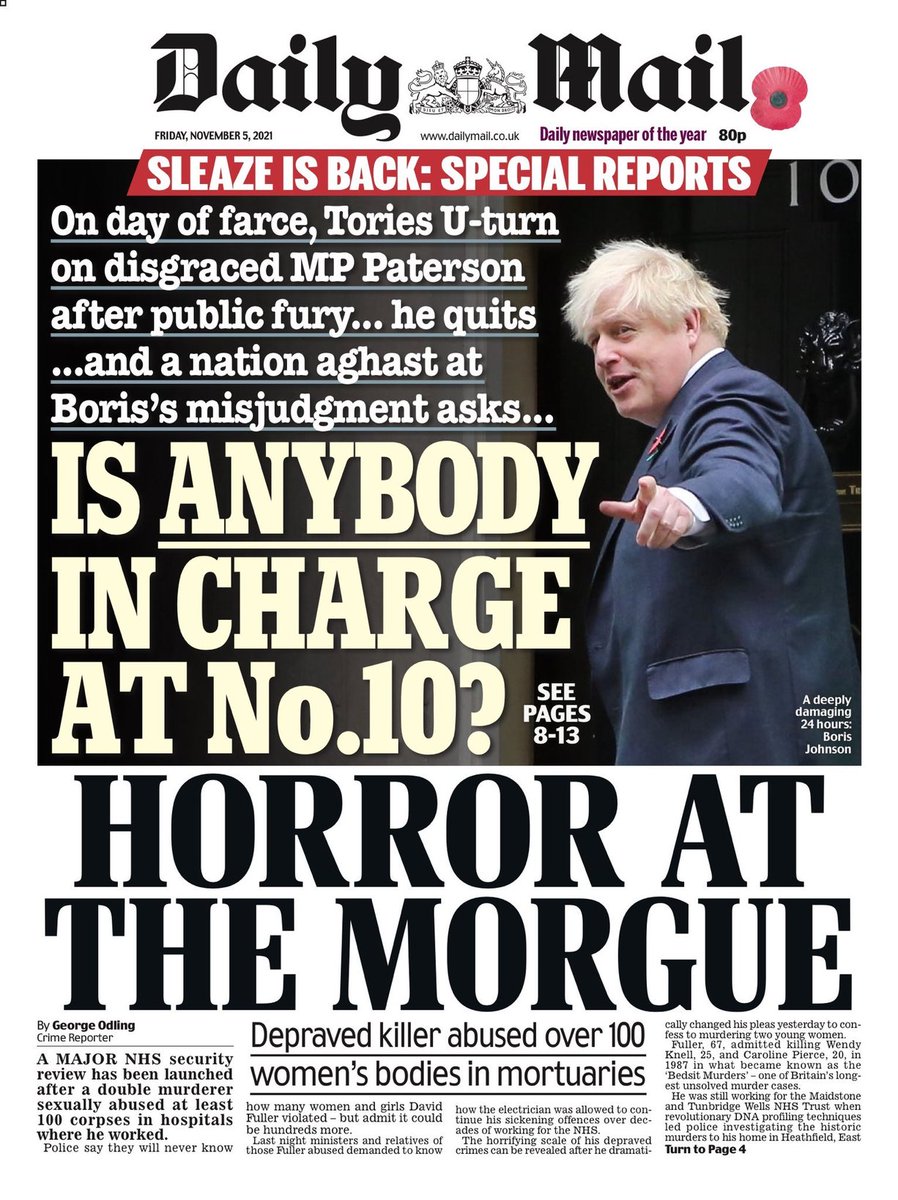 And I'll take the unusual step of letting the
Mail
recount what happened next:
Owen Paterson QUITS as an MP while slamming the 'cruel' politics after Boris humiliated him with U-turn on bid to save him from suspension - as furious Tories compare PM to the Grand Old Duke of York

* Standards committee called for ex-minister Owen Paterson to be suspended from the Commons for 30 days
* A standards probe found he had breached rules on lobbying and asked House to rubber-stamp punishment
* Boris Johnson ordered Tory MPs to back amendment pausing the process and called for overhaul of system
* But government has U-turned after massive outcry with Mr Paterson facing another vote on suspension
* He resigned from Commons tonight in move that avoids further humiliation and damage to the Conservatives
Owen Paterson today dramatically resigned after Boris Johnson executed an extraordinary U-turn on the bid to block his punishment for lobbying.
The former minister declared he is quitting as MP for North Shropshire after the PM effectively cut him adrift, saying he would continue as a public servant 'outside the cruel world of politics'.
The bombshell came hours after Commons Leader Jacob Rees-Mogg announced the government was dropping plans for a retrospective overhaul of sleaze rules following a huge backlash at the 'politically-motivated' decision.
The reversal meant that a motion on suspending Mr Paterson for 30 days for lobbying rule breaches - the punishment recommended by the cross-party standards committee - was set to be brought before the House again within days.
https://www.dailymail.co.uk/news/article-10164343/PM-accused-colossal-misjudgement-Owen-Paterson-row.html
Link to tweet
John Stevens
@johnestevens

No10 didn't tell Owen Paterson it was performing U-turn He was in supermarket when he found out he was no longer off the hook in call from BBC journalist, @bbclaurak
tells #wato
After an U-turn like that, I think Johnson's wasted in politics - he should be training HGV drivers.
Lest anyone feel any fleeting sympathy for Paterson, it would be seriously misplaced. He lacked contrition throughout, sought vengeance against those who tried to hold him to account, and before his resignation, said he'd do it all over again:
Link to tweet
Charles Donovan
@CharlieDonovan
When Owen Paterson thought he was victorious, there was no magnanimity in that victory - instead, he demanded that several people lose their livelihoods. No magnanimity - just a desire to ruin those who'd had the temerity to halt his corrupt activities.
Now, with Johnson having slammed the door after the horse had bolted, it makes a change, given how much the Tories have gotten away with over the last few years, to see some chickens coming home to roost rather than blithely continuing to feather their nests.
Johnson's bruising defeat over standards reform angers Tory MPs
After a shambolic 24 hours, many are asking how party contrived such a spectacular defeat
Boris Johnson on Wednesday marched his Conservative MPs up to an exposed political hilltop to fight a battle few relished: to scrap Westminster's anti-sleaze rules and help a colleague who had "egregiously" lobbied ministers for £100,000 a year.
At shortly after 10.30am on Thursday, Johnson marched his defeated ragged force back down the hill, harried by a hostile media and an opposition in full cry. A mood of despair among Tory MPs quickly crystallised into hard anger.
When Johnson led almost 250 Tory MPs into the House of Commons division lobbies on Wednesday, he will have noted the sullen looks, but one Tory MP said it was worse than that: "There were MPs in tears going through the lobby."
Those MPs who followed the Downing Street edict - enforced by a three-line whip - are now in the crosshairs of Labour as the Tories who "voted for sleaze". Peter Bone, one Tory MP, said his constituency office was vandalised overnight.
https://www.ft.com/content/51c93ba3-4a59-4e88-92ed-3e152a896493
---
Response to Emrys (Original post)
Sat Nov 6, 2021, 06:35 PM
Emrys (5,897 posts)
4. OP continued 4:
You know things are bad when even Keir Starmer can reach into his vest and find his backbone:
Link to tweet
Lewis Goodall
@lewis_goodall
.@Keir_Starmer
on Owen Paterson: "This has been an unbelievable 24 hours even by this govt's chaotic standards. Only yday Boris Johnson was forcing his MPs to rip up the rules on standards in public life is a truly damning indictment of this PM and the corrupt govt he leads."
Link to tweet
Lewis Goodall
@lewis_goodall
"Boris Johnson must now apologise to the entire country for this grubby attempt to cover up for the misdemeanour of his friend. This isn't the first time he's done this but it must be the last. And Boris Johnson must explain how he intends to fix the immense harm he has done..."
Link to tweet
Lewis Goodall
@lewis_goodall
"...to confidence in the probity of him and his MPs."
The Tory rebels who refused to buckle under to the whips deserve some credit - though it's alarming that it took such an extreme circumstance to drive them to it. As for the others ...
Link to tweet
David Schneider
@davidschneider
All those Tory MPs who are now going to vote for Owen Paterson to be suspended must be livid with their actual selves who voted for him to not be suspended yesterday.
Meanwhile, schadenfreude and trebles all round:
Link to tweet
Lewis Goodall
@lewis_goodall
Chris Bryant (Chair of the Standards Committee) on Jacob Rees Mogg tells @BBCPM:
"He knew perfectly well that it conflated those two issues yesterday and I think he should have apologised to the House much more fulsomely today. It's like he doesn't understand the rule of law."

Link to tweet
Kevin Maguire
@Kevin_Maguire
The Tory sleaze scandal

Coming out with credit: Chris Bryant, Tory rebels, opposition leaders and MPs

Totally discredited: Owen Paterson, Boris Johnson, Kwasi Kwarteng, Jacob Rees-Mogg, Mark Spencer, Angela Leadsom, Paterson's "friends" and Tory sheep
It would be nice, but terminally naive, to think that the likes of Johnson are going to mend their ways as a result of this kerfuffle.
Link to tweet
---
Response to Emrys (Original post)
Sat Nov 6, 2021, 06:51 PM
Soph0571 (9,553 posts)
5. Bunch of bloody crooks
The UK is now run by English ethno nationalist public school boy thugs
---
Response to Emrys (Original post)
Sat Nov 6, 2021, 08:01 PM
abqtommy (14,118 posts)
6. Lookee lookee what I found. This list of U.K. political scandals goes from the