Tue Dec 14, 2021, 10:23 AM
Emrys (5,897 posts)
1.5m damages settlement over Miami Showband massacre
Survivors and relatives of those murdered in the Miami Showband massacre are to receive nearly £1.5m (€1.75m) in total damages to settle claims over suspected collusion with the loyalist terrorist murderers.
...
One of Ireland's most popular cabaret acts, the Miami Showband was targeted as they travelled home to Dublin following a gig in July 1975.
A fake army patrol made up of Ulster Defence Regiment soldiers and Ulster Volunteer Force members stopped them at the bogus checkpoint outside Newry, Co Down.
Band members were made to line up at the side of the road while attempts were made to hide a bomb on the tour bus.
The device exploded prematurely, killing some of the would-be bombers.
Their accomplices then opened fire on the band, murdering lead singer Fran O'Toole, guitarist Tony Geraghty and trumpeter Brian McCoy.
Two other band members, Des McAlea and Stephen Travers, were also injured but survived the atrocity.
https://www.rte.ie/news/courts/2021/1213/1266497-miami-showband/
Stephen Travers has been waging a dogged decades-long campaign for some sort of reckoning and justice over the atrocity.
Link to tweet
Stephen Travers
@MiamiShowband
On the way home from the High Court in Belfast tonight, I stopped at the scene of the massacre to say a prayer and to tell Tony and Fran and Brian that I hope they can now, finally, leave that field forever.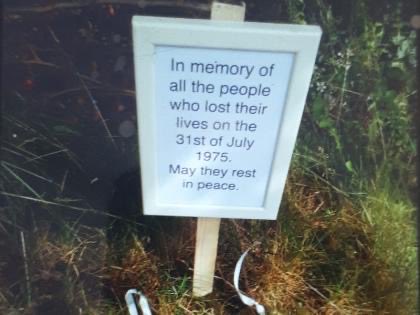 If you're unfamiliar with the case, Travers posted details of a video last year that explains some of the background (it's been shown on UK terrestrial TV in recent years).
Link to tweet
Stephen Travers
@MiamiShowband
Available now on Netflix. This happened to us. Similar atrocities continue throughout the world and will not stop while good people do nothing. For the sake of every victim and potential victim of state-sponsored terrorism and injustice, please #retweet.
https://www.netflix.com/gb/TITLE/80191046
2 replies, 774 views
Replies to this discussion thread
| | | | |
| --- | --- | --- | --- |
| 2 replies | Author | Time | Post |
| 1.5m damages settlement over Miami Showband massacre (Original post) | Emrys | Dec 2021 | OP |
| | mopinko | Dec 2021 | #1 |
| | Emrys | Dec 2021 | #2 |
---
Response to Emrys (Original post)
Tue Dec 14, 2021, 12:23 PM
mopinko (62,862 posts)
1. def recommend the doc.
i grew up in these days, and knew so little about it all.
had a lock down project to learn my own history, both the long past and the recent past.

ssdd, tho. i wonder how many 'terrorists' are just puppets of corrupt governments.
---
Response to Emrys (Original post)
Tue Dec 14, 2021, 09:17 PM
Emrys (5,897 posts)
2. More background in this Guardian report:
Miami Showband massacre: UK government accused of 'lies' after £1.5m payout
Survivor of 1975 Northern Ireland attack says he agreed to settle because of plan to halt Troubles prosecutions
A survivor of the Miami Showband massacre during the Troubles in Northern Ireland has hit out against the "lies" of the British government as he and other victims of the atrocity agreed to £1.5m in damages over suspected state collusion with loyalist terrorists.
...
Stephen Travers, who was injured in the attack, said he was convinced he would have won his civil case against the Ministry of Defence and the police showing there had been collaboration between the killers and serving soldiers. He said he agreed to settle because of a plan by the British government to bar all prosecutions relating to killings by soldiers and police during the Troubles.
"The threat of the current British government to shut down all cases with the command paper set out in July threatening to dispense with justice rather than to dispense justice was a factor I had to take into consideration," he told Newstalk's Pat Kenny Show in Dublin on Tuesday.
Legislation proposing an amnesty for all state agents involved in killings during the Troubles is to be tabled in January on the grounds that it serves no one to prosecute ageing soldiers and police involved in crimes 40 years or more ago.
"Our case proves that it is not easy to get into court. The argument that they are vexatious claims being taken against the British government … is a complete lie."
https://www.theguardian.com/uk-news/2021/dec/14/miami-showband-massacre-uk-government-accused-lies-payout-northern-ireland-troubles