Fri Dec 31, 2021, 09:25 AM
Soph0571 (9,684 posts)
...so many Brits read and believed these unachievable promises
Link to tweet
To be fair the border is still open on the island of Ireland, but they are doing their best to fuck that up also. Having introduced a wet border to protect the GFA - constant threats to invoke Article 16... *sigh*
Promises made, promises broken... it was all utter bollocks. Utter bollocks then, utter bollocks now. The only thing we can hope for now is that the conned and the lied to wake up to the abject awfulness of the conmen and tell them to do one at the next general.
And from tomorrow full customs rules apply - more havoc, more damage to business, because of course.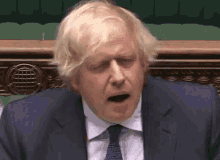 Happy 2022!!!!!!
7 replies, 1242 views
Replies to this discussion thread
| | | | |
| --- | --- | --- | --- |
| 7 replies | Author | Time | Post |
| ...so many Brits read and believed these unachievable promises (Original post) | Soph0571 | Dec 2021 | OP |
| | Walleye | Dec 2021 | #1 |
| | gab13by13 | Dec 2021 | #4 |
| | T_i_B | Dec 2021 | #2 |
| | NewHendoLib | Dec 2021 | #3 |
| | abqtommy | Dec 2021 | #5 |
| | Chainfire | Dec 2021 | #6 |
| | Firestorm49 | Dec 2021 | #7 |
---
Response to Soph0571 (Original post)
Fri Dec 31, 2021, 09:27 AM
Walleye (19,728 posts)
1. Again, Russian propaganda prevailed. Putin is having a very happy new year
---
Response to Walleye (Reply #1)
Fri Dec 31, 2021, 09:43 AM
gab13by13 (13,660 posts)
4. Yup, Russia did the same in the US in 2016.
It was Russia who created the Bernie Bros. the guy behind it is in Russia right now.
---
Response to Soph0571 (Original post)
Fri Dec 31, 2021, 09:30 AM
T_i_B (14,669 posts)
2. Well...
... A big part of the problem is that people on both sides of the argument did not fully understand these issues. The current problems are essentially the result of people spouting off about stuff they don't know the first thing about.

Michael Goves line during the referendum that "the people have had enough of experts" exemplifies everything that's wrong with British politics and has contributed to this mess.
---
Response to Soph0571 (Original post)
Fri Dec 31, 2021, 09:35 AM
NewHendoLib (57,164 posts)
3. why of course. propaganda worked. no surprise there. it is happening enough here in the US.
---
Response to Soph0571 (Original post)
Fri Dec 31, 2021, 09:46 AM
abqtommy (14,118 posts)
5. Fascist Tories, Fascist reTHUGs and Fascists the world around are happy to lie to our
faces and kick us when we're down. Many of us knew what was coming and are
willing and ready to fight for what's right too keep us from The Fascist Night.
---
Response to Soph0571 (Original post)
Fri Dec 31, 2021, 09:50 AM
Chainfire (11,567 posts)
6. Liars tell people what they want to hear.
A promise of something for nothing will always seem credible to the true believers.
---
Response to Soph0571 (Original post)
Fri Dec 31, 2021, 10:25 AM
Firestorm49 (3,378 posts)
7. Unfortunately, apathy will be our downfall.
How we have come to this sad current state of affairs is due to not only Trump unleashing his band of merry idiots upon us, but numerous states that have allowed self proclaimed fascists into their ranks of elected officials. While there should have been, and is still desperately needed, is acceptance to uphold our Constitution, which has slipped into obscurity - which if not religiously accepted disqualifies someone from running for office.
Even more sad and disturbing is that these idiots have convinced enough people to vote for them. Far too many in this country have no idea how their lives will change under Autocratic rule. Do you like your guns? Get prepared for far greater scrutiny. Like to read? You will be able to, but it will be only what "they" allow. Do you like to travel at your discretion? Maybe, but not without your "papers."
Are you ready to contribute part of your earnings, beyond taxes, to the supreme (?
leader? Do you want to leave the country without being rounded up and shot if you don't fall to your knees and kiss the supreme leader's ass? Dream on.
Far too many knowledgeable people are espousing our decline not as a possibility, but as a reality, UNLESS WE DO SOMETHING NOW!
Wake up, Garland! Wake up, Biden. Wake up, Manchin! Rid the House and Senate of insurrectionists now or fucking suffer in the new reality of Fascism. Stop states from altering our elective process NOW! If you have to carve out the filibuster to save our hard fought democracy, then DO IT!