Tue Dec 1, 2015, 11:33 PM
Denzil_DC (4,973 posts)
Don't side 'with a bunch of terrorist sympathisers,' Cameron tells MPs
The Prime Minister has told Conservative MPs not to side with Jeremy Corbyn and 'a bunch of terrorist sympathisers' ahead of the vote on air strikes in Syria.
Labour leader Jeremy Corbyn gave his MPs a 'free vote' on military action following pressure from his shadow cabinet, and both he and Hilary Benn will give alternate arguments at the debate tomorrow. Mr Corbyn warned that bombing raids will lead to civilian casualties, and told his MPs there was 'no hiding place' on the vote.
David Cameron previously said he would not call for a vote unless he was confident of a victory. He was worried a defeat would tarnish Britain's reputation among its allies and serve as propaganda for Isis.
'I will be making the arguments and I hope as many Members of Parliament – across all parties – will support me as possible,' he said today.
http://metro.co.uk/2015/12/01/dont-side-with-a-bunch-of-terrorist-sympathisers-cameron-tells-mps-5538377/
Dangerous Dave just pissed off a lot of MPs - and a not inconsiderable number of the electorate - from all sides of the House by channelling his inner Flashman again. The boy just can't help himself, and he's sounding desperate as a large number of Labour MPs are indicating on social media that they will vote against the motion to authorize air strikes on Syria, and there are rumours that some higher-ups in Labour are looking for a graceful way to back down from their previous support for it.
The Lib Dems have announced that they will support the motion. The SNP will vote en bloc against. That leaves as the main uncertainty how many Tory rebels will vote against and how many what now appear to be becoming Labour "rebels" for. Presumably if Dave was confident of his own troops, he wouldn't have lost his cool.
Meanwhile, that well-known rabble of terrorist sympathizers the Foreign Affairs Committee will no doubt be next to be roasted like crumpets à la
Tom Brown's Schooldays
:
David Cameron has failed to justify Syria airstrikes, MPs' committee says

David Cameron's hopes of building a consensus behind military action against Islamic State in Syria has suffered a blow after parliament's foreign affairs select committee said he had failed to justify airstrikes.
The prime minister had made his case for military action in response to a critical report earlier from the committee, setting out what he claimed was a "comprehensive" approach to the crisis in Syria. The committee's Conservative chairman, Crispin Blunt, had already given his personal view that Cameron had gone far enough and indicated he would support military action.
But in a meeting on Tuesday, the eve of the Commons vote on military action, the committee voted four to three in favour of a motion that Cameron "has not adequately addressed concerns".
The vote came amid a row over Cameron's claim that there were 70,000-strong moderate forces in Syria prepared to fight Isis after a senior army general declined to confirm whether they included members of Islamist groups.
http://www.theguardian.com/politics/2015/dec/01/cameron-has-failed-to-justify-syria-airstrikes-mps-committee-says
Advance copies of the motion released on the eve of the debate make no mention of these 70,000 cavalry.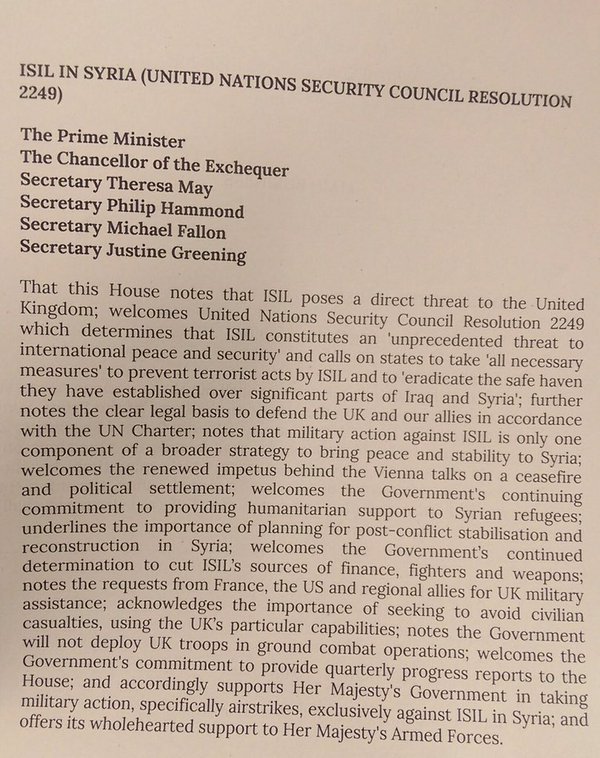 0 replies, 910 views