Sun Jun 28, 2015, 10:30 PM
csziggy (32,031 posts)
Any preferences on laptop brands?
My husband's laptop keeps crashing even with a clean installation of Windows 7, all new drivers, nothing else loaded. We pretty much convinced it's a hardware issue - on a 4-5 year old computer bought refurbished, and used heavily for four years, that's not too surprising.

This week lots of places have computers on sale. I'm looking at some Toshiba Satellite C70 series laptops that with the sale prices are under $400. They all have 17.3" screens (something my husband would be thrilled to have), 6-8GB RAM, and 500-750GB hard drives. Two are AMD, one is Intel.

The price seems good and the reviews are pretty good.

Any other brands I should check out?
9 replies, 1592 views
Replies to this discussion thread
| | | | |
| --- | --- | --- | --- |
| 9 replies | Author | Time | Post |
| Any preferences on laptop brands? (Original post) | csziggy | Jun 2015 | OP |
| | JayhawkSD | Jun 2015 | #1 |
| | csziggy | Jun 2015 | #4 |
| | hobbit709 | Jun 2015 | #2 |
| | csziggy | Jun 2015 | #3 |
| | hobbit709 | Jun 2015 | #5 |
| | csziggy | Jun 2015 | #6 |
| | ChromeFoundry | Jun 2015 | #7 |
| | csziggy | Jun 2015 | #8 |
| | csziggy | Jun 2015 | #9 |
---
Response to csziggy (Original post)
Mon Jun 29, 2015, 12:57 AM
JayhawkSD (3,163 posts)
1. I have a preference for AMD cpu.
Primarily due to Intel's business practices in the 80's and 90's. Toshiba is a good brand.

---
Response to JayhawkSD (Reply #1)
Mon Jun 29, 2015, 06:45 AM
csziggy (32,031 posts)
4. Me, too. My last 4-5 computers have been built with AMD CPUs
And on average Toshiba seems to have a good reputation. Our previous two laptops have been Acer and the first is still solid, though Vista is incredibly slow and the thing is ancient in computer years. My husband's current laptop was good until the last six months so I think something has gone bad on the mobo.
---
Response to csziggy (Original post)
Mon Jun 29, 2015, 04:46 AM
hobbit709 (41,694 posts)
2. How does it crash?
First thing I would suspect if you keep getting boot errors is the hard drive.
---
Response to hobbit709 (Reply #2)
Mon Jun 29, 2015, 06:42 AM
csziggy (32,031 posts)
3. Blue Screen of Death - various error messages
Though I haven't been able to document the messages, the thing reboots too fast. More often than not it crashes when my husband is playing online games so it may be the Intel video chip - not replaceable.

Originally I suspected the memory, and have tested the memory and the hard drive. Both test good.

It's been crashing off and on since January and it was happening more often. My husband finally brought it to me (after not mentioning ONCE in the months before that it was crashing) and I messed with it for days, then wiped the hard drive, using a program suggested here to zero out the hard drive.

Then I reinstalled Windows, all the drivers, and tested everything. When it continued to give us BSODs my husband took it to the local shop we use for computer stuff. They tested everything, thought it was a bad audio driver, checked it and gave it back. It still BSODs, sometimes over and over as soon as my husband starts surfing the net. Right now it's at the shop again.

I'm at the point I'm tired of my husband's frustration - he's stuck using our old Vista laptop that was always slow though it's reliable. That's why I checked the sales this week and there are some good sales, so I'm just about ready to buy him a new laptop for our anniversary which is coming up.
---
Response to csziggy (Reply #3)
Mon Jun 29, 2015, 06:59 AM
hobbit709 (41,694 posts)
5. Intel graphics suck for even minimal level gaming
Even the newer Intel graphics chipsets are no good for any gaming, they're adequate enough to watch HD video but that's about it.

If you get a new one with Windows 8/8.1, download Classic Shell and install it. It will make it look and act like Windows 7 instead of the touchscreen style interface 8 uses-useless if you don't have a touchscreen.
---
Response to hobbit709 (Reply #5)
Mon Jun 29, 2015, 07:13 AM
csziggy (32,031 posts)
6. Yeah - and when I bought him the current laptop he wasn't gaming so much
He says he is only doing minimal level gaming, not the action shoot 'em ups that need a high refresh rate.
The Toshiba laptop that looks like the best deal has an AMD Radeon R4 chip which does not seem to be highly rated for gaming but decent enough for everything else.
The problem is, he wants a laptop for portability but he also wants to game. In my budget, he is not going to get both in the same computer.
If he wants to serious gaming, he'll have to go back to a desktop computer so we can upgrade the video card. I've got two desktops in the attic, we could put together a system in one of those for MUCH less than a high end laptop would cost - AND get him a huge monitor. Then we could still have a smaller, lighter laptop for traveling.
Oh - and there's the part where he's not supposed to be gaming all day. He is supposed to be scanning his grandmother's journals and letters but he's screwing around instead.
---
Response to csziggy (Original post)
Mon Jun 29, 2015, 08:20 AM
ChromeFoundry (3,270 posts)
7. You can figure out why it is crashing and possibly fix the problem
The first thing to do is stop the computer from auto rebooting when it does BSOD.


Click 'Start'


Click on 'Run'


Type in "sysdm.cpl" (without the quotes) and press Enter


Click on the 'Advanced' tab


Click on the 'Startup and Recovery' Settings button


Uncheck 'Automatically restart', then click on OK


Click on OK to exit the System applet, then close the Control Panel.


Reboot for the changes to take effect


On the next BSOD, write down the values noted in the following image: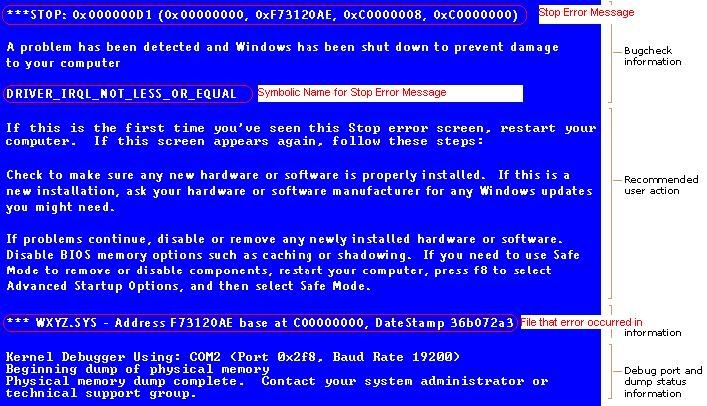 With this information, I fairly sure we can help you determine if the issue is with a simple driver, or hardware.
---
Response to ChromeFoundry (Reply #7)
Mon Jun 29, 2015, 12:00 PM
csziggy (32,031 posts)
8. Right now that computer is at the shop
We're checking in with the tech now - I'll get back to the thread later.
---
Response to ChromeFoundry (Reply #7)
Tue Jun 30, 2015, 05:03 PM
csziggy (32,031 posts)
9. Update - the guy at the shop was having the same problems I was
Last edited Tue Jun 30, 2015, 05:45 PM - Edit history (1)
It seemed to load Windows and drivers OK from a clean drive, then wouldn't do any Windows updates.

We discussed it and when I mentioned the 4GB of RAM I had added when I bought the laptop, he kind of went "Aha!" He said he's had problems with Windows 7 Home doing proper updates if there was too much RAM. That was about 4 hours ago. My husband was in town and stopped by the shop and so far it seems to be running the updates fine with 4 GB of RAM in the machine. In a while, he's going to check back by the shop and see what the progress is.

Meanwhile, it looked as though the Toshiba I had picked as a replacement was running low at the source so I went ahead and ordered it. If the old laptop is good, we can send the new one back. or I can let my husband keep it and I can use his old one when we travel. He'd love the bigger screen (17.3" versus 15.6" on the old one) and hopefully it will be more stable than the old computer.

Nope - the old one is still toast. We're still going to try to see what the errors are on the BSOD while we're waiting on the new computer.